Go Gold® for the Holidays!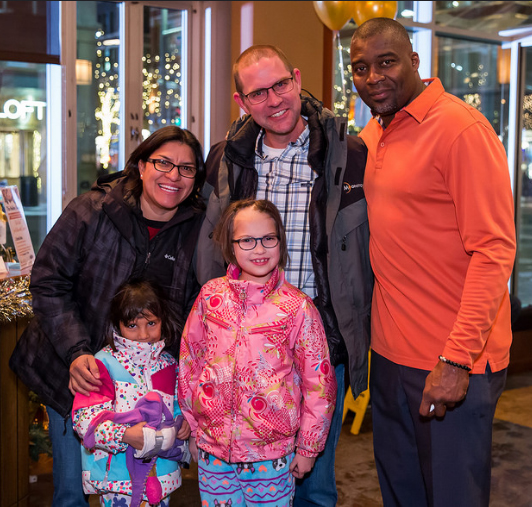 We would like to thank Sofía and her family for joining us on Wednesday, December 7 for Colorado Rock Bottom Brewery's public PJammin'® event to raise awareness of and support for childhood cancer. Sofía is currently undergoing her second round of treatment for kidney cancer, and we are so thankful that during this difficult time, she and her family took the time to participate in this important event and share their story with us! The December 7 PJammin'® event at Rock Bottom Downtown Denver was part of Go Gold® for the Holidays, a fundraising event organized by CraftWorks Restaurants and Breweries, Inc. to support ACCO and families, like Sofía's, battling childhood cancer. Go Gold® for the Holidays continues at all Rock Bottom Restaurants in Colorado through December 31!
Sofía's Story: Wilms Tumor
Sofía's cancer journey began in April 2015 when she began complaining of stomach pains. At first, her parents believed it to be a stomach bug, so common with school-aged children, until one evening when the seven-year-old showed them a hard lump in her stomach. Initial scans revealed every parent's worst nightmare: a tumor growing in her kidney. Sofía was immediately transferred to a larger medical center for surgery to biopsy and remove the tumor.
The surgery revealed that Sofía had Wilms tumor, a rare type of cancer that grows in the kidney. Wilms tumor is diagnosed in only about 500 children every year, most often in children under the age of six. In Sofía's case, the tumor had spread to her lymph nodes as well (Stage III). Sofía began a six-month regime of chemotherapy and radiation immediately at a hospital near her home in Steamboat Springs. Although the treatment was difficult—radiation, for example, required that Sofía sit still and alone inside the treatment room while the radiation was targeted at her young body—it was successful. Sofía was declared "cancer free"!
"Scanxiety"…and Relapse
For the next year, Sofía underwent routine x-rays and CT scans to verify that the tumor had not returned. As with many families who have fought childhood cancer, these scans are a source of great anxiety, or "scanxiety" as it is sometimes called. And after clear scans for over a year, in late November 2016, Sofía's parents were given the news they had been dreading: the Wilms tumor had returned. Worse yet, the CT scan showed two nodules on her lung; the cancer had metastasized, making it a Stage IV cancer. Due to the increased severity of this reoccurrence, Sofía now must travel to Denver for chemotherapy and radiation. This current round of treatment is expected to last for five months, and will include several rounds of chemotherapy each lasting four days, as well as whole lung radiation.
Still, despite this setback, Sofía's oncology team is hopeful that her young, strong body will respond positively to this treatment protocol. She has now completed two rounds of chemotherapy, and although she is coping with the typical side effects of chemotherapy—lack of appetite and fatigue, for instance, as well as a compromised immune system—she has also been able to enjoy some normal childhood activities. She enjoys returning to her friends and activities at school whenever her energy levels and immune system sensitivities allow her to, and loves playing with her siblings every chance she gets.
Thanks to you, Sofía, and your family, the wonderful people who participated in this incredible event now have a greater understanding of just what a terrible toll this disease takes on children, siblings, and families alike but also just how brave, strong, and courageous a childhood cancer warrior really is! Thank you for taking the time to share your story with us.
About the American Childhood Cancer Organization
The American Childhood Cancer Organization (ACCO) is a non-profit charity dedicated to helping kids with cancer and their families navigate the difficult journey from cancer diagnosis through survivorship. Internationally, the ACCO is the sole US member of Childhood Cancer International (CCI), the largest patient-support organization for childhood cancer in the world. Here in the United States, the ACCO promotes the critical importance of ensuring continued funding into new and better treatment protocols for childhood cancer.  And most importantly, the ACCO is focused on the children: developing and providing educational tools for children fighting cancer and their families, empowering them in their understanding of childhood cancer and the medical decisions they must make during this difficult journey. All of ACCO's resources are available free of charge for families coping with childhood cancer.
For additional information about childhood cancer or on the ACCO, or to order resources for you or your child, please visit our website at www.acco.org , call 855.858.2226 or visit:
Want To Read American Childhood Cancer Organization On Your Phone? Click the NoteStream logo: