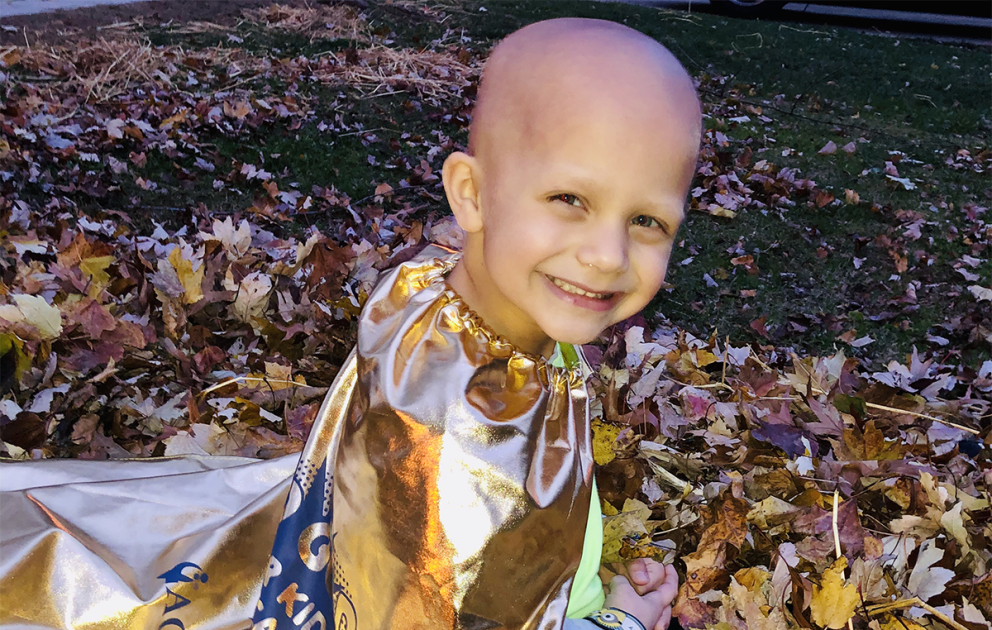 "Smiley" Riley, as his family and supporters call him, is currently fighting childhood cancer. But Riley tells us he's determined to "kick cancers butt!"
In honor of #GivingTuesday, Riley is helping ACCO raise funds and awareness to give back to kids like him. While he is currently in the hospital receiving treatment, we asked Riley's mom, Ashley, to ask him a few questions about himself. His advice to other kids going through childhood cancer is inspiring to all…
What is Riley's age, cancer type, date of diagnosis and status?
Riley is 5 years old. He has High-Risk Neuroblastoma and was diagnosed on Easter, April 21, 2019. Scans as of November 2019 revealed no traces of Neuroblastoma. But we will continue Riley's treatment as planned.
How did you find out Riley had cancer?
Starting in February 2019, he was having leg pain and limping. We were in and out of the doctor's office for weeks. The pain wouldn't go away and the limping got worse. But tests and X-rays didn't reveal anything. Eventually, the pain went to his arms and shoulders. We took him in again and bloodwork was drastically different. Within a week we were sent to Children's and diagnosed within a few days!
How did you explain to Riley what cancer was and did he understand?
We told him a nasty sickness was inside his body. It was a sickness that required a lot of medicine to get rid of. Some of the medicine was going to make him sick also and he'd lose his hair. But they were really strong medicines that were going to get rid of the cancer. Unfortunately, our family dog was diagnosed with a tumor last September 2018 and we didn't know when Bailey, our dog, was going to die but it would be soon. He immediately associated his sickness with Bailey and asked if he was going to die too. I about lost it when Riley was talking about it. We told him that dog cancer and human cancer are different. I don't know if he fully understands his sickness but he was able to realize he didn't feel good.
Had your family heard of childhood cancer before Riley was diagnosed and what was your reaction when you heard, "Your child has cancer."
We knew about childhood cancer but not to the extent that we do now. We also never realized how many different kinds of childhood cancer types there were as well! I was actually by myself on Easter Sunday morning. Ben had gone home to check on our other sons and he was on his way back to the hospital. Riley had an X-ray and within 20 minutes he was doing a CT scan and very soon after that 3 doctors came in. Now when things typically happen that fast at the hospital, I knew I was about to get bad news. Hearing the words come out of the doctor's mouth I felt like I had been hit by a truck. And then there was the feeling of disbelief this can't happen to my child. And the flood of emotions overtook me. Then telling my husband over the phone was one of the most difficult phone calls I have ever had to make. We both were in shock that Riley had cancer and couldn't believe this was happening to our little boy, our Smiley Riley.
What has Riley's childhood cancer experience looked like so far?
Riley has had 5 chemo treatments and is currently on his 6th. He has had radiation therapy up at CHOP and he will be getting a transplant of his own StemCells on November 27. After this hospital stay, he will have more radiation and immunotherapy. He has had blood transfusions while going through this process. He is one of the strongest little guys I know. He's missed lots of school, which breaks our hearts because he's such a social butterfly and loves Kindergarten. We signed him up for Flag Football and soccer and he loved playing when he was able too. We try and keep life as "normal" as we can for him. Hospital stays go pretty well! He loves all of his nurses. Children's has become home away from home. Although he loves getting out and going back home to his 3 brothers.
How has ACCO helped your family during this time?
ACCO has been another wonderful resource and tool to have for our family and for Riley! The cozy Cat and Medical Kit have been one of Riley's favorites! He plays for hours with it and tests out his doctor skills. It has become a great tool for him to talk through things that he has gone through and he just gives Cozy Cat special care that his nurses and doctors do for him.
What is Riley's motto or how does he take on going through treatment?
Smiley Riley Strong! And when you ask him what his superpower is he will tell you "Kicking Cancer's Butt". He came up with it all on his own. He was talking to one of his nurses one day and she asked him what his superpower was. She said I bet smiling! He said no ma'am. "Kicking Cancer's Butt"! I about cried! He goes through his treatments like Hulk Smash! He just "smashes" right through it. Although it's very hard sometimes, he pushes through. He knows these difficult treatments are to help him get rid of cancer.
What does Riley wish people knew about childhood cancer?
Kids with cancer are fighters. Love on them and support them. Don't ever treat them as broken.
What does Riley want to be when he grows up?
He wants to be a chef and a baseball player
What would Riley say to other kids, like him, fighting cancer?
It's ok to be scared and feel bad but just Keep Strong and Keep Smiling.
This Giving Tuesday, make a difference for kids like Riley. Donate to ACCO…because kids can't fight cancer alone.
P.S. Your donation could go twice as far! Our partner Jel Sert will match Giving Tuesday donations, up to $1,000!