Meet Ethan, a 13 year old Ewing's Sarcoma warrior!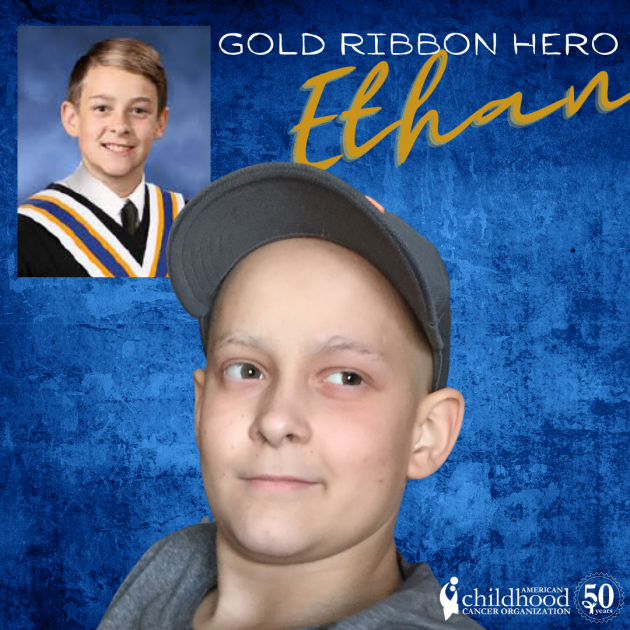 When Ethan started limping because of hip pain and swelling, his parents took him to his doctor. It started with a slightly sore leg and very mild pain at the beginning of October 2019 and Ethan was misdiagnosed at the ER. When the pain continued, doctors ordered multiple scans and a biopsy which confirmed that the mass on his pelvis was Ewing's Sarcoma. Prior to the diagnosis, Ethan and his family met with oncology a few times to see what type of cancer it was. Ethan's family decided to take several weeks before sharing the diagnosis because they were in shock. On December 30, 2019, test results confirmed Ewing's Sarcoma. 
Leading up to diagnosis, Ethan had to undergo a port placement, 2 MRI's, a CT scan, bone scan, biopsy, and several x-rays. Before treatment started, Ethan was afraid of needles and since then, he has overcome his fear. His treatment plan included 14 rounds of 5 different types of chemotherapy and 31 rounds of radiation. 
Ethan has become wheelchair bound as a result of nerve and bone pain and cannot bear weight on his leg. Despite it all, Ethan has been able to hit the gong upon completion of radiation! Ethan has become an inspiration to his parents, friends and family.
Learn more about Ewing's Sarcoma here. 
Together, we can make a difference.
Donate today… because kids can't fight cancer alone
®
.