Ceci's Cancer Journey
"Ceci is a strong and brave little girl with an amazing heart and mind…Ceci is our inspiration to keep moving forward with a positive heart."—Reyna, Ceci's Mom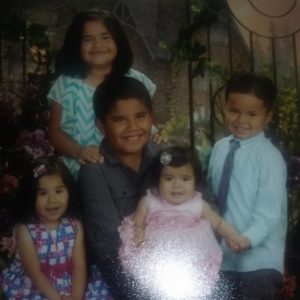 Today, we'd like to introduce you to Cecilia Amelia, or "Ceci" for short, a strong, brave three-year-old with, as her mother proudly states, "an amazing heart and mind." Ceci began treatment for Acute Lymphoblastic Leukemia (ALL) in May, at the tender age of 2 years and 8 months. She is nearing the end of the consolidation/intensification stage of her treatment, with the final, most intensive rounds of chemotherapy scheduled for late November and early December. If these treatments go as planned, Ceci will begin two years of maintenance therapy in January.
Ceci and Her Siblings: The Wider Impact of Childhood Cancer
"I have stopped working to take care of Ceci and attend to her needs. My husband Jose and I have four other children to care for. It has become very difficult to maintain a healthy family routine and a stable economic situation." —Reyna, Ceci's Mom
It's not really fair that we have named this story "Ceci's Cancer Journey"; it should really be called "Ceci and Her Family's Cancer Journey." Because childhood cancer impacts entire families: parents, grandparents, and especially siblings. Ceci is the fourth out of five children in her family and the impact of Ceci's diagnosis and treatment has been as difficult and as challenging for her siblings as it has been for her, albeit in very different ways.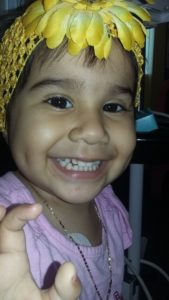 As Reyna so clearly notes, "when a child falls sick, sibling(s) too experience a roller coaster of emotional and behavioral responses to the advent of the illness." Siblings, especially young ones, may not understand why Ceci is so sick all the time, why she must spend so much time away from home in the hospital, why they cannot visit her, and even why she looks and acts so different. They are worried and scared, yet all too often are unable to clearly articulate these feelings in ways adults can recognize or understand.
Siblings can also find it very difficult to cope with the drastic alteration of routines and norms that fighting childhood cancer often requires. Ceci's siblings feel lonely and neglected as parents, extended family, and friends dedicate their time and attention to the sick child. The extended absence of one (or even both) parents as they attend Ceci during her hospital visits can lead to confusion, anger, anxiety, and behavioral issues. Even the financial strain that childhood cancer puts on many families can be felt, if not understood, by some siblings in subtle yet challenging ways.
ACCO Can Help Siblings Too!
As Ceci's parents know all too well, explaining childhood cancer and all it entails to siblings can be an enormous challenge. Ceci's family, in their updates and appeals to family and friends, have reminded their supporters that Ceci's four siblings needs as much love, attention, and support as Ceci herself. And ACCO can help as well; our resources are designed to help parents understand and cope with the impact of childhood cancer on siblings, while other resources are directed at "sibs" themselves. Oliver's Story, for instance, is geared for siblings aged three to eight. Written from the perspective of a six-year-old, this engaging, informative story addresses the many questions siblings have about childhood cancer, as well as offers some advice for siblings on how they can support their brother or sister during this difficult time. Oliver's Story is available in both English and Spanish, and like all ACCO resources, is available free of charge to families, like Ceci's, who are battling childhood cancer.
More about Childhood Leukemia Cancers:
Learn More About the Different Types of Childhood Cancers:
About the American Childhood Cancer Organization
The American Childhood Cancer Organization (ACCO) is a non-profit charity dedicated to helping kids with cancer and their families navigate the difficult journey from cancer diagnosis through survivorship. Internationally, the ACCO is the sole US member of Childhood Cancer International (CCI), the largest patient-support organization for childhood cancer in the world. Here in the United States, the ACCO promotes the critical importance of ensuring continued funding into new and better treatment protocols for childhood cancer.  And most importantly, the ACCO is focused on the children: developing and providing educational tools for children fighting cancer and their families, empowering them in their understanding of childhood cancer and the medical decisions they must make during this difficult journey. All of ACCO's resources are available free of charge for families coping with childhood cancer.
For additional information about childhood cancer or on the ACCO, or to order resources for you or your child, please visit our website at www.acco.org.
To submit a Gold Ribbon Hero's story, please Click Here. 
For additional information about childhood cancer or on the ACCO, or to order resources for you or your child, please visit our website at www.acco.org , call 855.858.2226 or visit:
Want To Read American Childhood Cancer Organization On Your Phone? Click the NoteStream logo: