Meet Rory, an animal loving neuroblastoma survivor!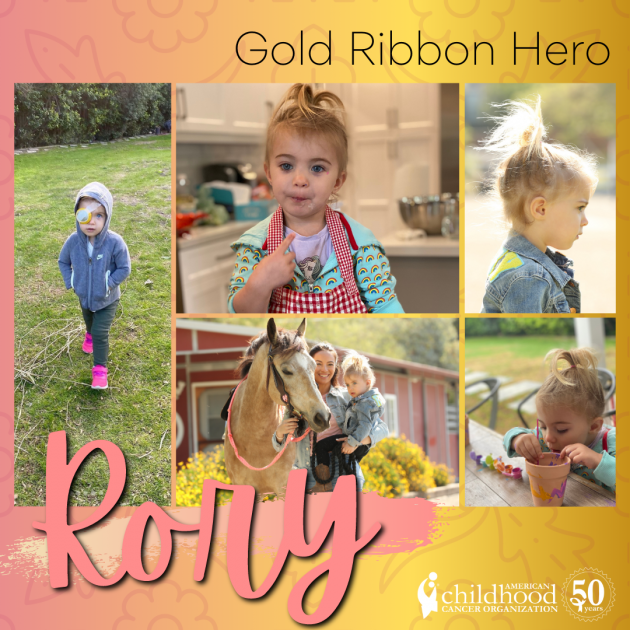 During Rory's second birthday party, a friend noticed that Rory's eyes were two different colors of blue. At her check up just two days later, the doctor noticed that something was wrong with her eye when the vision scanner couldn't obtain a reading. Upon further examination, the doctor noticed a change and recommended Rory be taken to the hospital.
Rory was taken to the hospital and after scans, she was diagnosed with group E unilateral retinoblastoma in her right eye. "We felt guilt that we didn't catch it sooner, and feared the severity of the disease," said Britt, Rory's mother.
Rory's parents faced a difficult decision to make when it came to her eye. They struggled between making a decision that she possibly wouldn't like when she grew up or have her go through treatment. After mourning the loss of her eye, they made the decision to enucleate. When enucleation was recommended, we were initially uncertain about how to proceed" said Britt. The next week, Rory had her right eye enucleated.
Pathology showed that all of the cancer was removed and Rory was considered NED as soon as the enucleation was complete. Six weeks later, Rory received her first prosthetic eye.
Since having her surgery, Rory has gone back to running around like a typical toddler. She loves caring for her horse and all of her other animals.
Learn more about retinoblastoma here.
Together, we can make a difference.
Donate today… because kids can't fight cancer alone
®
.