Meet Adalyn, an 8 year old Wilms' tumor survivor!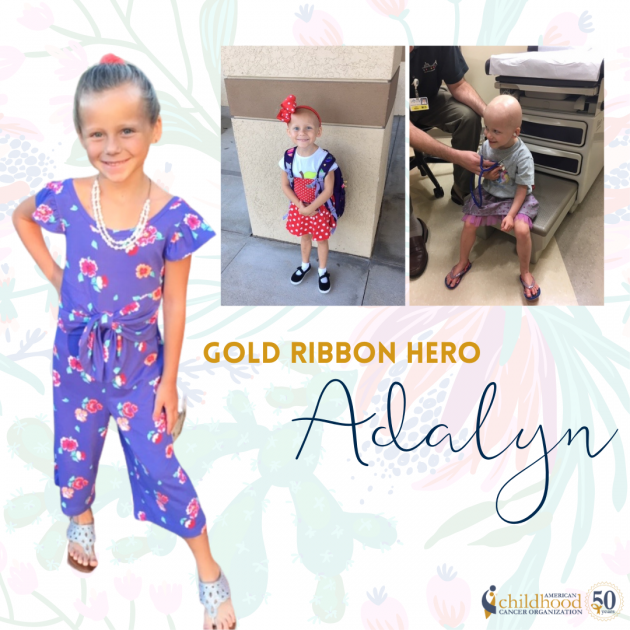 When Adalyn (Addy) was 2 years old, blood was found in her diaper and complained of a stomach ache. She felt better after eating and went to bed. The next morning, her parents found more blood in her urine and took her to the emergency room. The physician that saw Addy felt a mass in her abdomen. She underwent a bedside ultrasound and a CT scan. The family was sent to the nearest children's hospital via ambulance where they performed another CT scan and admitted her. Addy was scheduled for surgery just a few days later. Addy was diagnosed with a right sided Wilms' tumor stage 3, favorable histology. "We were in denial, there was no way our child could have cancer," said Melissa, Addy's mother. 
Just two days after diagnosis, Addy's right kidney was removed. Treatment began immediately with 32 weeks of chemotherapy and 6 rounds of radiation.  In May of 2016, Addy rang the bell and was declared cancer free however in December of 2016, Addy had relapsed with metastasis to the lungs. Addy spent her 4th birthday in the hospital and underwent a chest tube insertion and a lung biopsy. Her treatment now consisted of 8 weeks of chemotherapy and 8 treatments of radiation. On August 16, 2017, Addy completed treatment and is thriving! 
Addy is now happier than ever and enjoys playing with her sister. She faced all of her treatment with a smile on her face and spent many holidays and birthdays in the hospital. Addy now helps to raise money for kids fighting cancer and is happy to share her story with anyone who will listen. 
Learn more about wilms tumors here.
Together, we can make a difference.
Donate today… because kids can't fight cancer alone
®
.