Meet Addalyn, a DIPG hero.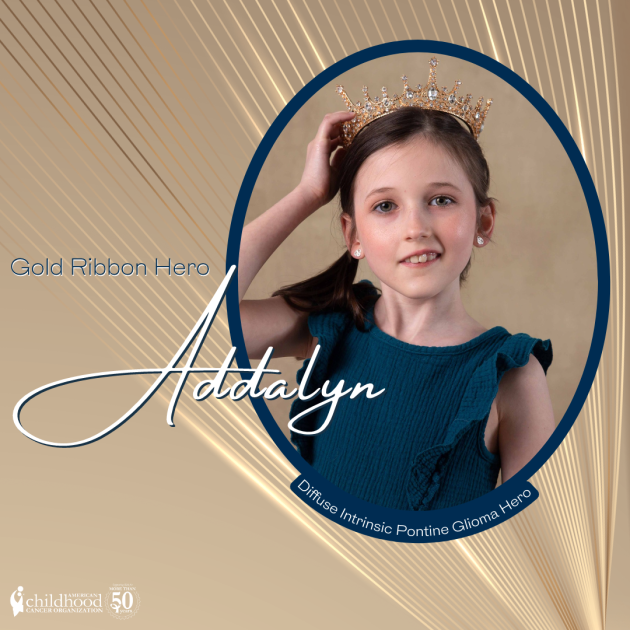 In 2021, Addalyn began vomiting accompanied by excruciating headaches, vision and balance issues. "For two weeks, we were in and out of the emergency room with so many doctor appointments. I was calling and pleading to get someone to take me seriously because there was something seriously wrong with my daughter." After two weeks, "I begged them to give Addie an MRI and they finally did. The results: she had an inoperable and incurable brain tumor and was given six to nine months to live. I was in shock, disbelief and I'm heartbroken" said Renee, Addie's mother. 
Addalyn's mom was finally given answers and a diagnosis, diffuse intrinsic pontine glioma (DIPG). "Devastated. Our world came crashing down. I began grieving the loss of my daughter because I knew she would never be the same." 
Addie's mom entered Addalyn into a clinical trial. She had 30 sessions of radiation and then took an oral chemotherapy for six months. After the progression, she went through another clinical trial that consisted of three higher power radiation treatments. Addalyn bravely fought DIPG for 14 months and on April 3, 2022, Addie passed away. 
Addalyn was a "brilliant artist. Her favorite thing was dogs. She had dreamed of one day becoming a vet and incorporating art into her job somehow." According to her family, she never stopped smiling and told jokes as long as she could. 
Together, we can make a difference. Donate today, because kids can't fight cancer alone!®
Learn more about DIPG here.