Monthly Archives:
August 2015
"Reason this person is a Gold Ribbon Hero: http://flipagram.com/f/aM0MuOvoQ7" – Tim W.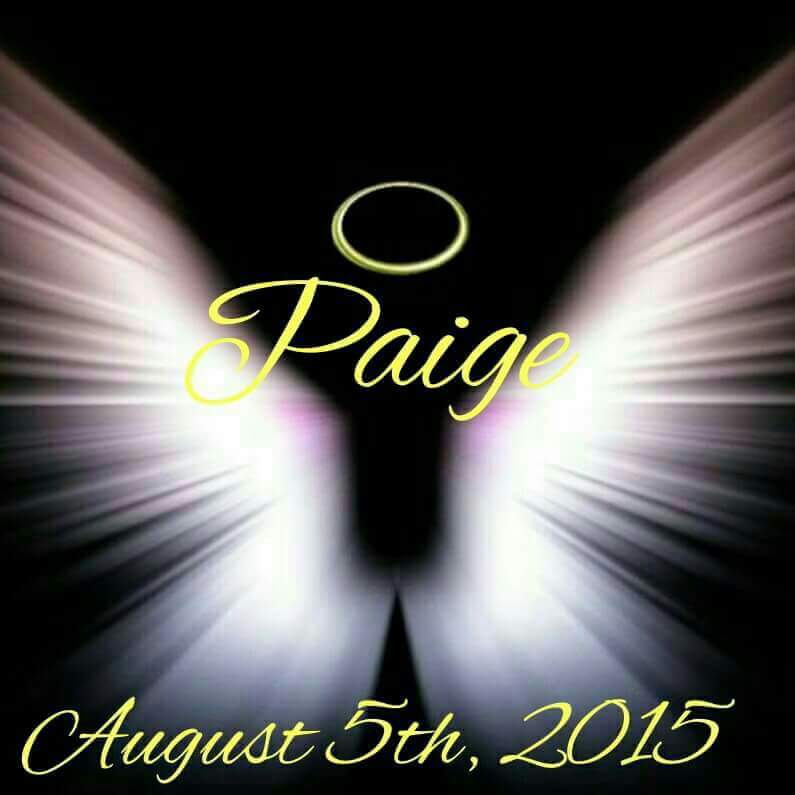 "Reason this person is a Gold Ribbon Hero: My three year old son Jackson was diagnosed with ALL over a month ago. He has been brave and courageous and although he is scared he has shown how tough my little warrior is. He met another little boy in the hospital with the same condition as his and asked me why Toby has to stay in the hospital and we get to go home. I told him every child Is different. He went home in his playroom and gathered a bunch of toys and said let's give my toys to baby Toby to cheer him up in the hospital. I cried knowing what he is going through and still managed to care about someone else." – Jill S.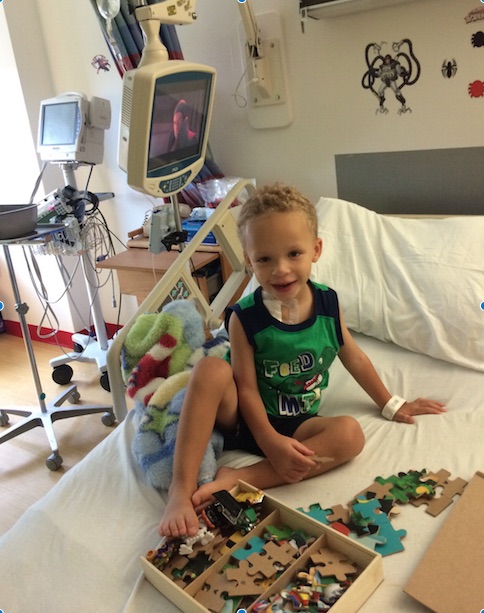 "Reason this person is a Gold Ribbon Hero: My grandson, Sean Collins is a gold ribbon hero because at ten months old he was diagnosed with retinoblastoma.he went through chemo and radiation but in the end is right eye was removed and he is 15 years Cancer Free! He has never lived his life as a person with a disability because he says"he's not disabled".hes a kind, loving and caring person who would never hurt anyone he would give of himself for others. He is heading into his senior year in high school and planning on furthering his college education to be a pediatric oncologist, again he wants to help others.we as a family are so proud of the man that he has become and the way he has chosen to live his life for which we are blessed that God let us keep him to help make this world a better place. God bless all of these children." – Linda P.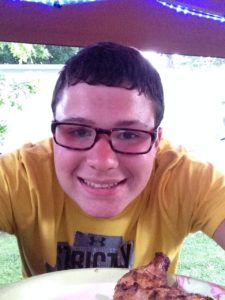 "Reason this person is a Gold Ribbon Hero: Layla was diagnosed with pre B cell acute lymphoblastic leukemia on 2/4/15 and was immediately admitted to duke children's hospital where she was expected to stay about 3 weeks. After her first chemo treatment she had done so well we were able to go home after only 9 days. Layla has lost her hair but not her fight, strength, and positive attitude. Layla is so brave and is able to have her port accessed without any numbing spray, cream or tears. Today 8/18/15 is Layla's 5th birthday and she is spending it receiving chemo. even while throwing up or feeling bad after treatment she is still more worried and concerned with me and making sure everyone else is ok. She is so brave and a true hero." – Shapel W.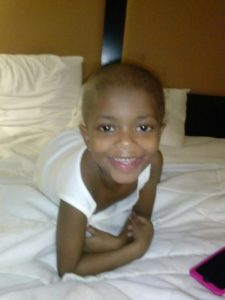 Late Effects of Cancer Treatment
When your child has just been diagnosed with cancer, your immediate focus is helping your child receive whatever treatment he or she needs to give him or her the greatest possible chance of long-term survival.  Unfortunately, many treatments available today for childhood cancer continue to rely on protocols that have proven successful in treating adult cancers, but which can prove highly toxic for the small, still developing bodies of children.  Therefore, when facing a treatment protocol, it is critical for parents to be cognizant of both the short- and long-term side effects of that treatment, and the potential for so-called "late term effects" that may impact your child for the rest of his or her life.
What are "late term effects"?
The good news is that there have been tremendous advancements in the treatment procedures for many forms of childhood cancer, and five-year survival rates for some types of cancer have risen dramatically in recent years. However, both chemotherapy and radiation therapy, the two most common forms of treatment, involve intensive levels of both medication and energy that can target healthy cells in addition to killing cancerous cells.  Unfortunately, these treatments may, and often do, cause severe health-related problems later on.  These are called "late term effects".  While helping your child cope with the short-term and often extremely difficult side effects during or immediately after treatment often takes first priority, it is important to be aware of the types of health problems that may not develop for months or even years.  And as the survival rate continues to improve, but treatment still relies on smaller dosages of adult protocols, more and more children will suffer from "late term effects" throughout the remainder of their lives.
Treating childhood cancer requires an extremely specialized approach from a qualified team of experts, but continuing specialized care well beyond the original treatment to anticipate and mitigate any late effects is equally important. Late term effects can impact multiple internal structures or organs, and can range from very mild to extremely severe.  Doctors should insist upon cautious and active follow-ups after the completion of cancer treatment so that they can watch out for and treat late effects as quickly as possible. The schedule for follow-up will be dependent on several factors like the type of treatment used, the form of cancer the child had been diagnosed with, and the risks associated with such treatments.
Which type of patients are at a greater risk?     
Each child who is diagnosed with cancer gets a unique cancer treatment based on their anatomy, medical history, and type and stage of the disease; in fact, childhood cancer requires a significantly more individualized and specialized approach than adult cancers. In most cases, late effects will be as unique as the cancer and form of treatment. While the risk of late term effects is difficult to predict, some of the other factors that may affect the risk for late effects are:
Overall health condition of the child before the cancer.
The age of the child when treatment was provided to him or her.
The form of childhood cancer the child.
The organ where cancer was detected.
The genetic makeup of the child i.e. whether there is any inherited risk for specific health problems.
The American Child Cancer Organization is dedicated to the ongoing fight against childhood cancer and late term effects.  In addition to offering ongoing support for children and families engaged in this critical battle, the ACCO is at the forefront of the fight to develop new and better treatment protocols designed to safeguard the current–and future–lives of childhood cancer victims.  From advocating for additional government funding to providing insight into ongoing clinical trials, the ACCO is dedicated to finding a cure for childhood cancer so no child has to live with its long term impacts again.
For more information about the American Childhood Cancer Organization and how we can help, call 855.858.2226 or visit:
Remembering "Batman": A Tribute to Mr. Lenny B. Robinson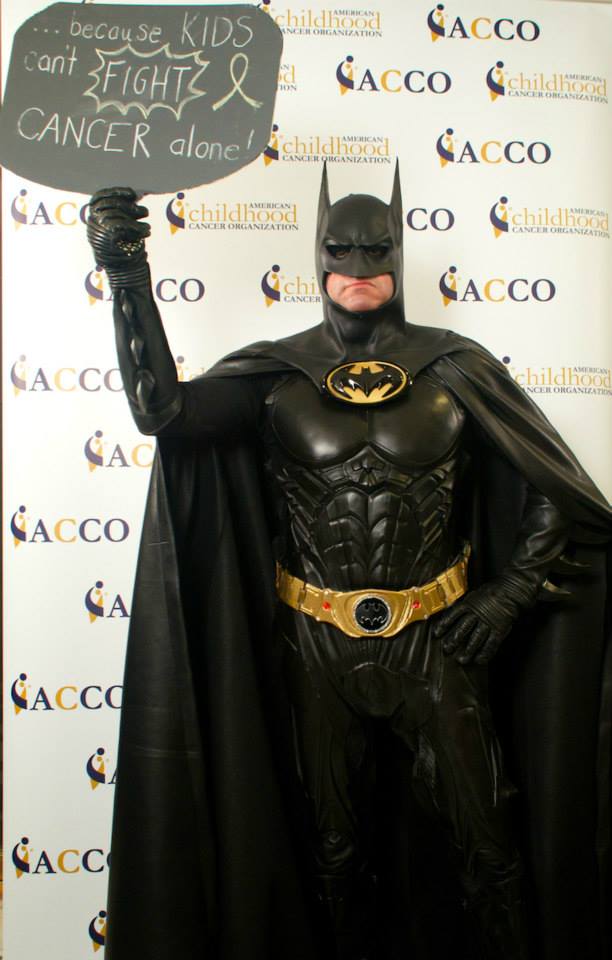 The American Childhood Cancer Organization is saddened to learn of the sudden and unexpected death of Leonard B. Robinson, known to so many children and families in the Baltimore/Washington area as "Batman." Lenny spent so much of his life bringing joy and happiness to children battling cancer and was a "regular" at the ACCO tree lighting event held on Capitol Hill each December.
Since 2001, Mr. Robinson has generously volunteered his time and his money traveling to hospitals throughout the Baltimore/Washington area dressed as Batman, visiting children fighting childhood cancer and other serious illnesses, handing out toys and gifts, and bringing a message of hope and encouragement to children and their families. His generosity, warmth, and devotion to these brave cancer warriors will be sadly missed by the children, their families, and all of us in the ACCO community.
Mr. Robinson traveled throughout the area dressed in a custom-designed, authentic-looking Batman costume and driving a black Lamborghini decorated to look like the Batmobile. Never breaking character, he visited area hospitals several times a month to hand out Batman-themed gifts, books, t-shirts, and toys, all personally signed by "Batman." According to the Washington Post, Mr. Robinson spent $25,000 a year of his own money to purchase the memorabilia, but for the children he visited, his presence alone was just as special, just as exciting, as the gifts he brought. Children battling cancer can spend weeks, or even months, living in a hospital wing to receive potentially life-saving treatments and life in the hospital can be scary, difficult, and even simply boring. Visits from "Batman", as Mr. Robinson knew, were as much therapy as fun for these special children, bringing them excitement and joy, and making life in the hospital just a little bit better.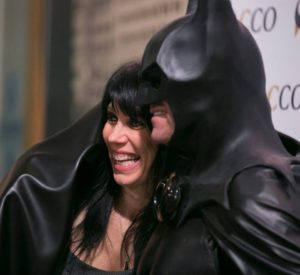 Never seeking notoriety or publicity for his actions, which he called part of a "maturation process" so important in bringing peace and stability into his own life, Mr. Robinson gained a degree of fame when he was pulled over in his Batmobile, dressed in costume, for a minor traffic violation in 2012 (he was not ticketed!) Mr. Robinson was a self-made businessman who founded his own commercial cleaning company as a teenager. Having sold his business, he spent the last several years making visits several times per month to area hospitals and participating in charity events and fundraisers dedicated to raising awareness about the critical needs of children facing cancer and their families.
Mr. Robinson was struck and killed late Sunday evening after his replica Batmobile broke down on Interstate 70 in Maryland. The ACCO, the childhood cancer community, and most especially the children to whom he brought so much joy will greatly miss his enthusiastic and wholehearted dedication to bringing smiles to the faces of those who need them most. We extend our deepest condolences to Mr. Robinson's family in this time of grief and sadness. He will be greatly missed.
To See "Batman" at Our Light Up the Holidays with Hope Events, Please Click on a Facebook Album Below:
For more information about the American Childhood Cancer Organization and how we can help, call 855.858.2226 or visit:
"Reason this person is a Gold Ribbon Hero: Aiden was first diagnosed at the age of 2 1/2 with clear cell sarcoma to the kidney. He had radiation and 6 cycles of chemo and in Sept.2013 he was in remission . However in March 2015 we took Aiden to the ER because he fell and there they told us he relapsed and tumor was found in his brain. We left everything behind and moved from NJ to PA (CHOP) so he can receive the best care. He is such a strong, courages little boy with all he had gone through he still smiles and loves to play and is full of live. He is truly my hero." – Carmen D.
"Reason this person is a Gold Ribbon Hero: Noah Luce won't be stopped. He is 3 years old diagnosed with clear cell sarcoma of the kidney on Fathers Day. Going into the emergency room that day little did we know we would never go back home. Noahs life changed in hours and hasn't given up in the slightest. His personality pours into the hearts of everyone he meets. He encourages his new friends on the pediatric cancer unit everyday to smile play laugh and get up and get going. After every stay in the hospital he gives away his balloons to his new  friends is concerned when he hears the cries in the bed next to us and insists on checking on them. Daily he says to me, mommy I'm not sick!  He is not sick we just have one large jaw breaker in his tummy we want to get out I tell him. He continues to push me everyday to laugh tickle and jump like crazy no matter the situation. Noah is a mighty superhero on a mission of laughter to brighten the darkest of days." – Krystal C.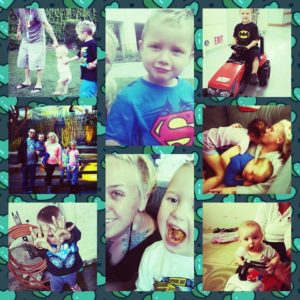 "Reason this person is a Gold Ribbon Hero: This is my aunt. Her five year old son(pictured in the photo) has brain cancer and epilepsy. She somehow manages to get to all his appointments and get him to all his therapy sessions on top of raising three other kids. I nominate her cause I know that I wouldn't be able to do this like her. She really is a hero for her child." – Scott G.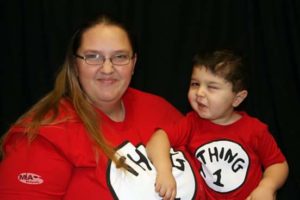 "Reason this person is a Gold Ribbon Hero: Sherri Viccarone lost her daughter to brain cancer when she was 16 years old in 1996. Since that time, Sherri has inspired our community to give back in Misty's memory. It started simple, as a teddy bear collection for the children's hospital at Christmas time, but has grown into so much more. In 2010, Misty's Wish became a nonprofit organization dedicated to helping children and families with life threatening illnesses. Through Misty's Wish, Sherri runs fundraisers to support a children's hospice program, supports the child life department of multiple hospitals, collects gifts for children at Christmas and so much more. She's dedicated her life to helping families get through the toughest challenge they could face and bravely faces her own grief in order to serve families in similar situations. You can find her and Misty's Wish volunteers making and serving meals at the children's hospital or Ronald McDonald house and connecting with families often. At the center of everything she does, Sherri is spreading the message of childhood cancer awareness and keeping her daughter's memory alive by helping other families like her own. More about Misty's Wish can be found at www.mistyswish.org" – Shannon V.