Monthly Archives:
August 2015
"Reason this person is a Gold Ribbon Hero: Preston is fighting Medulloblastoma brain cancer" – Elena S.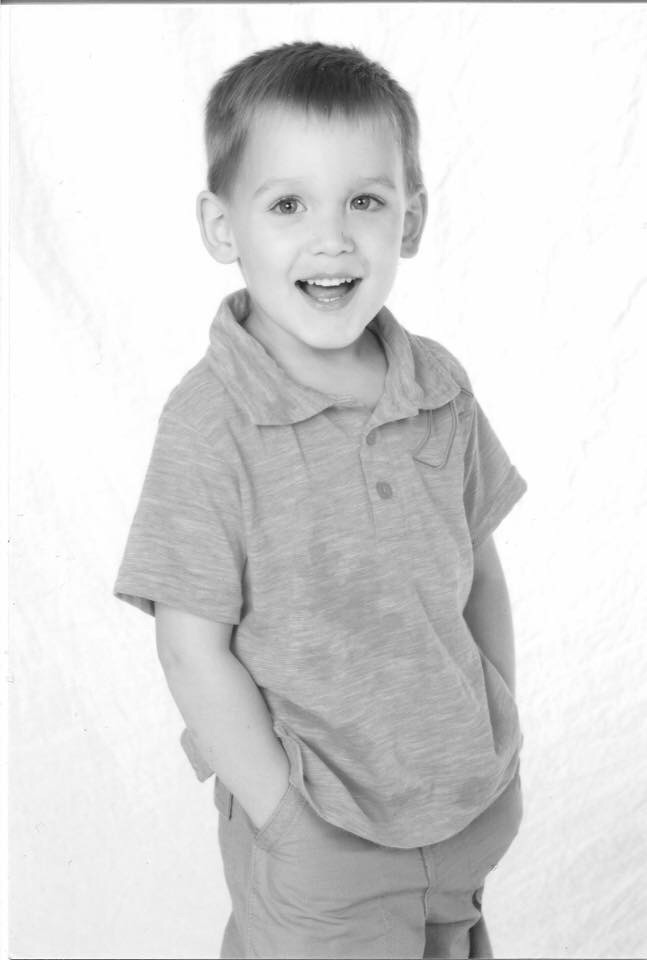 "Reason this person is a Gold Ribbon Hero: Matt Overton is just a man with a dream like you and I. He is a man with a heart of gold, just like the awareness color that represents the cancer I had only a short year and a half ago. He is a friend, a football player for the Indianapolis Colts, a country music fanatic, and a hero. I met Matt on Twitter one morning when I was being admitted back into the oncology ward with a blood infection. I was supposed to have a week off of treatment and time back at home with my family, but cancer had other plans. I tweeted at Matt saying that I would love to meet him sometime. He responded within minutes, tweeting to 44,000+ followers and asking them to pray for me, calling me a beautiful inspiration. I also received a direct message asking me where I was located so that he could meet up with me. A few hours later, there he was at my hospital room door with a grin on his face and the eagerness to know my story. I am twenty years old and at eighteen I was diagnosed with high grade osteosarcoma. It hit me very hard when I was diagnosed, only for the fact that I had plans to move out in less than a month from my day of diagnosis and attend IUPUI here in Indianapolis. I wanted to live, I wanted to study nursing, and I wanted to be a normal eighteen year old. But cancer had other plans. Matthew continued to visit me, send me flowers, text me and check up on me, and inspire me as he consistently showed his compassion to help others who were sick like myself. He surprised me on the eve of homecoming at my hometown high school, where as the reigning homecoming queen, it was my job to crown the next lady who would represent my high school. He and Pat McAfee escorted me onto the football field where they smiled and made me feel as if I was invincible for a little while. It was one of the best nights of my life. Six months ago I celebrated my cancerversary and biggest milestone, my one year cancer free mark. My parents threw a small party for me at a restaurant here in Indianapolis where my family and friends gathered to celebrate being healthy and happy for a year. Matthew took the time out of his busy personal life, during the off season of his career where he spends a lot of his time back in California, to come to my party and once again prove his compassion. There is no one person who is more deserving of this award. Matthew is a man who loves giving his time to kids who may not have much time left. I am blessed beyond measure to have met someone so humble, and his astounding attitude only continues to give humanity a good name. He is my hero, an inspiration to many, and a role model to us all." – Madeline H.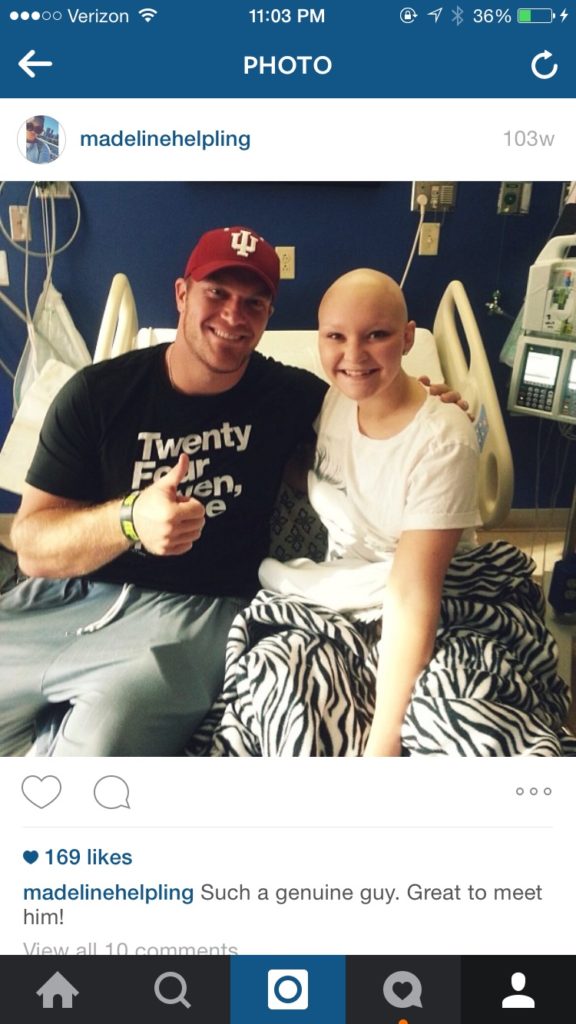 "Reason this person is a Gold Ribbon Hero: Cole was 19 months old when he was diagnosed with Hepatoblastoma.  He came into the world very small at 2 LBS and 8 OZ.  He has overcome so much in his short life.  He has amazed all of us with his strength.   He has learned to walk since completing chemo.  He is now a typical 2 year old and our HERO!" – Misty E.
"Reason this person is a Gold Ribbon Hero: I'd like to nominate my son…
Alex, who at the age of 12 was diagnosed with Stage 4 Diffuse Large B cell Non-Hodgkin's Lymphoma of the bone on Monday April 4th, 2011.
The disease affected 90% of the bones in his body, Alex underwent 6 rounds of intense chemotherapy, 96 hours at a time at Children's Hospital of Michigan in Detroit, MI. It was during his time in the hospital that Alex asked for his Xbox to be brought in so he could escape reality with video games. It had a very positive effect on his attitude…it allowed him to cope, relax and have the comforts of home right there in his hospital room…his home away from home. Very few of his roommates had the same comfort or escape…Alex would share his games and controllers until it was time for him to go home.
Alex came up with the idea of…
"What if we could put video games in all the rooms on the oncology floor…and the infusion room too?"
Because of Alex's inspiration and the way he fought cancer…and eventually won, this year we started a non-profit organization Alex's Arcade, to help other children like Alex to cope with cancer." – James C.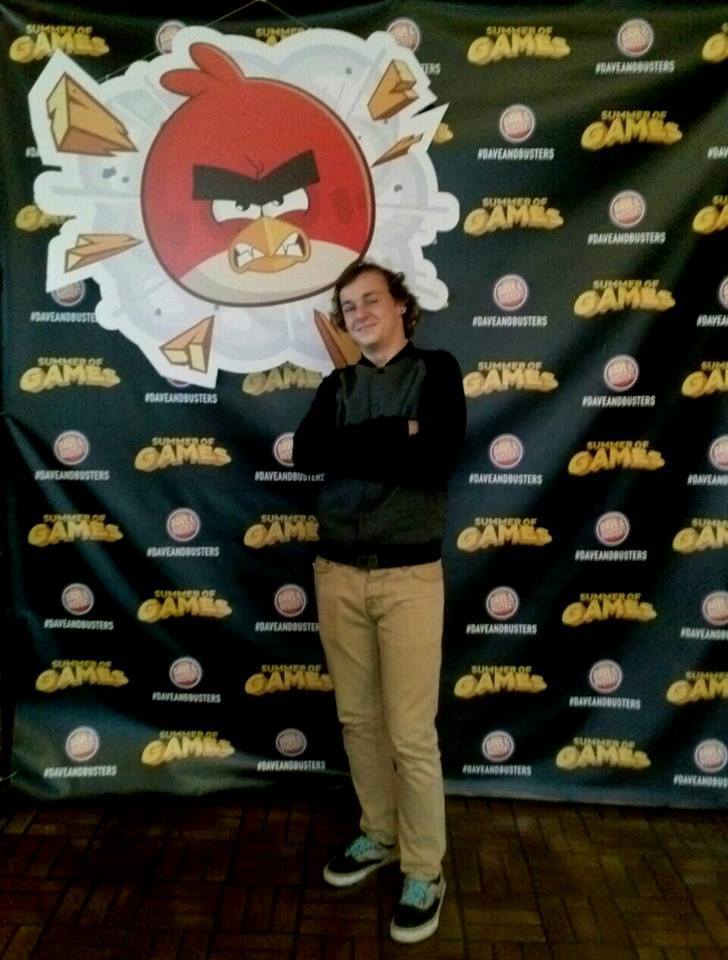 "Reason this person is a Gold Ribbon Hero: Emma is a gold hero because she has been battling DIPG. An inoperable form of brain cancer for 17 months. In this time she has published a book to show kids how they can have fun and be brave fighting cancer!www.hope4emma.com" – Donna M.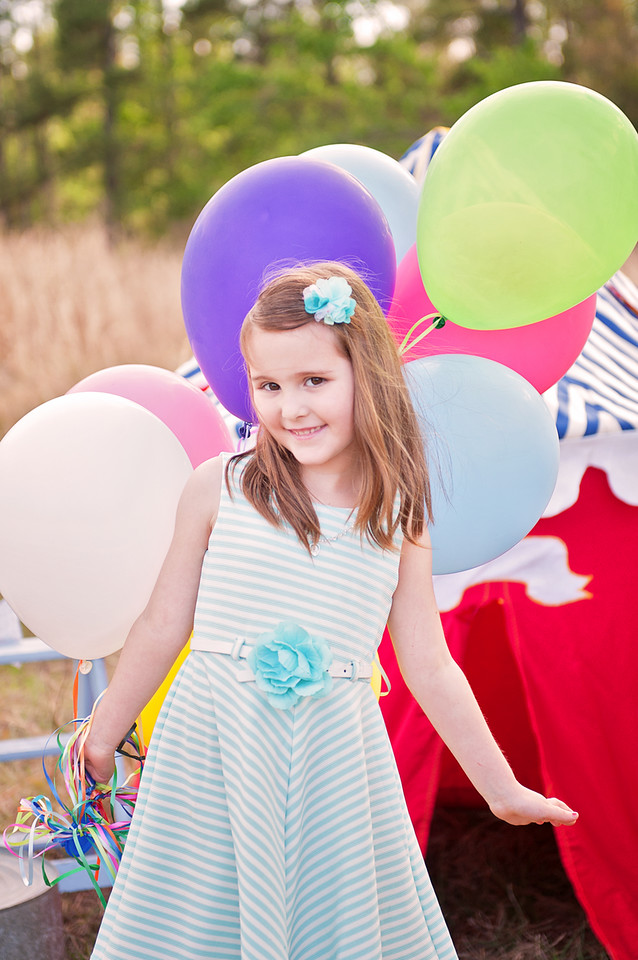 "Reason this person is a Gold Ribbon Hero: Lily's son, Bryson, was at University of Missouri Women and Children Hospital in Columbia, MO for two months before being taken by DIPG. Lily made all of Bryson's days fun and beautiful.  She took the major role in Bryson's care and brought personal touches into his care and into his room.  Hospital officials have said they will be taking parent's wishes into account more now because of Lily." – Theresa S.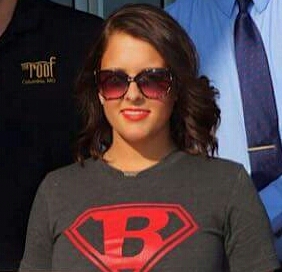 "Reason this person is a Gold Ribbon Hero: Avery "brAvery" Heino was diagnosed in June 2014 with a rare form of brain cancer – Atypical Teratoid Rhabdoid Tumor (AT/RT) – just a week before her 2nd birthday. During her 10 months of treatment, she had 13 surgeries (8 of which were brain surgeries and included a tracheostomy and g-tube), over 20 rounds of high dose intense chemo therapy, a stem cell transplant and countless other procedures, infusions, etc. We basically lived inpatient in the hospital throughout those entire 10 months. Avery passed away on April 7, 2015 from complications relating to her treatment and stem cell transplant. The harsh chemo drugs left her trying to fight off many infections and caused multiple complications that caused her lungs to fail.
Avery completed our family in a way I didn't even realize was missing. When I was pregnant with her, I worried endlessly that it wouldn't be the same or that I wouldn't love her like I loved Ella (my older daughter). And then she was born – I felt an immediate sense of completion and wholeness that I didn't even realize I was missing. She was sweet and silly and crazy and snuggly. She smiled through every treatment and every procedure. I've never met anyone who smiles after puking! She made friends with everyone she met, even if she never said a word. She loved her sister fiercely, thought her daddy was the best and funniest guy around and her favorite place to be was in my arms. Not having her with us on Earth anymore has left an incredible hole in our life and our hearts. I'm still not sure how we're supposed to live our whole lives without her. She is so very missed. A photo essay series was done on Avery during her last chemo treatment to help spread awareness for pediatric cancer – http://brittanigattisphotography.com/the-day-in-the-life-of-pediatric-cancer/
We are dedicating Avery's memory and life to helping advocate and fight on behalf of all the children affected by childhood cancers. No family should go through what mine did, no parents should be faced with the decisions my husband and I had to make, no one should have to bury their baby." – Dana H.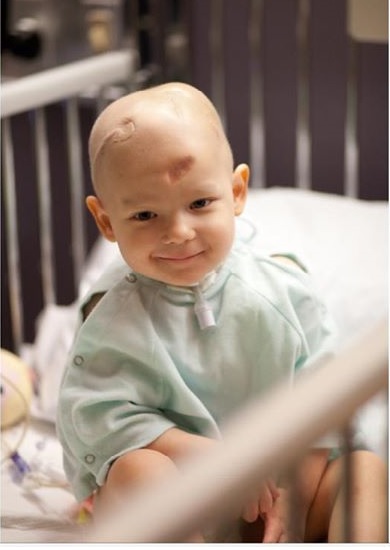 Returning To School
For most children, going to school forms the backbone of their daily routine: normal, everyday activities like catching the bus, greeting their friends, completing in-school activities, and doing nightly homework are so regular that most of us don't even think about them.  For a family coping with a diagnosis of cancer, handling the daily routine of school can seem like just one more insurmountable challenge.  Yet for school-age children, and especially middle- and high-school children, taking the time to think through how to approach school-related issues both during–and after–treatment will play a critical role in ensuring your child's academic success once treatment is complete.
Whether your child can go to school intermittently during treatment or whether treatment has required a long absence from school, returning to school can be emotionally challenging for many parents, who face serious concerns about the potential for illness, whether their child has the physical or emotional stamina to cope with a long school day, and whether they will face teasing from uninformed peers.  Yet at the same time, maintaining a regular school-related routine as much as possible can offer your child, and indeed your family, emotional stability and regularity during a difficult time, and will help reassure your child that they have a future that is bright and strong.
Communication is the key to your child's educational success

Although at times dealing with school-related issues can seem like just one more "to do" on your growing list, opening an early dialogue with the educators in your child's life will help ensure your child's educational success both during and after treatment.  The first step is alerting the school about your child's diagnosis and treatment plan, the expected duration of the treatment, and the extent to which he or she will be absent.  Notifying the principal, your child's teacher(s), and the school counselor quickly will not only keep them informed of expected absences, it will also enable them to work with you to ensure that your child does not fall behind academically during treatment and keep the school informed about potential limitations that treatment places on their ability to complete certain types of activities or work while in school.
Of course, for many parents, ensuring that your child will not "fall behind" will be a priority.  Helping your child stay up-to-date on school work will require that he or she complete assignments while at home or in the hospital.  Your school should be able to provide lesson plans and assignments for completion, and may even be able to offer academic assistance in the form of tutoring for older children with more complicated workloads.  Many hospitals now also offer academic support for children struggling to complete assignments while in extended hospital stays.  By supporting your child and encouraging them to stay on top of their school work as much as treatment allows, you are offering him or her the best possible chance to return to school as smoothly and seamlessly as possible.
Perhaps more importantly, however, maintaining excellent communication with your child's school will activate additional resources that may be available to help you and your child as they balance the difficult bridge between school and treatment.  Most critically, of course, is ensuring that your child receives academic support, including additional assistance if necessary, to stay as close as possible to grade level.  However, schools also offer emotional support as well; the school counselor can help your child cope with the emotional stresses he or she is facing.  And last, but not least, the school can help guide and manage social interactions as well, working with other students to help them understand what your child is going through and ensuring that your child receives support and friendship from his or her peers as well as from school staff.
For additional information on coping with school-related issues and establishing communication with the educators in your child's life, we encourage you to obtain a copy of Educating the Child with Cancer: A Guide for Parents and Teachers, 2nd Edition, edited by the American Childhood Cancer Foundation's own Ruth Hoffman, and available through the ACCO (www.acco.org).
For more information about the American Childhood Cancer Organization and how we can help, call 855.858.2226 or visit:
"Reason this person is a Gold Ribbon Hero: Isabel is a brave  girl. As she fights cancer she still manages to keep her faith and positive attitude. She keeps her parents strong even though she is going through so much. She manages to be so full of love and maturity when most grown ups would be falling apart if they were in her place. She is an amazing child!" – Amber T.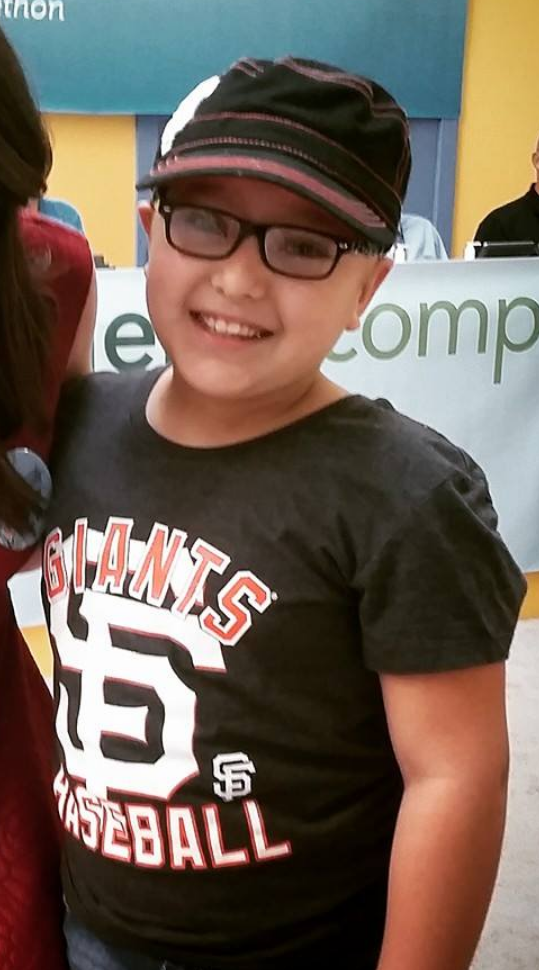 "Reason this person is a Gold Ribbon Hero: Will was diagnosed with Acute Lymphatic Leukemia T-cell on November 18, 2013, three months to the day after his fourteenth birthday.  Will was a warrior even before his diagnosis dealing with several learning differences that just made school hard for him.  In September 2013 he began attending The Hill School of Fort Worth and fell in love with school for the first time.  Three months later everything changed.  Leading up to Will's diagnosis he was practicing hard as a member of his basketball team, he felt ill but still kept going because he loved playing the game. Often he would get physically sick while driving home from school. Will's doctor wrote a prescription for antibiotics for a sinus infection and still no change.  Tired, but never running a fever, Will went to ?" Will had an aggressive strain of Leukemia.  After an induction phase of 30 days of chemo and a consolidation phase of more chemo and brain radiology Will had still not reached remission.  A bone marrow transplant of a full sibling donor was his best chance at recovery. There was only a 30% chance that Will's full blood sister would be a match and as miracles happen she was a match!  Now just over one year later Will is healthy and back in school.
Will began giving back even while fighting cancer by attending a St. Baldrics event where a nurse from Cook Children's Hospital  shaved her head because Will was her inspiration and Will also appeared in a Cooks Hospital PSA  for cancer awareness.  As Will was getting ready to check into the bone marrow unit he found out his art work was chosen  by the Honored Hero Run to represent their fall race; so six months after transplant Will ran a 10k!  Will continues to speak publicly for any organization that asks.  He has given two speeches for LLS  this year and has more on his calendar.
Will was chosen last year by the Cook staff to serve on their Youth Advisory Committee. Will's physical therapist was also touched by Will's brave spirit and decided to go back to school for his Masters. Will is a good student back at the Hill School after practically missing his whole eighth grade year. One year later he finally got to play in that basketball game he never made it to because of Cancer. Will has also been named a Superstar by Ragan's Hope
Will grew up in Colorado but has Texan roots with his late grandfather Buddy Jeffers being a member of the Texas Cowboy Hall of Fame. He loves snowboarding, sledding, deep sea fishing and being a teenager." – Nancy J.