How to StepUp for Childhood Cancer!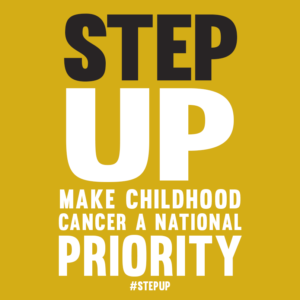 September is Childhood Cancer Awareness Month: time for all of us to #StepUp and make childhood cancer a national health priority. Making childhood cancer a priority means devoting critical resources towards much-needed research efforts and clinical trials devoted to the development of new, more effective, and less toxic treatments. It means making sure childhood cancer receives an equal share of the budgetary pie. It means ensuring the continuation of critical federal funding focused on defeating this terrible disease forever.
This is not a call for donations. This is a call to add your voice to the growing chorus of people demanding that the US Government commit to funding critical research efforts specifically targeting childhood cancer.
This month, Congress will review a major piece of legislation designed to protect and enhance federal funding for research into targeted therapies specifically designed for childhood cancer. We hope that you will join with the ACCO to encourage Congress to pass the Childhood Cancer STAR Act. As always, the budget is tight and money is scarce, and Congress has many funding priorities to consider. So we need to work together to let Congress know that childhood cancer cannot be forgotten, that the children facing cancer today and those who will face it tomorrow are counting on Congress—and on us—to make their future brighter.
What is the STAR ACT?
The Childhood Cancer Survivorship, Treatment, Access, and Research (STAR) Act is an important first step in addressing the critical funding gap undermining the potential for advances in treatment protocols for all forms of childhood cancer. This critical legislation seeks to promote research for childhood cancer in five substantive ways:
Enhance and expand opportunities for childhood cancer research by authorizing the collection of clinical, biological, and demographic information on all childhood cancer occurrences;
Improve childhood cancer surveillance by helping state cancer registries better track incidences of childhood cancer, with the ultimate goal of building a national childhood cancer registry;
Improve quality of life for childhood cancer survivors by enhancing research efforts devoted to childhood cancer's late effects, as well as promoting innovative models of care for survivors;
Ensure patients have access to all available therapies by requiring pharmaceutical companies to have publicly accessible compassionate use policies enabling patients access to therapies still in development, outside the clinical trial setting;
Ensure pediatric expertise at the National Institutes of Health (NIH) by requiring the inclusion of at least one pediatric oncologist on the National Cancer Advisory Board and requiring that pediatric cancer be included in all childhood health reporting requirements.
Why is the Childhood Cancer STAR Act Important?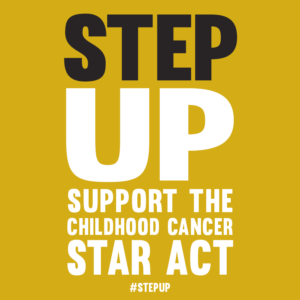 1 out of every 285 children will be diagnosed with childhood cancer every year, and nearly 90% of those children will receive treatment through clinical trials supported by NCI's Children's Oncology Group. Because every type of childhood cancer requires a unique treatment approach, development of new, effective, and less toxic treatment protocols has lagged significantly behind similar efforts into adult cancers. In fact, of the 109 new cancer drugs developed since 1990, only two were developed and approved by the FDA to specifically treat childhood cancer.
The NCI funds nearly all current and ongoing research into new treatments for childhood cancer, and its success has been remarkable: in the past decade, the survivorship rate for some forms of cancer has risen to above 80%. Unfortunately, recent funding cuts have impaired the NCI's, and specifically the Children's Oncology Group's, ability to promote critical research efforts and support desperately-needed clinical trials. These cuts threaten to halt the promising gains that have been made in many areas thus far.
Only by securing much-needed financial support for the NCI and keeping childhood cancer at the forefront of the NCI's agenda can we preserve the gains that have already been made in the fight against childhood cancer, and continue to push toward a future where no child has to die from this devastating illness or suffer long-term health effects stemming from current treatment protocols.
What Can I Do To Help?
This month, the ACCO, along with many other groups and individuals in the childhood cancer community, is "Stepping Up" its efforts to make Congress and the general public aware of the grave threat childhood cancer poses to children today and the critical need for ongoing research into new and better treatments. It is our goal, this month, to Make Childhood Cancer a National Priority.
We need your help to make this campaign a success.
We need your help to ensure that Congress understands the critical importance of the STAR Act.
We need your help to give cancer's youngest victims a fighting chance.
We invite you to:
Contact your representative directly and encourage them to support the STAR Act
Spread the word by joining our #StepUp social media campaign
Change your profile picture to the StepUp for Childhood Cancer logo
For more information on how to join our social media campaign, letter templates for contacting your representative, and specific posts, tweets, and images you can use to capture the attention of your local representative and the community near you, we encourage you to visit www.stepupforchildhoodcancer.com today! We thank you for helping us #MakeChildhoodCancerANationalPriority!
For more information about the American Childhood Cancer Organization and how we can help, call 855.858.2226 or visit: