Childhood Cancer Awareness Month is here and the STAR Act needs your help!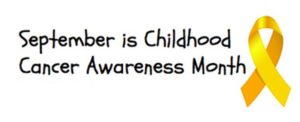 What could be a better way to kick off September as Childhood Cancer Awareness Month than adding your support to the most comprehensive childhood cancer bill ever in US legislative history: the STAR Act! Support for the STAR Act continues to grow—just this past week, we reached 250 co-sponsors in the House alone—but we still need your help to continue to push this bill through the legislative process.
The legislative process can be slow and frustrating, but we have faith that our Congressmen and Congresswomen understand the critical importance of the STAR act and what it could mean for children facing childhood cancer today and tomorrow. The Childhood Cancer STAR Act (Survivorship, Treatment, Access and Research (H.R. 3381/S. 1883), as it is formally called, is currently pending before the House Energy and Commerce Committee. It must have a hearing and mark-up in this committee before moving onto a vote by the full House of Representatives and US Senate. We hope that the hearing before the Committee will happen this month—during Childhood Cancer Awareness Month.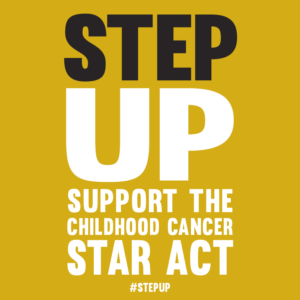 Progress is being made. Just last week, members of the House Energy and Commerce Committee met with officials from the National Institutes of Health to ensure that any concerns NIH had about the bill had been addressed. A lead Republican Staffer on the Health Subcommittee of the Energy and Commerce Committee acknowledged that 70% of the members of the Health Subcommittee are signed on as co-sponsors of the bill and that there are no longer any concerns about the bill. We are moving closer to our goal!
We are now asking for Congressman Upton, Chairman of the Energy and Commerce Committee, to prioritize the STAR Act so that it can be voted on by the Committee this month, before the end of the legislative year. Congressman McCaul asked Chairman Upton to put the bill on the agenda in May and we have asked him to press Chairman Upton again for a hearing. But we need as much positive pressure as we can generate on Chairman Upton and other members of the Committee, to encourage them not to let this important piece of legislation linger for another year.
How can I help?
We need your help reminding Chairman Upton that this bill is important and that it deserves a hearing!
Below is a list of members of the Energy and Commerce Committee who have signed on as Co-Sponsors. We ask you to contact them—by phone, by email, by social media—and ask them to call upon Chairman Upton to bring this bill before the Committee for a hearing. Chairman Upton must believe that his fellow Committee members want to discuss this bill, that they believe in its critical importance for childhood cancer. Chairman Upton needs to hear from Committee members that this bill is a priority!
Why should the STAR Act be a priority? Because:
Cancer is the #1 disease killer of children in the United States today;
Approximately 1 in every 285 children under 20 are diagnosed with childhood cancer every year;
2 out of every 10 children diagnosed with cancer will not survive;
25% of childhood cancer survivors will suffer from one or more serious health problems stemming directly from their cancer and/or their treatment;
Of the more than 10 new cancer drugs developed since 1990, only two were developed and approved by the FDA specifically for childhood cancer.
This important childhood cancer legislation gives hope to all the children currently undergoing treatment and to survivors of childhood cancer suffering long-term health effects of today's toxic treatments. Without sufficient funding into next-generation treatment options and government-funded clinical trials, children with some forms of cancer will continue to face unacceptably high rates of mortality and survivors will continue to face long-term, significant threats to their health as a result of their cancer treatment.
The ACCO helped draft the STAR Act because we believe in the critical importance of protecting and supporting the future of ongoing efforts to develop new, more effective, and less toxic treatment options for childhood cancer. We are fighting every day to make the STAR Act into law and to bring hope and courage to childhood cancer warriors. We hope you will continue to join us in this fight…
…Because Kids Can't Fight Cancer Alone!®
E&C Members who have signed on as co-sponsors to the STAR Act:
Brett Guthrie (R-KY)

Tim Murphy (R-PA)
Marsha Blackburn (R-TN)
Cathy McMorris Rodgers (R-WA)
Leonard Lance (R-NJ)
Gus Bilirakis (R-FL)
Susan Brooks (R-IN)
Chris Collins (R-NY)
Joe Barton (R-TX)
Bill Flores (R-TX)
Kevin Cramer (R-ND)
Gregg Harper (R-MS)

Mike Pompeo (R-KS)
Markwayne Mullin (R-OK)
Richard Hudson (R-NC)
Eliot Engel (D-NY)
Lois Capps (D-CA)
Jan Schakowsky (D-IL)
G.K. Butterfield (D-NC)
Kathy Castor (D-FL
John Sarbanes (D-MD)
Doris Matsui (D-CA)
Ben Ray Lujan (D-NM)
Kurt Schrader (D-OR)
Joseph Kennedy (D-MA)
Tony Cardenas (D-CA)
Peter Welch (D-VT)
Anna Eshoo (D-CA)
Paul Tonko (D-NY)
Yvette Clarke (D-NY)
Bobby Rush (D-IL)
Diana DeGette (D-Co)
John Yarmuth (D-KY)
Mike Doyle (D-PA)
Jerry McNerney (D-CA)
Dave Loebsack (D-IA)
About the American Childhood Cancer Organization
The American Childhood Cancer Organization (ACCO) is a non-profit charity dedicated to helping kids with cancer and their families navigate the difficult journey from cancer diagnosis through survivorship. Internationally, the ACCO is the sole US member of Childhood Cancer International (CCI), the largest patient-support organization for childhood cancer in the world. Here in the United States, the ACCO promotes the critical importance of ensuring continued funding into new and better treatment protocols for childhood cancer.  And most importantly, the ACCO is focused on the children: developing and providing educational tools for children fighting cancer and their families, empowering them in their understanding of childhood cancer and the medical decisions they must make during this difficult journey. All of ACCO's resources are available free of charge for families coping with childhood cancer.
For additional information about childhood cancer or on the ACCO, or to order resources for you or your child, please visit our website at www.acco.org.