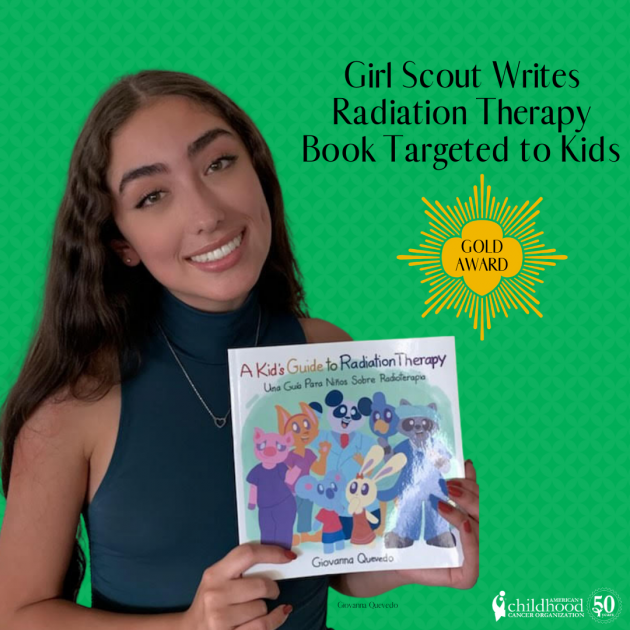 After Giovanna's mother was diagnosed with breast cancer she started radiation therapy as treatment. Giovanna knew that she wanted to help kids and their families understand radiation therapy so she made it her mission to learn all she could. She attended treatment appointments, shadowed radiation staff and had a special radiation mask made of her face in order to better understand what pediatric patients experience
Giovanna was in pursuit of the Gold Award, the highest award in Girl Scouting.  After failing to find enough age appropriate information about radiation therapy geared towards kids, she decided to close this gap by writing a book targeted to children entitled, "A Kid's Guide to Radiation Therapy." The book helps children and their families learn more about radiation therapy treatment in easy to learn language. Not only is this book in English, it is also translated into Spanish! 
While writing the book, Giovanna was able to obtain medically accurate information from radiation therapists and Certified Child Life Specialists at Miller Children's Hospital Long Beach. She was also able to speak with the radiation oncologist and radiation therapist at City of Hope South Bay's Department of Radiation Oncology. 
Background on the Girl Scout Gold Award: Every year Girl Scouts of Senior and Ambassador rank plan and execute service projects geared towards issues they care about . The honor is given to Girl Scouts whose projects demonstrated extraordinary leadership, had a measurable and sustainable impact, and addressed a local challenge related to a national and/or global issue. These young women are taking matters into their own hands, generating much-needed change! 
Giovanna will continue her mission to educate and inspire others through her project and create a lasting impact to better the futures of pediatric patients and their families. 
Read the book here.
The American Childhood Cancer Organization provides resources and support to families of children with childhood cancer. Please donate so we can continue to provide our services free of charge.