Meet Kimberly, a forever 16 year old stage 4 rhabdomyosarcoma hero.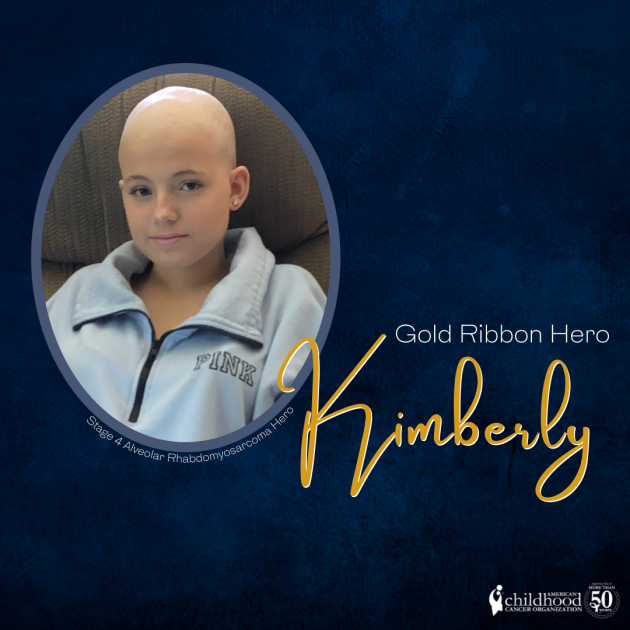 In June of 2018, Kimberly started to complain of back pain, so her parents took her to the doctor. Her doctor referred her to a neurosurgeon. Kimberly was diagnosed with piriformis syndrome, a muscle spasm syndrome and treated with medication. Her follow up was set for July 2018. In early July, Kimberly collapsed while walking down her hallway. She panicked, cried and could not get up or walk. After more difficulties walking and getting up, she was taken to the emergency room. Kimberly was admitted to the hospital and results were sent to St. Jude. 
On July 20, 2018, Kimberly was diagnosed with stage 4 alveolar rhabdomyosarcoma. She was given a 50% chance of survival over a five year period of time. 
Treatment started immediately. "She spent almost all of her days living in hell in the hospital, going through chemotherapy and other treatments. She lost her hair and would get so sick she could hardly move. But, she would bounce back up. She was 14 when she was diagnosed and spent her birthday and Halloween in the hospital. She was lucky enough to get out just before Christmas" remembers Tracy, Kimberly's mother. Tracy was determined to give her the best life she could so the family took a few memorable family vacations. 
While the family was on Kimberly's wish trip, they received a call from the doctors that the cancer had spread to her pancreas. Treatment would start when they got back. Kimberly underwent cyber knife radiation which helped get rid of the spots on her pancreas. After three months, Kimberly went in for routine scans which revealed the cancer spread in her pancreas, lymph nodes, throughout her abdomen and bones. Doctors told the family there were no more treatment options and after a couple of months, she started getting weaker and having more pain. Hospice was brought in to help keep her comfortable and then she went downhill fast. On March 8, 2020, Kimberly gained her wings. 
Kimberly was remembered as having a "heart of gold and always trying to help others. She always tried to see the best in everyone." 
Learn more about sarcomas here. 
Together, we can make a difference.
Donate today… because kids can't fight cancer alone
®
.