Meet Jace, a Kansas State University student and DIPG warrior.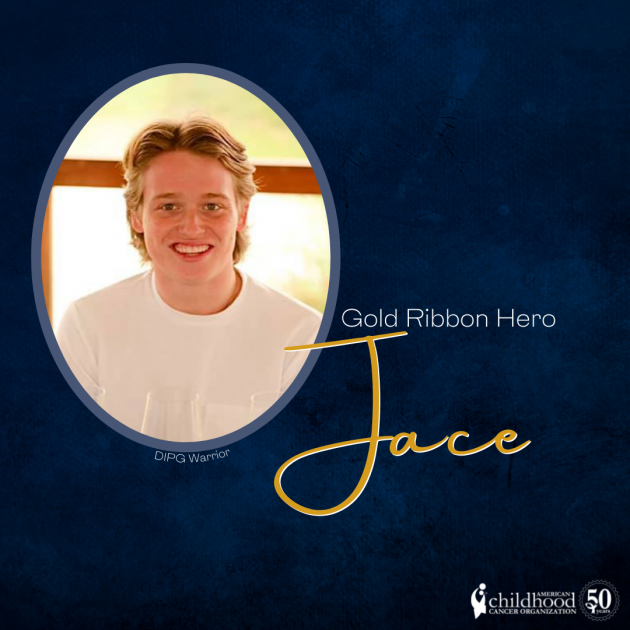 On May 17, 2019, Jace was diagnosed with an inoperable brain tumor which helped to explain his peripheral double vision. He was treated immediately with steroids and radiation the next day. Imaging was initially done on Jace at University of Texas MD Anderson Cancer Center because doctors didn't think it was DIPG, at first. His case was reviewed at Memorial Sloan Kettering and when he visited the University of California in San Francisco (UCSF), the tumor board noticed very common mutations of DIPG.
Jace has worked to overcome right side weakness in his fine motor skills, left eye double vision, left facial numbness and the feeling that his right leg is always freezing. For treatment, Jace endured 30 rounds of radiation and is on the ONC201 trial which started in September 2019. In January of 2021, Jace completed his first Car T cell trial for GD2 and his tumor shrunk between 25-50%. Jace decided to be the first patient to undergo this trial, against doctors recommendations. "Jace believes that collaboration is so important to research and to emotionally support patients and their families" said Lisa, Jace's mother. In May of 2021, Jace received his fourth round of Car T cell therapy.
During his cancer journey, Jace has not focused on himself. "He never asked, 'why me?' and at diagnosis, he asked his doctor to tell him how long he had to live not because he was afraid to die, but he needed to know how long he had to make an impact" said Lisa. Jace is an active advocate for DIPG and coined the phrase, "I can't die, I'm busy." He also uses the popular hashtag #DIPGWon'tWait. He consistently shares his journey on Facebook so other patients can gather information about his journey.
Jace reflects on his journey saying, "one of the hardest things for me to wrap my head around is how to leave my closest friends and family better than when I found them. How can I make sure, if this treatment does not keep me alive until a cure comes, how will the people I love not suffer in the aftermath.  There is just no real good way to do that.  You cannot LIVE waiting to die.  So for me, I must choose to simply LIVE and make sure each person knows how important they are in my life."
"Most notably, Jace rallied the foundations to fund over $700,000 to continue an Expanded Access Protocol for ONC201 medication that Jace used for 11 months. This EAP is intended to provide access to patients who otherwise would not have access to a trial with ONC201. Jace is at the forefront in the development of a patient navigation and data collection continuum for DIPG/DMG that is unfolding in 2021-2022 leveraging the talents of foundations, clinician consortiums and the Children Brain Tumor Network. He supports efforts to fund Car T Cell research and trials in DIPG/DMG. Jace's advocacy efforts gained the attention of Reed Jobs, Director of Emerson Collective – Health last fall. Jace began an internship reporting to Reed on policy reform for rare cancers. He often shares encouragement through text, phone and video with fellow DIPG patients and especially younger children" says Lisa.
Jace was the first person selected as a University of Kansas Business Scholar and to the Law School Accelerated Education Program. Jace plans on graduating from Kansas State University in 2022 with his degree in Business with a pre law emphasis.
UPDATE on Jace: On July 3, 2021 at 11:22pm Jace gained his angel wings. He fought DIPG for 25 months with a positive attitude saying "I can't die, I'm too busy." His parents remain committed to fighting DIPG.
Jace was diagnosed on DIPG Awareness Day in 2019 and this year, he celebrated 2 years of his diagnosis with his family. Learn more about DIPG Awareness day here.
Follow Jace's journey with DIPG here.
Learn more about Brain Tumors here.
Together, we can make a difference.
Donate today… because kids can't fight cancer alone
®
.