International Childhood Cancer Day (ICCD) is a global call to action in the fight against childhood cancer. It is estimated that there will be more than 413,000 cases of childhood cancer around the world in 2022.
While we honor the Healthcare Heroes this year, we are also honoring Haley, a brave warrior who gained her wings in September. Haley was diagnosed at the beginning of the pandemic, fought bravely and remained a bright light for those all around her. She became the "mayor" of the 9th floor at Texas Children's Hospital and was always happy, spunky and full of personality. According to her mother, "she battled through more in her 3 years with a smile on her face than most of us will in a lifetime."
Special thanks to Heather, Haley's mother, for allowing us to tell her story. 
---
"Were you aware of the childhood cancer world prior to your child's diagnosis? Did you have any connection prior?"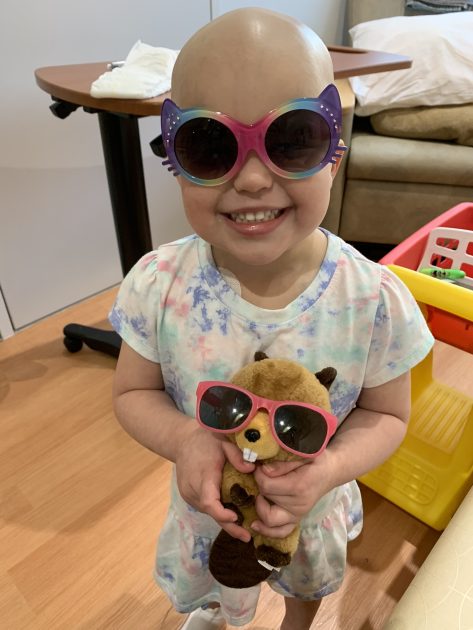 We had no connection to the childhood cancer world prior to Haley's diagnosis or knew any child with cancer. The only cancer experience we had was my Mom (Haley's Grandma) with Breast Cancer 9 years prior & my paternal grandmother's breast cancer (Haley's great-grandmother) 15+ years prior.
"Tell us about the day your child was diagnosed. What events/issues led to your child's diagnosis? How did you feel/react to the initial news?"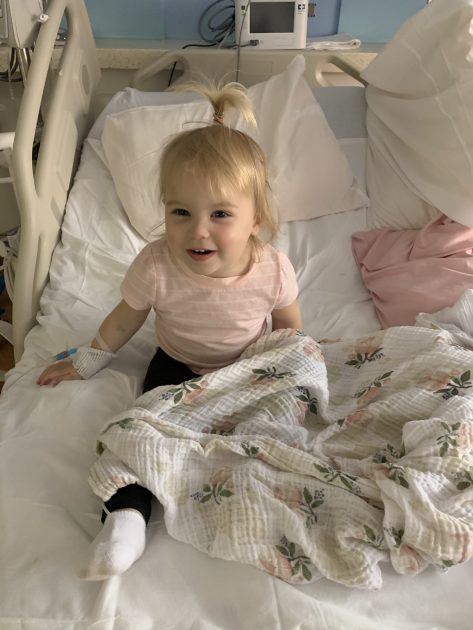 Haley was diagnosed on 3-18-20 right on the cusp of the Covid pandemic hitting Houston. Haley had a weird bruise on her stomach for a couple days and it seemed to get worse on the 3rd day. I called her pediatrician about it and asked if I could send him a picture of it. I did not want to go into the Drs office because this was right when Covid was starting. He said she needed to come in, so I left right then with my two kids, Haley (22 months at the time) & her almost 4 year old brother right before nap time. The pediatrician noticed her stomach bruise and asked about bruising on her legs. Her legs were covered in bruises, but I chalked that up to her crazy personality and rambunctious play with her brother. He said "maybe it's a 'platelet thing' so let's run some blood work to 'rule out the bad stuff.'" He gave me an order for labs and told me I could go today or tomorrow whatever was better. With the state of the world changing literally every hour, I decided to take my two small kids to The Woodlands campus of Texas Children's Hospital because I thought "who knows what the world will be like tomorrow?" We did the quick test, came home and thought nothing of it.
That evening at 5:30pm, I was cooking dinner. My husband was on the way home so I could do a grocery store run (this is when food and toilet paper were going crazy!) when the pediatrician called me. When I answered it was the actual pediatrician, who never calls, it's usually a nurse. He said, "I've been waiting for the bloodwork to come back and I just got it…You guys need to pack up right now and head to Texas Children's, they think Haley has Leukemia…" "Excuse me, what?" "Yeah, her bloodwork came back and  I've already called them – the oncologist will be waiting for you in the ER…"
It still didn't feel real. It still doesn't feel real.
Haley was a happy, crazy, silly, seemingly healthy toddler. There was literally nothing other than maybe some bruises that would have ever led you to believe something major was going on in her body. I called my husband and he raced home. My father-in-law picked my son up and we raced Haley to the hospital. The entire time in the ER, I was thinking this is a false positive, etc. When we finally met with the Oncology Fellow and she started talking about spending the night, etc., I said, "Okay, what are the chances this is a false positive?" I'll never forget what she said:
"There is a one in a million chance this is not leukemia."
The magnitude of the statement still knocks me down.
Fast forward a few hours and we are admitted to the hospital, put in a room and my exhausted baby is finally getting to go to sleep in a big hospital bed with an IV while we sit with two doctors in our dark room. They explain to us what leukemia is and what the next few days will look like.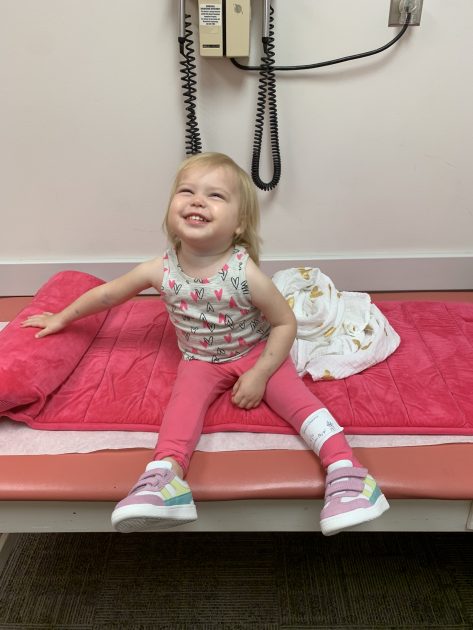 Haley followed a protocol for ALL T-Cell Leukemia. We followed almost exactly with a few adjustments for some side effects she had along the way. Almost all of her treatment the first go round was outpatient. With two unplanned hospital stays.
The first three weeks she did great, but toward our last week of induction she became more and more fussy and hesitant to walk. Within days this crazy, happy, running little girl could not walk, crawl or even sit up on her own. She was comparable to a 4-5 month old's mobility. Because of this, we rushed to the ER and were admitted into the ICU at Texas Children's Hospital for ascending paralysis. It was a scary time and we were still new to this. Neither of my kids ever had an ear infection and here we were in the ICU. We started IVIG treatments, stopped chemo, got an MRI, ran various test, etc. We ended up staying in the hospital for 2 weeks. There was never a clear diagnosis. Her primary oncologist thinks most likely it was a combination of vincristine toxicity with some other drugs she was taking and blood sugar issues caused by PEG. After that we had to reduce her vincristine doses and she got an NG tube to help sustain her blood sugar. She continued to have her NG tube & Dexcom glucose monitor for 9 months until she entered her first maintenance. She was almost completely paralyzed. They told be it would be months before she could even stand. But with weekly physical therapy, our Haley Girl was walking within 6 weeks! Our girl had a spirit that wouldn't stop and she blew through her PT milestones! With an entire summer of PT, she was back to her old self by October.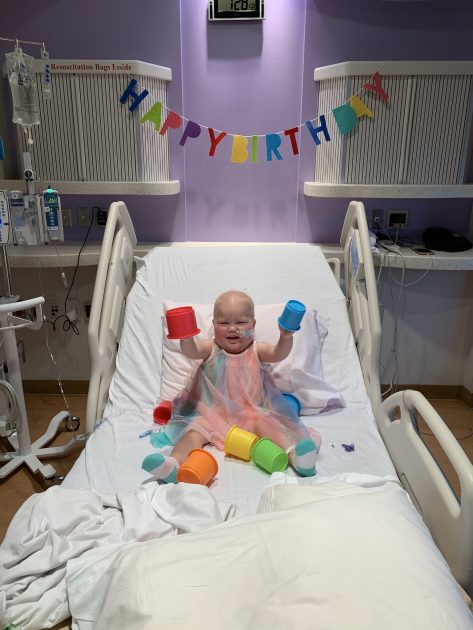 Haley reached maintenance in December 2020. It was such a happy time for us! We had made it through 2020 cancer and covid. We enjoyed Christmas with our family and looked forward to putting that terrible year behind us. We had a great December, January and February, but on March 4, 2021 at a routine doctors appointment to start her second cycle of maintenance her CBC labs came back with blast in her blood. We were waiting and playing in the Infusion Center and our oncologist came over with a group of people to tell me they had found it.
I said "…Wait, does that mean relapse?"
Haley's leukemia had gone into remission within a month, shortly after that two-week hospital stay almost a year prior so the term "blast" was so foreign to me. She said "Yes, I had pathology check it three times…"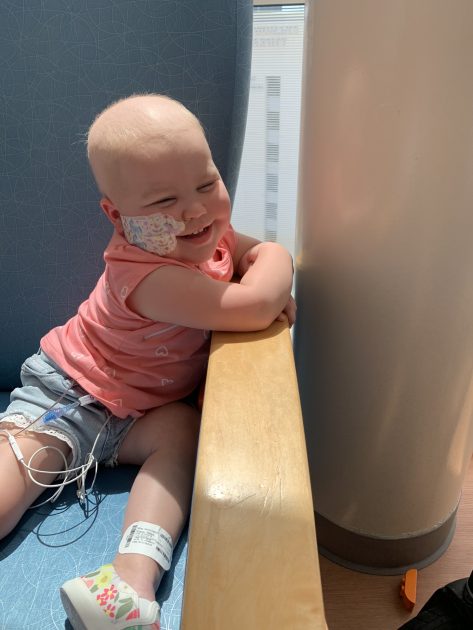 That was the first time the gravity of this diagnosis truly hit me. The first time we were told "If you get a pediatric cancer, this is the one to get! The odds of complete remission are excellent, 90%+" I genuinely never once thought about my child dying from this.
She was strong, we were going to get through this, it was all a blur, you didn't have time to dwell on it. But with relapse it was like you were falling down a well and you weren't hitting the bottom. I just stared at Haley, she was happy, "healthy," playing, she never once had stopped. How could anything be wrong with her?
After the relapse we knew we had to do a bone marrow transplant but had to get her to remission first. We spent a lot more time in the hospital during her second relapse. There is no protocol for relapse, so it was much more unknown. We started one plan and she wasn't responding, so had to pivot and start a new plan. After about two months inpatient she reached remission for a second time in early May. Haley had her bone marrow transplant on 5-28-21. She did excellent, engrafted and breezed through it as much as possible. After 51 days in the hospital she was released and we moved to outpatient.
At her +84 days routine appointment on August 20, 2021, we found out that Haley had relapsed again. You would have never known by looking at her.
We were all in shock, she appeared to be doing excellent. We didn't have many options but pursed a Car-T cell clinic trial that was thankfully was being held at Texas Children's Hospital. However, just 40 days after her second relapse Haley's little body couldn't take it anymore. The treatment was just too harsh this time. After 1235 bright days on this earth, our Haley Girl went to be with our Lord on September 29, 2021.
"Share with us obstacles and triumphs that you faced personally during your child's cancer journey.
How did it feel to be thrown into the childhood cancer arena? We hear so many talk about joys and sorrows, triumphs and obstacles they faced throughout their journey – please share any of yours or your child's. Overall – how did your child's journey shape yours and your families new normal?"
Haley's journey was complicated even more by the covid pandemic. On one hand we were almost thankful for it. Everything shut down, every one was focused on being so clean & safe.
Our son thought for two years that everyone was wearing masks just for Haley!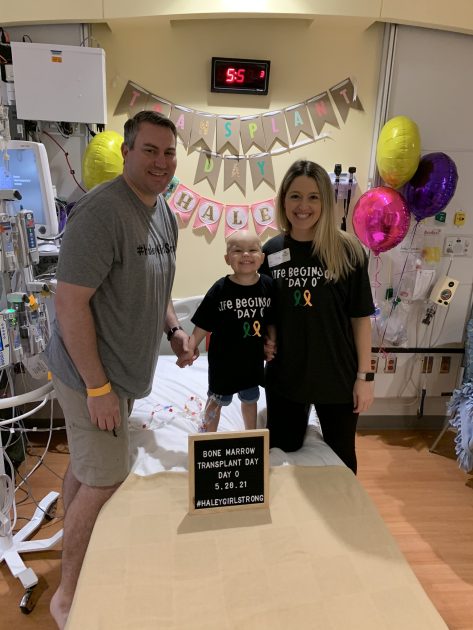 However, on the flip side, she was diagnosed on a Wednesday and the hospital changed everything the following Monday. After that first hospital stay, it was just me and her. My husband never got to come to the clinic or hospital visit until we had a conference with her doctors about her second relapse, a year into treatment. He was never able to come to an appointment or hospital stay. While I am thankful that I am a stay at home mom and was able to be with her 24/7, it took a toll on me and was a heavy burden to carry alone sometimes.
However, through it all, Haley was a bright light.
Of all the things she went through, paralysis, learning to sit/crawl/walk all over again, going through 3 bouts of Leukemia, a bone marrow transplant, total body radiation, an NG tube for 9 months, learning to swallow up to 36 pills a day at 2 ½ years old! She never stopped smiling! She was always happy, always spunky, always full of personality. She battled through more in her 3 years with a smile on her face than most of us will in a lifetime.
"What point is your journey at now?"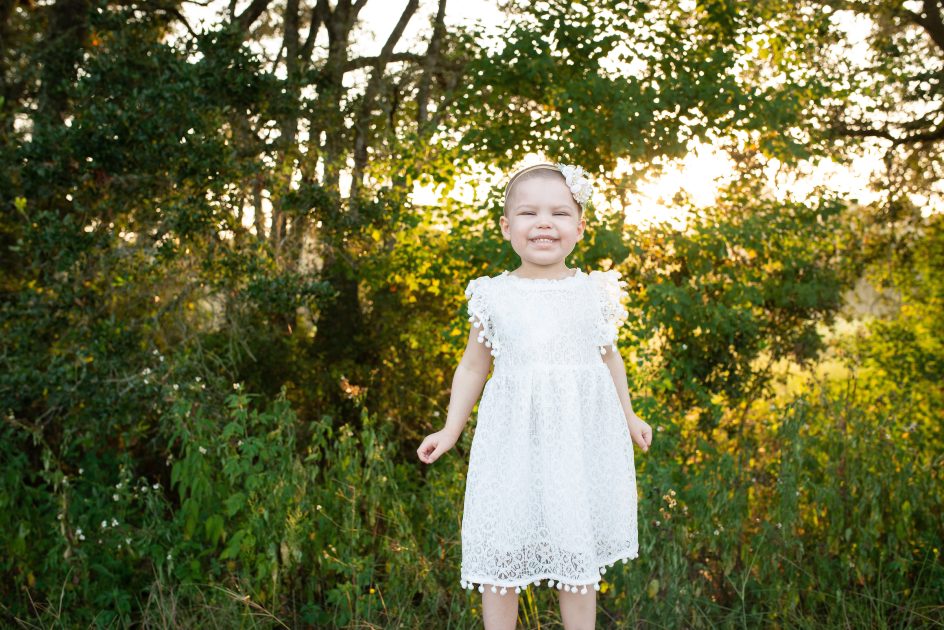 As myself, my husband, my 5 year old son, our family and friends grieve the loss of our sweet Haley Girl we know her short life had purpose. She impacted so many in her few years, from nurses to doctors, friends to strangers we've never met, her life mattered! We know focus on being stewards of her legacy my continuing to advocate and raise money for research so one day families don't have to endure this terrible disease.
"Tell us something about your child that is not cancer related."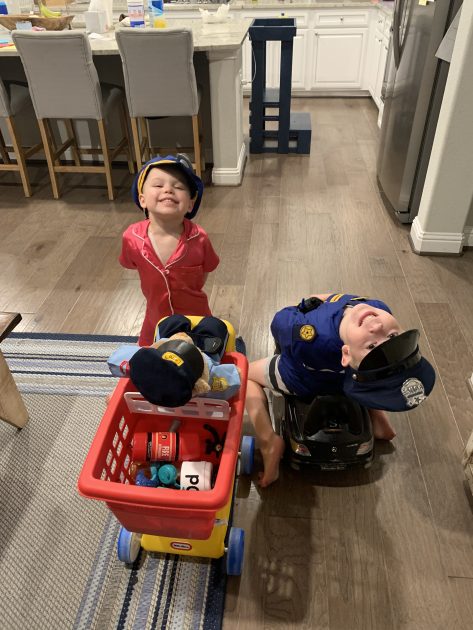 I don't think I can ever truly express in words how electric Haley was, but just looking at pictures you can tell. Haley loved everyone. She was super social, her nurses were her best friends, and they even called her the "Mayor of the 9th Floor" (the oncology floor at TCH). But more than anything she loved her Big Brother Dixon. She loved playing police and firefighters with him, those two were in separable. She loved her stuff beaver and loved wearing sunglasses. She was always putting on show and had such a genuine zest for life. I always said "if she had hair you would have never known anything was going on!"
---
ACCO thanks Haley's mother for sharing her story.
Childhood cancer is both a deeply personal struggle and a global struggle. To learn more, click the links below.
Learn more about
ICCD
here.
Learn more about
ALL
here.
Together, we can make a difference.
Donate today… because kids can't fight cancer alone
®
.