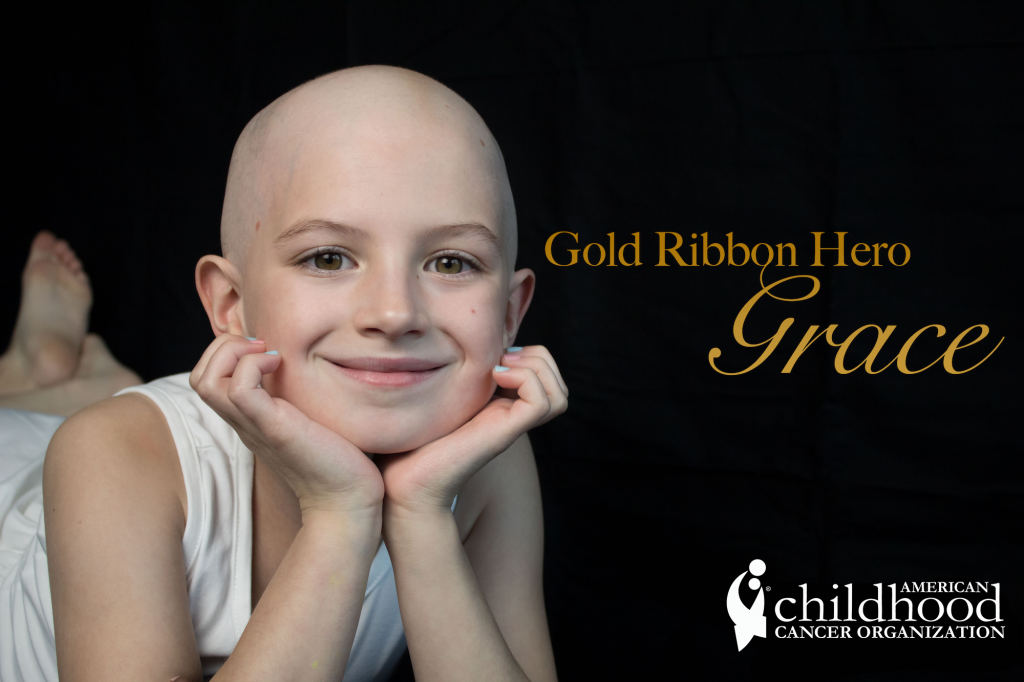 American Childhood Cancer Organization Gold Ribbon Hero to Attend 2019 State of the Union Address
February 5, 2019 – The American Childhood Cancer Organization (ACCO) is proud that ACCO Gold Ribbon Hero Grace Eline will attend this evening's 2019 State of the Union address as a special guest of the President and First Lady.
Over the past year, Grace has bravely battled Germinoma brain cancer.  She recently finished chemotherapy and currently shows no evidence of the disease.  Grace's story was featured in 2018 as a part of the ACCO Gold Ribbon Hero Program.  The program – recognizing the gold ribbon as the international symbol of childhood cancer awareness – celebrates the patients, family members, medical practitioners and others who are the warriors on the front lines of childhood cancer.
"Grace is a model of strength and perseverance and an inspiration to everyone in the childhood cancer community and beyond," said ACCO CEO Ruth Hoffman.  "Her attendance at this evening's speech reflects the growing awareness of childhood cancer as a health priority across the U.S. and around the world.  We are pleased to be a part of sharing Grace's story and to be leading the way with patients, families, the medical community and policymakers in the fight against childhood cancer."
In addition to her role as an ACCO Gold Ribbon Hero, Grace is also one of the 2018 Amazon + ACCO Ambassadors, helping to bring attention to the disease and increase funding for treatment and cures. Amazon, the world's largest online retailer, is a multi-year partner of the American Childhood Cancer Organization.
"Everyone who knows Grace would tell you that she has always been special," said Grace's mother Aubrey Eline.  "Wherever she goes, she brightens the room with her kind heart and infectious smile.  Throughout her treatment, Grace stayed positive and strong, making the rounds in the hospital, cheering up other patients, and always having a smile for the many caring medical professionals who treated her.  Today, she is determined to help other children who are fighting cancer."
As the oldest and largest grassroots childhood cancer organization in the U.S. and the only U.S. member of Childhood Cancer International, ACCO is dedicated to fighting cancer, the number one disease killer of children in the U.S.
ACCO applauds recent bipartisan cooperation in Congress to advance legislation like the childhood cancer Survivorship Treatment Access and Research (STAR) Act which was signed into law last summer and increases funding for research into and treatment for pediatric cancer and takes steps to improve the lives of young survivors.  Going forward, ACCO calls on the Administration and Congress to continue to work together to support kids like Grace now and protect their access to healthcare in the future.
Donate to support ACCO and other cancer fighters like Grace: https://www.acco.org/donate/
Nominate a Gold Ribbon Hero: https://www.acco.org/gold-ribbon-heroes/
For more information on Amazon + ACCO: https://www.acco.org/amazon
Together, we can make a difference.
Donate today because kids can't fight cancer alone
®
.

About American Childhood Cancer Organization
The American Childhood Cancer Organization was founded in 1970 by parents of children and adolescents diagnosed with cancer. As the nation's oldest and largest grassroots organization dedicated to childhood cancer, ACCO is committed to shaping policy, supporting research, raising awareness, and providing free educational resources to kids with cancer, survivors, and their families. Additionally, ACCO is the sole U.S. member of Childhood Cancer International (CCI) and has helped support more than half a million families over the past 50 years. Help make childhood cancer a national health priority because kids can't fight cancer alone®. 
For more information about how ACCO can help your family, call 855.858.2226 or visit: