Angela's Story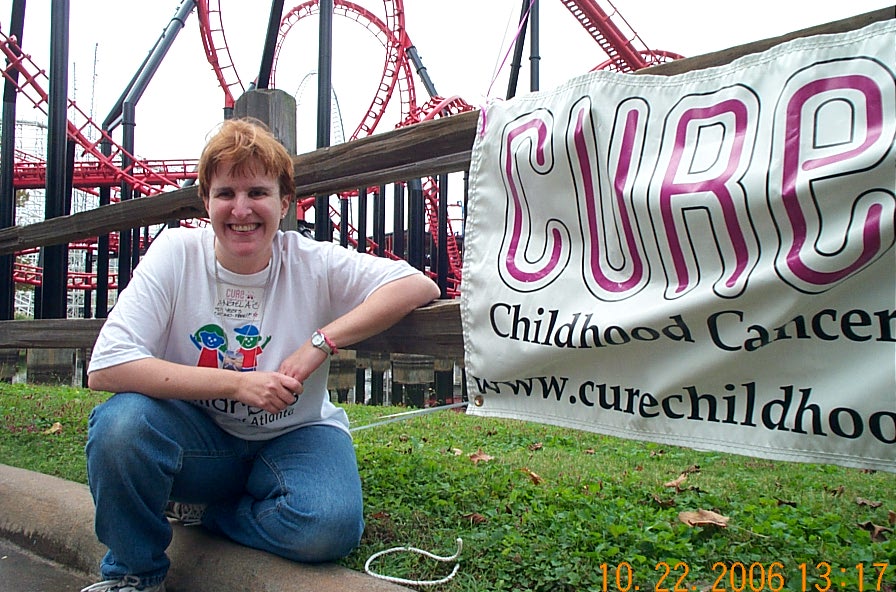 Today, we would like to share with you Angela's story. Angela is a long-term survivor of neuroblastoma, a form of cancer that originates in the neuroblasts, or early nerve cells, in the nervous system of an embryo or fetus. Yet like nearly 90% of childhood cancer survivors, Angela continues to suffer from late effects, long-term health problems resulting from the toxic chemicals requires to treat and destroy the tumor. Her story shows that for many childhood cancer warriors, the journey is never truly over.
Angela's Miracle Journey
Angela's childhood cancer journey began on the first day of spring in 1973, just after her third birthday. During a routine well visit, her pediatrician became concerned after examining her abdominal area. He suggested that Angela and her family go immediately to Henrietta Egleston Children's Hospital at Emory University for x-rays and a CT-scan. The diagnosis was devastating: stage 3 neuroblastoma, a malignant tumor growing between the abdominal aorta and the kidney. Even for Angela's father, a general practitioner and former employee at St. Jude's Children's Research Hospital in Memphis, the next few days were a blur; years later, Angela's parents still find it difficult to recount what happened during those days with any clarity.
Treatment for neuroblastoma involved surgery and a year of chemotherapy. Initial scans of the tumor had shown it to have reached stage 3, meaning that it had begun to grow and spread to areas adjacent to the original growth site. In most cases, stage 3 neuroblastoma is extremely difficult to remove entirely through surgery. Yet in Angela's case, because of the quick thinking of her pediatrician, her neuroblastoma was caught before the onset of symptoms and before it became widespread. Her oncology team was able to successfully remove the entire tumor. In Angela's own words: "Today, when I see someone who knew what I endured, they say I'm a miracle child and that my life is a miracle!"
Late Effects of Childhood Cancer
Angela endured a year of chemotherapy treatments when she was only three years old. Chemotherapy works by targeting deadly drugs at and near the site of cancerous tumors. These drugs kill cells that are in the process of growing and dividing. Because cancer cells grow and divide more quickly than normal tissue, they are more susceptible to the drugs than healthy cells. Yet children like Angela are still growing and developing, so chemotherapy treatments designed for adults can have devastating, long-term repercussions on the young bodies of childhood cancer patients.
At some point in her adult life, Angela realized that she was having trouble with both her short- and long-term memory. In fact, she cannot state with any certainty when she began to notice that her memory was problematic. By 2008, however, she could no longer ignore the problem, so she and her father visited her oncologist, who informed her that memory loss was a common side effect stemming from the toxicity of childhood cancer treatments. "Chemotherapy took away my ability to drive a car and I'm battling daily problems with memory lapses."
In March 2011, Angela celebrated her 34-year "cancerversary", but it was a bittersweet anniversary at best, because in addition to ongoing memory problems, Angela was also battling serious dental issues and problems with her teeth, another very common side effect for children who have undergone lengthy chemotherapy treatments. And just under a year later, Angela was diagnosed with yet another late effect involving an "imbalance disorder."
It is still very difficult for Angela to think about write about these health problems, to understand why, after so many years, she continues to face ongoing medical issues stemming from a disease she fought more than 35 years ago. And yet she understands that she must face each new battle with the same determination with which she fought cancer: "And so… with lots of help, love, encouragement, strength, prayers and support from my awesome and beautiful friends and family…my life, though very different now, I still go on! One day at a time…one hour at a time!"
More about Childhood Neuroblastoma Cancers:
Learn More About the Different Types of Childhood Cancers:
About the American Childhood Cancer Organization
The American Childhood Cancer Organization (ACCO) is a non-profit charity dedicated to helping kids with cancer and their families navigate the difficult journey from cancer diagnosis through survivorship. Internationally, the ACCO is the sole US member of Childhood Cancer International (CCI), the largest patient-support organization for childhood cancer in the world. Here in the United States, the ACCO promotes the critical importance of ensuring continued funding into new and better treatment protocols for childhood cancer.  And most importantly, the ACCO is focused on the children: developing and providing educational tools for children fighting cancer and their families, empowering them in their understanding of childhood cancer and the medical decisions they must make during this difficult journey. All of ACCO's resources are available free of charge for families coping with childhood cancer.
For additional information about childhood cancer or on the ACCO, or to order resources for you or your child, please visit our website at www.acco.org.
For more information about the American Childhood Cancer Organization and how we can help, call 855.858.2226 or visit:
Want To Read American Childhood Cancer Organization On Your Phone? Click the NoteStream logo: