Childhood Neuroblastoma: Treatment Options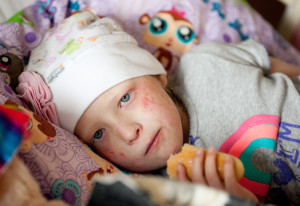 Neuroblastoma is a form of childhood cancer that begins in the early development of nerve cells. Because this rare form of cancer usually begins when the sympathetic nervous system is developing in an embryo or fetus, it occurs most often in infants and very young children, and is extremely rare in children over the age of 10. And because it begins when nerve cells are developing very quickly, the cancer's development within each child can vary widely: some neuroblastomas grow and spread very quickly while other neuroblastomas grow very slowly. In some cases, the cancerous cells simply disappear on their own, while in other cases, the cancerous cells mature into normal nerve cells. Therefore, treatment for neuroblastoma often depends, upon other factors, on the stage and risk grouping of the cancer, as well as on the age of the child.
Treatment for Low Risk Neuroblastoma
Any time a child is diagnosed with cancer—neuroblastoma or otherwise—the goal is to utilize the least intensive treatment to minimize short- and long-term side effects while maximizing the damage to the cancerous cells. For children with low risk neuroblastoma, treatment may be as simple as frequent and routine monitoring to determine whether the tumor may die or mature into normal cells without intervention.
Surgery may be the only required treatment if all or most of the tumorous cells can be reached and safely removed. Even if it is not possible to remove the entire tumor with surgery, in some cases any remaining cancerous cells may die or mature on their own without the need for any additional intervention.
Chemotherapy may be required if the tumor cannot be safely or effectively removed with surgery or if the tumor continues to grow abnormally after surgery. If the tumor is causing symptoms due to its proximity to a nearby organ, a short course of chemotherapy may be utilized in advance of surgery to reduce the size of the tumor. A similar treatment method may be utilized to make the tumor more accessible to a surgeon.
Generally speaking, oncologists try to avoid the use of radiation therapy in young children due to the extremely high risk of negative short- and long-term side effects.
Treatment for Intermediate Risk Neuroblastoma
For children with intermediate risk neuroblastoma, treatment almost always involves a combination of surgery and chemotherapy. A typical course of treatment usually involves four to eight cycles of chemotherapy before and following surgery. One or more rounds of radiation therapy may be utilized only if the cancerous cells do not respond to chemotherapy or if the tumor is causing symptoms that require emergency treatment; again, the goal is to avoid the use of radiation therapy whenever possible in young children.
Treatment for High Risk Neuroblastoma
Children with high risk neuroblastoma will require aggressive treatment that usually involves an intensive mix of chemotherapy, surgery, radiation therapy, stem cell transplant(s), retinoid therapy, and immunotherapy.
Treatment usually starts with extremely aggressive chemotherapy designed to destroy as much of the cancer as possible, sometimes coupled with surgery to remove any remaining tumors. This phase of treatment is known as induction. If induction is successful, it will send the cancer into remission.
Induction is usually followed by a consolidation phase, which involves additional intensive chemotherapy treatments to rid the body of any remaining cancerous cells. Because this phase of treatment often destroys normal bone marrow as well as the cancer, it usually involves one or more stem cell transplants to help the body replace the damaged bone marrow. Stem cell transplants may be followed by immunotherapy to help boost the body's ability to find and destroy cancer cells on its own, as well as radiation therapy at the primary tumor site to prevent recurrence.
If induction is successful, treatment will move to a maintenance phase involving a combination of additional immunotherapy and retinoid therapy. Retinoids are a type of differentiating agent that is believed to help some types of cancer cells mature into normal cells. The goal of this phase of treatment is to reduce the risk of recurrent neuroblastoma.
More about Childhood Neuroblastoma Cancers:
Learn More About the Different Types of Childhood Cancers:
Together, we can make a difference.
Donate today because kids can't fight cancer alone
®
.

About American Childhood Cancer Organization
The American Childhood Cancer Organization was founded in 1970 by parents of children and adolescents diagnosed with cancer. As the nation's oldest and largest grassroots organization dedicated to childhood cancer, ACCO is committed to shaping policy, supporting research, raising awareness, and providing free educational resources to kids with cancer, survivors, and their families. Additionally, ACCO is the sole U.S. member of Childhood Cancer International (CCI) and has helped support more than half a million families over the past 50 years. Help make childhood cancer a national health priority because kids can't fight cancer alone®. 
For more information about how ACCO can help your family, call 855.858.2226 or visit: