Meet Zach, a forever 18 year old osteosarcoma warrior. Zach was a compassionate and loving soul with a passion for living life to the fullest.
In 2009, Zach went on a run with his sister after a lazy summer. When he came home, he was complaining of a sore hip. His mother, Laura said if it persisted, they'd go to the doctor. After a few weeks, the pain was still there so Zach and his mom went to the doctor. The doctor had an x-ray performed, ruled out anything major and sent him home. After the pain got worse, Laura decided to take him back to the doctor where an MRI was ordered. Zach's parents, Laura and Rob both accompanied him to the MRI where they found out that he had a tumor. The doctor wasn't completely sure what type of tumor and said it could be one of three possibilities – lymphoma, fibrous dysplasia or osteosarcoma. "Osteosarcoma is the worst of the three," Rob said, in the book, "Clouds, a memoir." 
Zach was officially diagnosed after a biopsy was performed. The doctor confirmed Laura and Rob's worst fears, osteosarcoma. "The words hit me with the percussion of a bomb; I couldn't breathe and my ears rang. As much as I had prepared myself to hear those words, I wasn't ready for their impact" remembers Laura. 
Treatment started almost immediately and Zach went through chemotherapy, surgeries and radiation. In May 2010, his hip joint was removed and the tumor had been dissected. At that point, they found that the tumor was 100% necrotic and that the cancer had shrunk. The family thought they were in the clear until more cancer had relapsed. When the cancer spread to his lungs he was faced with a decision – get a surgery that would leave him without a leg or live out his remaining time with family and enjoy life. Zach decided not to get the surgery and lived his remaining time like a teenager, going to prom and visiting with friends and family. 
Zach was extremely close to his sister, Grace and wanted to give her a personalized pair of Converse shoes to remember her by. He thought "is this enough," and when he brought the idea to his mom, she encouraged him to write letters to say goodbye. Instead, Zach wrote songs. One song, "Clouds" became a massive hit and the day of his funeral, "Clouds" hit number one on iTunes. The music video surpassed 13 million views on YouTube and with the release of the namesake movie, "Clouds" will be reignited onto the charts again.
During Zach's journey, he remained incredibly positive and hopeful that his diagnosis was for something big. He told his mom that if he was going to die, he wanted to leave the world a little better than what it was. Zach was extremely determined and when he was being confirmed in his church, he walked up with a backpack of fluids. When someone in the church questioned his backpack, he told them simply "it is keeping me alive." He made it his mission to keep a smile on the faces of everyone he met and his energy was felt in every room he walked into. "Zach was the hub, the touchstone in the family whom everyone could connect with" from the book, "Clouds, a memoir." He was determined to get to prom with his girlfriend Amy and to make the night special for her. When Zach received the news that the treatments were no longer working instead of breaking down, he asked for a party. Zach gained his wings in May of 2013 and his legacy lives on with "Clouds."
 In 2012, Zach's mom established a fund called the "Zach Sobiech Osteosarcoma Fund" which helps in osteosarcoma research. To date, this fund has raised more than $2 million dollars. Zach wanted to be "remembered as the kid who went down fighting and didn't really lose."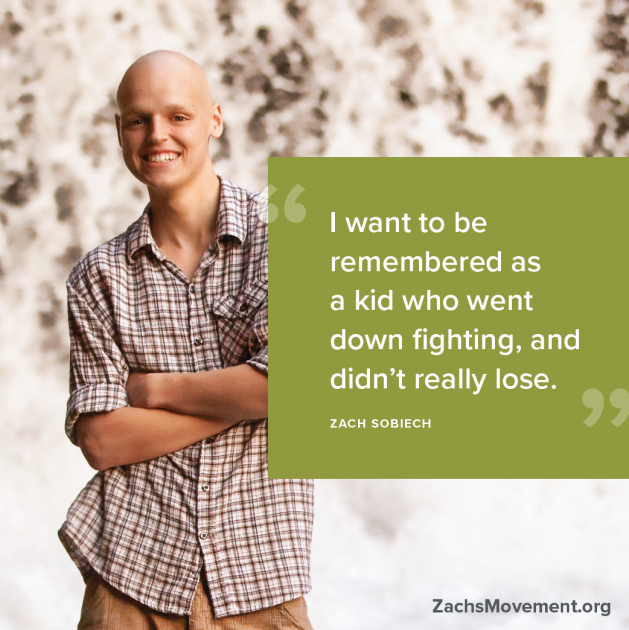 Watch our social media this week as we are interviewing his mom, Laura Sobiech as she gives advice to the childhood cancer community. On Friday, October 16, watch Zach's story in the film release, "Clouds" on Disney+. 
Learn more about the types of sarcomas and read more stories here during our Sarcoma Awareness Month feature.
Read Zach's full story on his CaringBridge page.