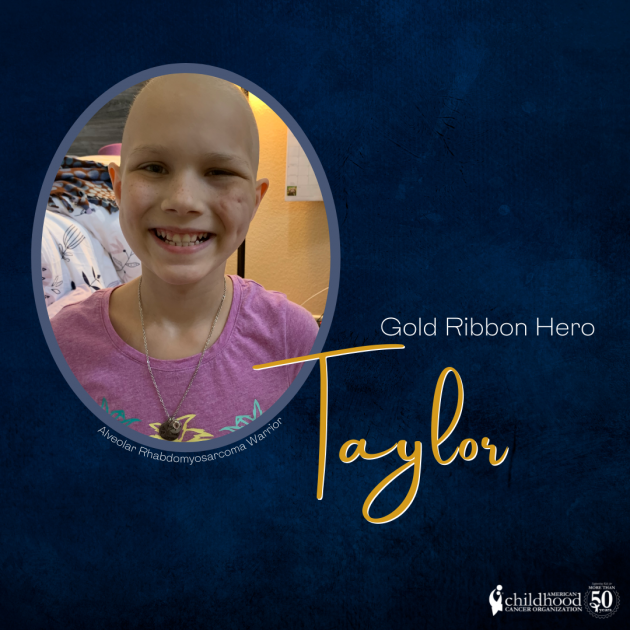 Meet Taylor, a 9 year old alveolar rhabdomyosarcoma warrior. 
In January 2020, Taylor's mother, Amber noticed a lump on her right hand and decided to take her to the pediatrician. The doctor said that it was a ganglion cyst and referred her to a specialist. On February 17, 2020 Taylor was diagnosed with stage 3 alveolar rhabdomyosarcoma of the extremities. "Those first few weeks went by quickly with MRI's, PET scans, CT's and a port placement. There really wasn't much time to think" remembered Amber. 
Treatment began immediately with 43 weeks of chemotherapy. Frontline treatment ended in December of 2020 and maintenance therapy began in January of 2021. In February, Taylor's mother noticed another lump on her cheek and her heart sank. "I knew what this potentially was. I took her to the ER that same day, she got an ultrasound and an MRI. The ER doctor confirmed what I already knew. The cancer was back." Taylor's relapse appeared in her cheek, shoulder blade and sternum and had metastasized. "I knew it wasn't good. Spreading to other locations is not good. Her chance of survival went from 80 to 10 in a year. We were given a list of options, we chose the most aggressive. This included Vincristine, Cyclophosphamide and a new super powerful chemo called Doxorubicin. These drugs were given admission over 48 hours every three weeks. Week 6 was a 5 night hospital admission with two new drugs, Etoposide and Ifosfamide. New scans were done about two weeks later. We found out on February 29, 2021 that the new chemotherapy treatment was not working.. The tumors in the shoulder blade and sternum stayed stable and the one in the cheek had necrosis but was growing fast in the opposite direction."  Doctors are currently trying to determine next steps for chemotherapy. 
"She has been so incredible during all of this. Her entire world was flipped upside down and she didn't complain once about it. She had to stop going to school in person due to Covid shortly after diagnosis. She smiles through the anxiety and the things that scare her. She likes to race other patients down the halls at admission times and loves playing with the little kids. She is so good with them, patient and kind. She is the strongest young lady I know." 
Taylor continues to fight and is incredibly creative according to her mother. "She is a master builder, architect and designer. She can draw really well and creates amazing videos. 
Learn more about sarcomas here.
Together, we can make a difference.
Donate today… because kids can't fight cancer alone
®
.