Meet Mia, an adventurous 7 year old rhabdomyosarcoma survivor.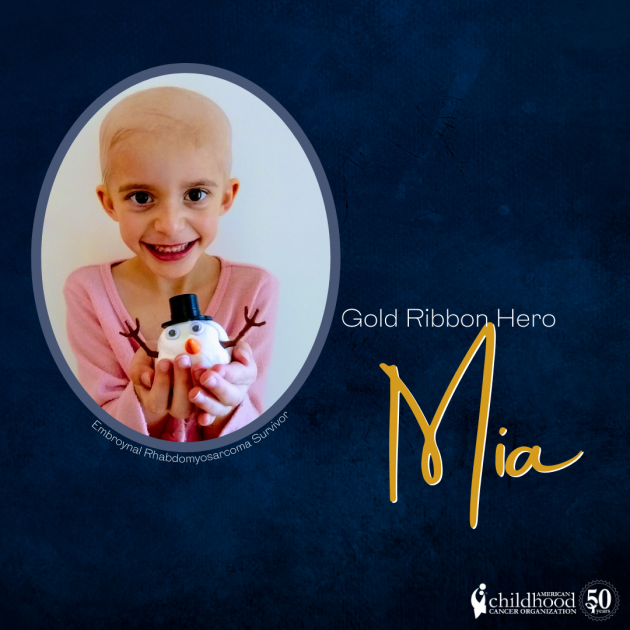 When Mia exhibited swelling on her hip, her parents took notice and took her to the pediatrician. Halfway through Mia's emergency MRI, her doctor stopped it to reveal a large mass. Mia was rushed to Children's Hospital in Denver. "A rush of emotions, sheer pain, doubt and unknowing what to do. The initial response was to fall down on our knees and pray," remembers Nathan, Mia's father. On December 5, 2019, Mia was diagnosed with cancer. A week later, that cancer had a name – Stage 3 embroynal rhabdomyosarcoma located in her abdomen and pelvis.
Mia was barely able to walk and move due to pressure being put on her sciatic nerves.
Treatment began and consisted of VAC protocol for embryonal rhabdomyosarcoma, chemotherapy, and radiation. Mia endured several biopsy surgeries for the tumor and the bone marrow.
Mia loves to paint and play the harp. She is always looking for an adventure and enjoys hiking, camping and skiing.
As of February 2021, Mia had clear scans and will go again in May. Please help ACCO send well wishes to Mia and her family.
Follow Mia's story here.
To learn more about rhabdomyosarcoma, click here.
Together, we can make a difference.
Donate today… because kids can't fight cancer alone
®
.