Meet Corbin, a 13 year old neuroblastoma warrior.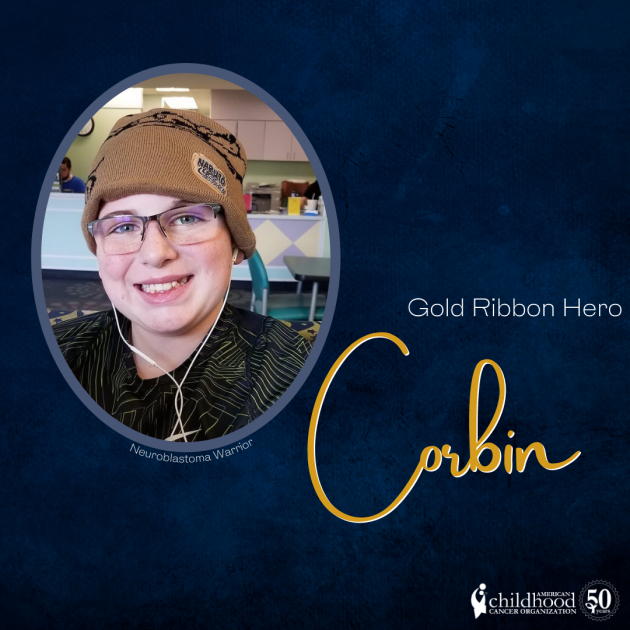 Corbin's battle with neuroblastoma began as an 11 year old fifth grader in October 2018. After a routine annual well-check, the pediatrician found a mass in his abdomen. Since Corbin had shown no symptoms, the family was not expecting anything to come out of it. Scans and tests were performed to conclude that surgery was necessary to remove the baseball sized tumor. The doctor was able to get 100% of the tumor and no further treatment was necessary. The tumor was confirmed as a malignant ganglioneuroblastoma.
A follow up treatment plan was put into place and every three months, Corbin would undergo scans. In January 2019, Corbin's first follow up scans were clear, as expected. "I remember walking out of the clinic room with such happiness and joy each time we received good news, then we would turn a corner in the hallway and see a parent crying. I was heartbroken for them knowing they did not get the news they wanted to hear. I never wanted to be in their shoes. I could not imagine it. My heart ached for them."
Next scans were scheduled for April 2019 and Corbin had relapsed. "We arrived and I could tell something different was happening. The vibe was off. Our nurse seemed anxious and I was asked if anyone else was on their way to join me and Corbin for this appointment" remembers Corbin's mother, Angela. They sat in the examination room and Angela was asked to step out of the room. She was greeted by several oncology team members. "I knew. I was shaking. I was dying inside. They told me. The thing that was not supposed to happen, happened."
The news shocked his mother to her core and when it came to telling Corbin, she pulled herself together to reassure him he would beat cancer. "This was the first time during this entire cancer experience over the past six months I witnessed his eyes well up and tears begin to stream down his face. My heart was shattered, but I was strong for him."
"Corbin's strength has been amazing. He knows he is battling a very serious illness and facing a long, difficult, and frightening road ahead to clear him of this cancer. Even with all of this, he still thinks about others. He delivers meals for Meals On Wheels when time allows and was even out delivering the day before he went in for his second cycle of chemotherapy. Corbin is my hero. He and his brother are the strongest kids I know. No kids should have to go through this. Never. Ever."
In March 2021, Corbin's scans revealed a suspicious spot on his spine. He will soon start treatment to get rid of the spot on his spine.
Corbin loves bike riding, hover boarding, swimming and hanging out with family and friends. In February 2021, Corbin competed on his school gymnastics team in the rings!
Please help ACCO in sending well wishes Corbin's way!
Follow Corbin's journey @CorbinBeatsCancer on Facebook.
Learn more about neuroblastoma by clicking here: https://www.acco.org/neuroblastoma/
Together, we can make a difference.
Donate today… because kids can't fight cancer alone
®
.