"Reason this person is a Gold Ribbon Hero: Caidin Michael was diagnosed with Neuroblastoma 4s at 2 weeks old. He is 6 months now and has been fighting everyday for his little life. he is the strongest lil boy I know. He has had 6 rounds of chemo spent most of his 6 months at Dells Children's Hospital for treatment. He is getting ready for stem cell transplant in San Antone June 6th. Our whole family is praying for my grandson, please pray with us for a cure for this horrible disease called cancer. Caidin is my little hero.
The family is taking donations at gofundme.com/samantha moreno(mother) for travel expenses and help to pay bills as they cannot work right now, all there time is spent taking care of Caidin and his lil sister trying to take one day at a time.
We pray for all the little hero children and families that are dealing with this.
#findacureforcancer" – Francine P.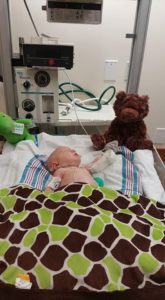 More about Childhood Neuroblastoma Cancers:
Learn More About the Different Types of Childhood Cancers: