Owenn's Story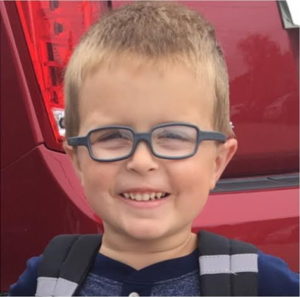 We'd like to introduce you to one of the ACCO's Gold Ribbon Heroes, and we hope that you will take a few minutes out of your busy schedule to read Owenn's story. We have chosen to highlight Owenn's story today because we believe that while there is nothing typical about Owenn's life thus far, he typifies what is so special about childhood cancer warriors: their courage, their strength, and their determination to never give up! As Owenn's mother Jennifer writes, "The name Owenn means 'young fighter' and that's what Owenn is, a young fighter."
Owenn's Fight
Owenn's fight began literally at his first breath. Born with the umbilical cord tightly wrapped around his neck, Owenn could not breathe on his own and required chest compressions to start breathing, a terrifying experience for any new parents joyfully waiting to hold their newborn son. Yet at this moment, when Owenn fought to take that first breath of life, they knew he was born to be a fighter!
In fact, Owenn's fight had just begun. At 1½, Owenn was diagnosed with cataracts. He underwent two different surgeries to eliminate the cataracts, as well as an additional lens transplant surgery. Then, just six months later, Owenn underwent yet another surgery to put tubes in his ears and remove his adenoids. A whole lot for one young child to go through, yet through it all, Owenn fought bravely to overcome every challenge presented to him in his short life!
At the age of four, Owenn's parents thought they had seen the worst. Other than quarterly visits to the eye doctors (three hours away!) for routine eye exams, Owenn was a happy, active four-year-old eagerly anticipating the joys and excitement of the holiday season. Then, in late November, Owenn began running a fever. At first, Owenn's parents didn't panic; fevers are pretty normal in young children. But the fever persisted on and off for three weeks, and Owenn soon began to exhibit other, more troubling, symptoms: loss of appetite, joint pain, and fatigue and sleepiness. Owenn was just not acting like himself.
The Diagnosis: Acute Lymphoblastic Leukemia
After several trips to the doctor, rounds of medication that did nothing to ease his symptoms, and more intensive blood work and testing, Owenn's parents received the devastating diagnosis: acute lymphoblastic leukemia (ALL). The most common form of childhood cancer, ALL is, unfortunately, most often diagnosed in young children between the ages of two and four. Leukemia is a cancer of the blood, starting in the tissues responsible for growing blood cells, such as the bone marrow, and causing abnormal blood cells to enter the bloodstream.
Treatment for ALL usually involves an initial phase of very intensive chemotherapy, called induction, in which the cancer cells are bombarded with high levels of toxic chemicals. The goal of this phase is to kill 99% of the abnormal cells and bring the patient into remission (meaning the return of normal blood and bone marrow cells, an important first step but not a cure). This initial phase is usually followed by consolidation, a second round of chemotherapy designed to kill any leukemia cells remaining. The third phase of treatment—maintenance—continues lower levels of chemotherapy for two to three years to ensure total destruction of all abnormal blood cells and prevent the return of the disease. Owenn began the initial phase of his treatment plan immediately with a 12-day stay in the hospital. His team of oncologists has warned his family to expect three years of chemotherapy, most of it on an outpatient basis but probably involving some long-duration hospital stays as well.
After their initial shock, Owenn's family is optimistic. His friends and community have come together in support of Owenn and his family, at times making this young fighter feel like a celebrity! His family is positive that Owenn will beat his cancer, because just as he showed while fighting for his first breath and through every adversity since, he continues to fight bravely and strongly each and every day. Says his Mom, "He is truly my hero!"
About the American Childhood Cancer Organization
The American Childhood Cancer Organization (ACCO) is a non-profit charity dedicated to helping kids with cancer and their families navigate the difficult journey from cancer diagnosis through survivorship.  Internationally, the ACCO is the sole US member of Childhood Cancer International (CCI), the largest patient-support organization for childhood cancer in the world.  At the national level, the ACCO promotes the critical importance of ensuring continued funding into new and better treatment protocols for childhood cancer.  At the grassroots level, the ACCO is focused on the children: developing and providing educational tools for families and learning resources for children in order to make the lives of children and their families easier and brighter during this difficult time.  Many of our resources are available free of charge for families coping with childhood cancer.
For additional information about other Gold Ribbon Heroes, to learn more about childhood cancer and the ACCO, or to order free resources for you or your child, please visit our website at www.acco.org.
For more information about the American Childhood Cancer Organization and how we can help, call 855.858.2226 or visit:
Want To Read American Childhood Cancer Organization On Your Phone? Click the NoteStream logo: