"I wish there was no such thing as cancer. But we do understand more." -Andrew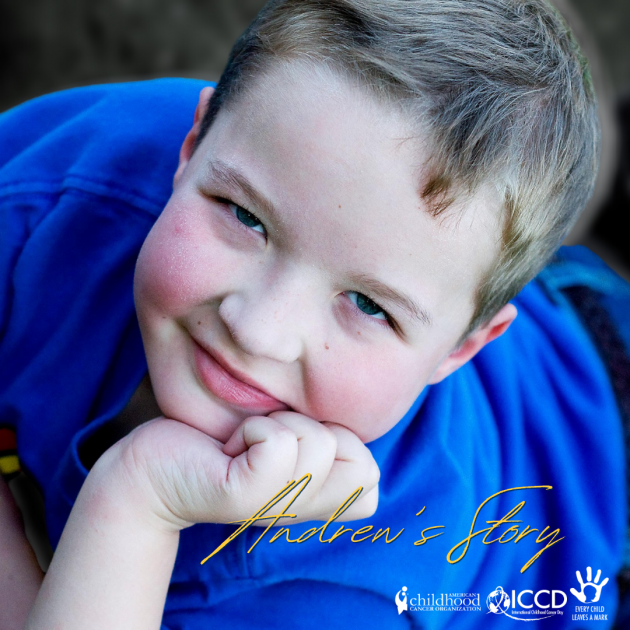 Six-year-old Andrew Smith was diagnosed with diffuse intrinsic pontine glioma (DIPG) in October 2007, three days after his mom Sandy was diagnosed with breast cancer. One of Andrew's primary care physicians sent him to the Emergency Room following multiple visits for what they initially assumed was a virus. 
By the end of the afternoon, doctors told the family, "There is a large area of swelling in the brainstem; we suspect a mass." 
Andrew piped up cheerfully, "My mom has a mass!" He was admitted to the Pediatric Intensive Care Unit that evening.
In the months leading up to diagnosis, Andrew's parents noticed he struggled to play the piano, he fell regularly, and he had difficulty walking. The week of diagnosis, it was challenging to wake him from sleep. Hours before diagnosis, he developed a facial droop, and he vomited.
During that first hospitalization, Andrew had surgery to place a port and began six weeks of daily sedated radiation treatments. Over the next couple of years, he would try multiple chemotherapies. 
Andrew kept family and friends chuckling by saying humorous things, often without realizing it. He played the violin and the piano, sang perfect alto, and loved his family and all the people at church. He enjoyed trying new foods (including sushi and too much wasabi), making elaborate snack trays with homemade dips (including guacamole and hummus), and working with his mom to create his own croutons and vegetable soup. He dreamed of playing basketball for Michigan State and hoped to be a pastor like his daddy one day. 
Young Andrew participated in an imaging study at the National Institutes of Health. Close to the end of his life, he considered a phase I medication study, but chose not to participate when he realized he would not be able to swallow the many pills required. During the last couple weeks leading up to his death, Andrew enjoyed tastes of a delicious meal at The Melting Pot, special seats to see The Nutcracker, and a final outing to the Thanksgiving Praise Service at church. He died peacefully, surrounded by family, on December 4, 2009; he was eight years old.  
Data is critical for the advancement of childhood cancer research. At a time when understanding of DIPG biology was limited, the Smiths arranged to donate Andrew's tumor tissue immediately following his death. From Andrew's tumor cells, removed during a limited autopsy, came one of the world's first DIPG cell lines, which has been used in research resulting in multiple publications. The Smiths also enrolled Andrew in The DIPG Registry where his information contributes to what scientists know about DIPG today. 
Andrew's cancer, and the lack of available data, compelled his mother Sandy to become an advocate for postmortem tumor tissue donation: providing information and support, connecting families to research, and helping to facilitate logistics. She has partnered with ACCO's Ruth Hoffman on several projects: Understanding the Journey, A Parents' Guide to DIPG, A Parent's Guide to Enhancing Quality of Life in Children with Cancer, and "Advocacy: Helping Others Understand What Children with Cancer Need" for Pediatric Psychosocial Oncology: Textbook for Multidisciplinary Care. She has also published in Pediatric Blood and Cancer and presented on the topic of tumor tissue donation. As a tribute to Andrew's life, Sandy coordinates the pediatric volunteers at Sparrow Hospital and enjoys being involved in pediatric palliative care and hospice training for nurses, social workers, and other caregivers. She looks forward to sharing their family's cancer story with Michigan State University medical students each fall. 
Over ten years after his death, Andrew's life continues to have an impact on the lives of future healthcare professionals and the way they practice. And Sandy shares, "His cells and information continue to be used in research all over the world. That, Andrew would say, is really cool!"  
Their data matters. Their life matters. Every child leaves a mark. Learn more about the Childhood Cancer Data Initiative this International Childhood Cancer Day, February 15, 2021, by clicking here.