Amazon + ACCO's Ambassador Elizabeth is on a mission to help raise childhood cancer awareness and she's making great strides.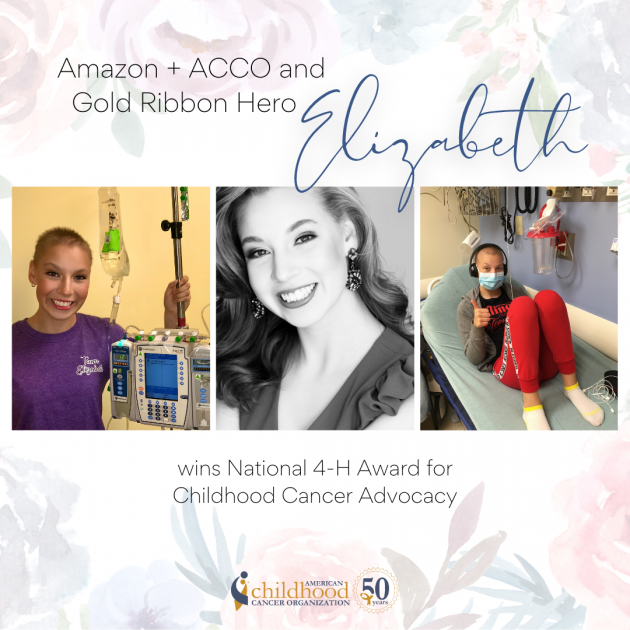 In early October, Elizabeth was awarded the 2021 4-H Youth in Action Pillar Award for Civic Engagement for her work to help support kids with cancer and their families. When Elizabeth was 12 years old, she was diagnosed with neuroblastoma and during hospital stays she found her family frequently visiting the store to get supplies like toothpaste and shampoo that they may have forgotten. 
"I knew as soon as I got out of that hospital, I wanted to do something about that for other families" remembers Elizabeth. 
In 2016, Elizabeth launched her program, Crowns Fight Cancer, to help kids with cancer and their families. Elizabeth solicited donations like toiletries and snacks and donated them directly to the local children's hospital. 
To date, Elizabeth has donated more than 60,000 essential items to five different children's hospitals in her area in the past four years. 
"4-H has empowered me to grow as a leader, not only in my community and state, but on the national level in spite of my long journey with Stage IV High Risk Neuroblastoma cancer," she said. "At the time of my diagnosis, and subsequent relapses and progression, 4-H has been my constant companion, encouraging me to be who I am and teaching me to be resilient when life presented me with the toughest challenge a child needed to overcome: cancer."
Read more about the award here. 
The American Childhood Cancer Organization provides resources and support to families of children with neuroblastoma and other childhood cancers. Please donate so we can continue to provide our services free of charge.