**ACCO 2015 ICCD Shirts Available for Purchase Until Jan 29th**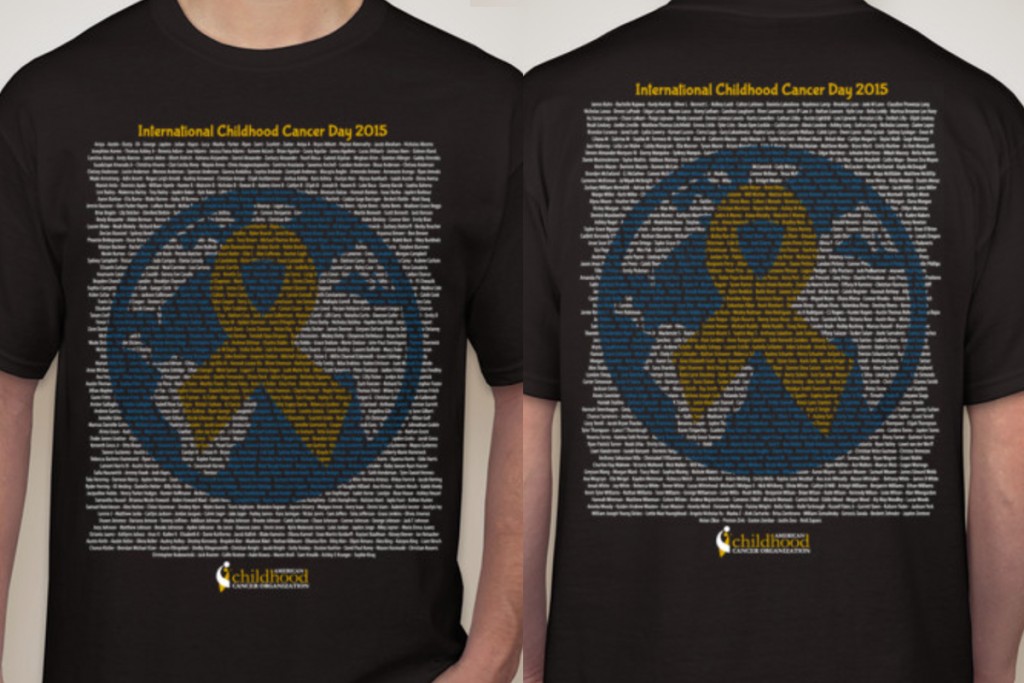 We are excited to launch the sale of our 2015 International Childhood Cancer Day (ICCD) tee-shirt. This very special shirt has over 1,400 submitted names that are displayed in honor of #ChildhoodCancer Warriors who have fought or are still fighting cancer. Our goal is for those who purchase a shirt, to have it delivered to you by February 15th, International Childhood Cancer Day, so that you can wear it proudly to raise awareness for Childhood Cancer. We ask that once you receive your shirt that you please take a photo and send it in so we can share on our social media and blog.
We were able to get all 1,400 names on one shirt, front and back and want to thank all who submitted names, collected names, organized names, made corrections, set up the graphics and helped set up the campaign.  To submit a name for the next project please click here and complete the short form.
There are several different styles and size options. Women's, Men's and Youth sizes, short sleeve, long sleeve and v-neck, all available for purchase now. Purchases may be made from today until the 29th of January, so don't miss your opportunity to purchase a shirt. Proceeds from this campaign will go towards ACCO's programs designed to help children and families that are currently going through the childhood cancer battle. To learn more about our programs, please visit our website at www.acco.org
---
FINAL NAME LIST ON SHIRT (updated 1/22/15):
Click Here to Reveal List »
Aniya – Austin – Dusty – Eli – George – Jayden – Julian – Kayce – Lucy – Masha – Parker – Ryan – Sami – Scarlett – Zadee – Aniya A – Bryce Abbott – Peyton Abernathy – Jacob Abraham – Nicholas Abrams – Josephine Aceves – Thomas Ackley Jr – Breonia Adam – Jase Adams – Jessica Tiana Adams – Xaivore Adcock – Brian Aguilar – Casey Aguilar – Janea Aguilera – Lucas Ahlbach – Joshua Akers – Gideon Aland – Carolina Alaniz – Andy Alarcon – James Alden – Elliott Aldrich – Adriana Alejandres – Daniel Alexander – Zachary Alexander – Yusef Alissa – Gabriel Aljalian – Meghan Allen – Quinton Allinger – Gabby Almeida – Guadalupe Alvarado Jr – Christina Alvarez – Clair Cecilia Alvey – Maysie Ames – Olivia Anagnostopoulos – Santino Anastasia – Savanna Anchell – London Andersen – Boux Anderson – Chelsea Anderson – Chelsey Anderson – Justin Anderson – Monroe Anderson – Spencer Anderson – Gianna Andolina – Sophia Andrade – Zamiyah Andrews – Macayla Anglin – Armondo Antone – Annmarie Arango – Ryan Arevalo – Wade Armstrong – Adin Arnett – Regan Leigh Arnold – Audrey Arrowood – Christian Arroyo – Elijah Aschbrenner – Joshua Ashby – Kain Ashley – Dustyn Ates – Alyssa Auerbach – Isaiah Austin – Elena Aversa – Mariah Avila – Dominic Ayala – William Ayerle – Hunter B – Malcolm B – Nicholas B – Rowan B – Aubrey Anne B – Caitlyn B – Elijah B – Joseph B – Naomi B – Luke Baca – Danny Bacsik – Sophia Bahena – Levi Bailey – Makenna Bailey – Troy Bailey – Jayden Baker – Kyle Baker – Libby Bako – Katie Ball – Cooper Ballesteros – Bray Ballew – Bronson Balzac – Hannah Bankos – Isaac Barba – Jayden Barbour – Aaron Barlow – Ella Barna – Blake Barnes – Baby JR Barrera – Lukas Barreto – Ofelia Barriga – MaKennah Barron – Sam Barrow – Alivia Bartlett – Caidan Gage Basinger – Beckett Battle – Matt Baug – Jennie Bausner – Glen Parker Bayne – LaMarc Beard – McKoy Beard – Josephine Beardsley – Andrew Bearup – Logan Becker – Dustin Becktold – Kadenn Beers – Rylee Beers – Katie Beets – Madison Grace Beggs – Briar Begrin – Lily Belcher – Glenford Belisle – Sydney Belsher – Dominic Beltran – Jared Bender – Connor Benjamin – Emerie Benner – Dakota Bennett – Martin Bennett – Scott Bennett – Jack Benson – Brody Bequette – Abbie Berman – Nestor Berrios – Gage Besing – Erin Bettenhausen – Karson Betts – Christian Bienek – Kaylee Marilyn Bill – Delia Binette – Aiden Binkley – Connor Bint – Emily Blair – Lauren Blake – Noah Blakely – Richard Boerger – Landen Bohle – Austin Bolender – Brittany Bollenbacher – Kayla Nicole Bolton – Trevor Boone – Ali Borgen – Chad Bostwick – Zachary Bottorff – Becky Boucher – Declan Bousted – Sydney Bowling – Joshua Boyette – Victoria Boynton – Belle Bradley – Ryker Brandt – Jared Brauer – Sienna Braun – Leon Bravo – Charles Breen – Aryanna Brewer – Ben Brewer – Phoenix Bridegroom – Oscar Broca III – Hallie Brooks – Walker Brooks – Maggie Brown – Tony Brown – Michael Thomas Bruhn – Addison Bryan – Trevis Bryan – Elijah Stone Bryant – Kaleb Buck – Riley Buckholz – Kristyn Buckner – Rachel Buckner – Briellynn Bullard – Colton Bullock – Taylor Buonadonna – Jordan Burch – Robin Burdick Pope – Skylor Burgos – Alex Burkos – Alex Lee Burns – Stephen Burrows – Nicole Burton – Carson Busby – Rett Bush – Prestin Butcher – Abigail Grace Butler – Ellie C – Alex Cafferata – Auston Cagle – Taylor Calvert – Ruth Cameron – Creed Campbell – Morgan Campbell – Sydney Campbell – Tristan Campbell – Jada Campos – Elania Canady – Keisha Candeleria – Victor Miles Caplan – Jovan Caraballo – Alder Bear Cardis – Daimon Carey – Grace Carey – Tessa Carey – Aubree Carlsen – Elizaeth Carlson – Declan Carmical – Neal Carmine – Lou Carranza – Junior Carrillo – Yaretzi Carrillo – Drew Carroll – IzaBella Carvalho – Lilyanne Case – Ryley Case – Steven Casey – Nico Cassabria – Anamarie Cataldi – Nicholas Caudill – Sienna Eve Cavallo – Calen Cazares – Kevelle Cazares – Desirae Cechin – Alex Cenoz – Luigy Argenis Ceron – Giovani Cerritos – Mason Chambers – Laidan Chance – Brayden Chandler – Kira Chandler – Brooklyn Channell – Payzlie Leann Chapman – Marie Chavez – Blaze Chavonelle – Devin Cherry – Cole Christensen – Alexander Christidhis – Riley Church – PJ Chwazik – Sophia Ciampitti – Alexander Clark – Gauge Clark – Gregory Clark – Hunter Clark – Jenna Clark – Marleigh Clarke – Kenton Classen – Ian Claypool – Alisha Clements – Jacob Coates – Ansley Cochran – Malina Cole – Aiden Collar – Natalie Collins – Jackson Collinsworth – Xavier Colon – Kay Colton – Travis Compher – Braylon Conner – Lynsie Conradi – Keith Constantine – Deven Contreras – Amanda Gracie Cook – Caleb Cook – Travis Cook – Daniel Cooper – Dexton Cooper – Noah Allen Cooper – Talon Cooper – Kerry Copas – Harlie Corneliusen – Ian Coronado – MaKayla Correll – Konapiliahi Cortez – Noah Costa – Mateo Cota – Elizabeth Coughran – Jacob Cowan – Avery Cox – Danica Cox – Korban Cox – Tyler Crabtree – Valentin Crane – Cainan Craun – Damian Creed – Harper Ashlynn Creek – Samuel Crespo Jr – Lillian Crismon – Tatum Croft – Chase Cross – Will Cross – Riley Crowe – Allie Jo Cruz – Joseph Cruz – Nathan Cruz – Jack Mason Culbertson – Mariana Curiel – Lilli Curry – Natasha Curtis – Dawson Cutler – Cromwell D – Emily D – Trevor D – Carina M daCosta – Parker Dahlen – Cameryn Dalton – Steven Dalton III – Aydain Dammer – Jason D'Angelo – Kayla Shea Darby – Nicholas DaSilva – Hayden Daufeldt – Jataryous Davenport – Zane Davidson – Carlin Davis – Carter Davis – Collin Davis – Dean Davis – Robert Isaiah Davis – Lucas Dawson – Nolan Day – Kennedy Decker – James Deemer – Greysen DeFord – Violette Dehoux – Jake Delaney – Michael Delfino – Jack Demers – Jaden Demopouos – Braden Denler – Brayden Denton – Teeolah Kaya Despues – Ryan Desrosiers – Mickey Detty – Cheyenne DeVelasco – Anya DeVol – Evan DeVol – Wade Dickens – Zander Dickerson – Delaney Renee Diggs – Christopher DiMartino – Andrew Dittmar – Charles Dobbs – Katy Dobbs – Grace Dodson – Marie Dodson – John Paul Dominguez – Payton Dominick – Nicholas Don – Samuel E Donley – Brianne Dority – Kale P Douglas – Colin M Doyle – Stella Druffel – Jubi Drummond – Emilio Duarte – Connor Dudley – Lauren Duffield – Macy Duke – Tiffany Duncan – Aidan Dunion – Andy Dunn – Helena Duntley – Canary Diamond Duran – Zeke Dutcher – Grayson Dutton – Mitchell Dybalski – Dylan E – Millie Channel Eckenroth – Grace Eddings – Jackson Eddy – Mariah Eddy Rice – Loren Edgar – McKenna Edman – Chloe Elliott – Jay Ellis III – Hannah Louise Els – Oliver Emerson – Nathaniel Emily Creely – Ikika Endrina – Kaden Erickson – Juan Manuel Escobedo – Jesus Michael Esquivel – Jocelyn Essary – Maylea Estridge – Ethan Evanger – Mimi Eynon – Logan F – Emma Fagan – Leah Marie Fait – Oliver Scott Fangman – Peter Fantozzi – Jaidon Feldman – Nicholas Fendley – Ava Ferguson – Ethan Ferguson – Isaiah Ferguson – Alex Fernandez – Giselle Fernandez – Olivia Fieck – Julian Figueroa – Nicholas Figueroa – Taylor Filorimo – Lilly Fisher – Jordyn Ashleigh Fitzpatrick – Austin Fleetwood – Sophia Flint – Samantha Flora – Hailey Flores – Marifer Flores – Chase Foley – Autumn Foller – Erica Fore – Shelby Foreman – Tara Foreman – Zach Forester – Richard Forte – Christopher Foster – Jillian Maylee Foster – Carson Fox – Peter Fox – Christopher Francisco – Desiree Frantino- Tyler Fravel – Aden Freeman – Clayton French – Regin French – Jack Thomas Fried – Mikey Friedman – Thomas Fritch – Gavin Fritts – Shannon Froio – Adam Frontero – London Fryman – AJ Fuller – Hope Fuller – Sabian Fuller – Henry Fulton – Tyce Fuqua – Hailey G – Allyssa G – Morgan G – Christian Gaippe – Kaylah Galbreath – Amber Gallagher – Kaitlin Gallagher – Isabell Rose Gallegos – Kristal I Galvan – AJ Garcia – Griselda Garcia – Hailey Sugey Garcia – Rebecca Gardner – Alexandria Garland – Anthony Garrett – Trenton Garrett – Andrew Garrison – Matthew Garza – Shamus Geel – Chris Gelinas – Ryan George – Panagiotis Georgotas – Kiley Getlein – Loretta Getola – London Love Giardino – Angelina Gibson – Ashley Jane Gilbert – Jennifer Giles – Allanah Mary Gillis – Wyatt Gillum – Nicole Gilsenan – Mathias Giordano – Jackson Gipe – Wyatt Glastetter – Scarlett Goble – Bradley Godish – Eli Christopher Goedecke – Khloe
Goff – Marissa Danielle Golmon – Michael Gonzales – Madelyn Gonzalez – Jacob Goodale – Jessica Gooder – Dominick Gorden – Jennifer Gormanly – Cooper Gorrell – Jacob Goss – Tommy Gosser – Johnathan Grable – Alivia Grace – Kodi Grace – Waylin Grace – Jon Graefser – John Jay Graham – LJ Graham – Michael Graham – Sena Rose Graham – Teila Graham – Jesus Granados – Pewee Granados – Nathan Grant – Drake James Gratton – Alyson Gray – Jacob Grecco – Cameron Green – Dylan Green – Mason Green – Nesha Greer – Angel Gregson – Brandon Grier – Alexis Griggs – Sean Grogan – Tayden Grohs – Jacob Gross – Kenneth Gross Jr – Otto Braun Gruner – Geovanni Guerra – Victor Guerra – Yissel Guerrero – Gannon Guilford – Mia Gurevitz – Jaxon Guthrie – Alejandra Gutierrez – Jackeline Ella Gutierrez – Mayra Gutierrez – Tanner Gutierrez – Austin Guy – Luke Gworek – Carolyn H – Tristan H – Bryson H – Bree Haga – Erik Hall – Sydney Rebecca Hall – Brayde Hamilton – Jonah Hammett – Kimberly Marie Hammock – Rebecaa Darlene Hammond – Ryan Hamrick – Dalton Hanna – Kaylee Hanson – Isabella Hardwick – Timothy Paul Hardy Jr – Richard Hargrove – Tristan Harrill – Cameron Harris – Kyanna Harris – Odie Harris – Lamont Harris III – Austin Harrison – Hadley Hartman – Savannah Harvey – Morgan Haskell – Matt Baugh Haslett – Morgan Hata – Emma Hatley – Nickolas Hatmaker – Baby Jaxson Ryan Hauser – Safia Hauswirth – Jeremy Hawk – Josh Hayes – Hayden Haynes – Trenton Haynes – Brent Heady – Jairess Hearn – Kyrston Heath – Sydney Hedges – Ashley Heinz – Faith Henderson – Tyler Daniel Hennes – Tala Henning – Damean Henry – Ayden Henson – Sean Herbstritt – Francisco Hernandez – Tatiana Hernandez – Zachary Herndon – Destiny Herrera – Zachary Allen Herrera Artesia – Khloe Herrick – Jacob Herring – Ryder Herring – Eli Hesling – Danielle Hetter – Billy Hicks – Brinley Hicks – Amya Hidalgo- Jonathan Hidalgo – Sierra Lynn Higbee – Matthew Hill – Tre'Vaughn Hilliard – Ava Hinton – Halen Hirsch – Kaleb Hively – Jacqueline Hobbs – Henry Parker Hodges – Hunter Hoffmann – McKenna Holland – Geoffrey Hoodlebrink – Jacob Hooker – Journey Hooley – Joe Hopfinger – Isalet Horne – Londyn Rose House – Ashley Housel – Samantha Housel – Brianna Nicole Howard – Aiden Howard Maul – Gavin Howe – Campbell Hoyt – Kayla Hubbard – Brianna Humphrey – Colin Humphries – Halston Hunt – Jayla Hunt – Kolton Hunter – Samuel Hutchinson – Alex Hutton – Chloe Hyneman – Destiny Hyre – Myles Ibarra – Travis Inghram – Brandon Ingram – Jayson Irizarry – Morgan Irmen – Ivory Isaac – Devin Islam – Aubrielle Ivester – Jocelyn Ivy – Lonnie J – Matthew Jacko – Caitlyn Jackson – Jordan Jacques – Calvin Jager – Jake Jager – Hailey James – Kara Jarnigan – Victor Jarvis – Sam Jeffers – Talia Jefferson – Grace Jenkins – Olivia Jimenez – Shawn Jimenez – Dariana Jimison – Tommy Joffrion – Addison Johnson – Anyka Johnson – Brooke Johnson – Caleb Johnson – Chase Johnson – Connor Johnson – George Johnson – Jack T Johnson – Joey Johnson – Matthew Johnson – Brooke Johnston – Ayden Jolicoeur – Bo Jones – Dawson Jones – Devin Jones – Kylie Makenzie Jones – Luke Jordan – Jayden Jorge – Riley Joyner – Maria Elena Juarez – Octavio Juarez- Ashlynn Juhasz – Arun K – Kailee K – Elisabeth K – Danie Kalifornia – Jacob Kallish – Blake Kamstra – Elliana Kannel – Sean Martin Kardorff – Kaylani Kaufman – Kinsey Keever – Ian Keisacker – Austin Keith – Austin Keller – Olivia Keller – Audrey Kelley – Destiny Kennedy – Brayden Kier – Madison Kikel – Nathan Kilbourn – Ellanisa Kim – Riley Kim – Elijah Kimaru – Alex King – Katoyra King – Liam Kirsch – Chance Kistler – Brendan Michael Kizer – Aaron Klingebiel – Shelby Klingensmith – Christian Knight – Jacob Knight – Sicily Knisley – Dustin Koehler – Duston Koehler – David Paul Koury – Mason Kosmoski – Christian Kosovic – Christopher Krakowiecki – Jack Kramer – Collin Kratzer – Aubri Krauss – Macen Kroll – Sam Kroulik – Ashley E Krueger – Sophie Krug – James Kuhn – Rachelle Kujawa – Kaely Kwitek – Oliver L – Bennett L – Kolbey Ladd – Colton Laitinen – Daniela Lakosilova – Kaydence Lamp – Brooklyn Lane – Jade M Lane – Claudine Provenza Lang – Nicholas Lanza – Devon LaPrade – Edgar Larios – Mason Lasco – Korey Latham – Caroline Laughorn – River Laurence – John JP Law Jr – Nathan Lawson – Kylie Lear – Bella Leddy – Marissa Breanne Lee Huey – Au'Janae Legrone – Chase Leikam – Paige Lejeune – Brody Leonard – Deven Lorenzo Leonis – Kurtis Lewellen – Lathan Libby – Austin Lighthill – Lexi Lijewski – Annalyn Lilly – Delilah Lilly – Elijah Lindsey – Noah Lindsey – Jordin Linville – Matthew Thomas Litchfield – Emma Little – Tyler Litts – Dean Xyen Locklin – Caitlin Loeser – Alexis London – Ashley Long – Eathan Long – Nicholas Looney – Zadee Lopez – Brandon Lorance – Jared Lott – Lydia Lowery – Kamari Lucero – Cierra Lugo – Gary Lukasiewicz – Kaylee Luna – Cory Luvelle Wallace – Caleb Lynn – Owen Lyons – Allie Lysiak – Sydney Lysinger – Ewan M – Liliana M – Sabrina M – Sophia M -Torrence M -Valerie M – Alex M – Catherin Macias – Jody Macias Jr – Taylor Macioce – Michael Mack – Bekah Mae – Caitlyn Magarin – Skylar Malli – Gage Maloney – Jace Maloney – Leila Lee Malve – Cubby Mangrum – Ella Manner – Tyson Manni – Arturo Maradiaga – Eddy A Marcia – Nicholas Marian – Matthew Marin – Bryce Marit – Emily Marlow – Jo Ann Marquardt – Steven Alexander Marquez III – Danny Marquino – Sydney Marquis – Gabrielle Martin – Jeffrey Martin – Levi Martin – Quinton Martin – Edgar Martinez – Julieahn Martinez – Mikah Massey – Bella Masters – Dante Mastrosimone – Taylor Mathis – Addison Matney – Erin Matthewson – Lydia Matuch – Danielle Mauck – Kyleigh Maxey – Delainey Maxwell – Lila May – Noah Mayfield – Cailin Mayo – Devon Dru Mayon – Kevin Mazze – Dominic Mazzio – Dumon McCain – Andrew McCall – Allie McClure – Andrew McCormick – Cody McCoy – Emmalin McCoy – Audrey McCracken – Noah McDaniel – Kayla McDougall – Brandyn McFarland – CJ McGehee – Connor McGoff – William McGurer III – Madison McIntosh – Connor McKean – Tessa McKee – Isabella McKeel – Phinneus McKenna – Maya McKibbin – Matthew McKillip – Cameron McKinnon – Ja'Miyah McKnight – Ewen McMichael – Draven McMillen – Mikayla McNeilly – Bridget Mealor – Jagger Medlin – Sophie Meese – Kayla Mejia – Jesse Mena – Vicky Mendez – Dustin Meraz – Zachary William Meredith – Adrian Merfeld – Rachel Messer – Amy Messick – Anna Mett – Katie Meyer – Brent Meyers – Skyler Michael – Ryan Milburn – CJ Miller – Cooper Miller – Jacob Miller – Lana Miller – Margo Miller – Ruth Miller – Clinton Milliken – Matthew Millsaps – Dorothy Mishalanie – Will Mishler – Mattias Moler – Jaeton Monroe – James Montemorano – Claire Bear Montwill – Jordyn Moon – Alyna Moore – Heather Moore – Jeffrey Moore – Valerie Moore – Kaitlin Mooren – Olivia Mora – Colton J Morado – Vanessa Morales – Brooklyn Morawietz – Dorian Moreno – BJ Morgan – Dana Morgan – Kinley Morgan – Hailey Morgenstern – Mae Morinoue – Ashton Morris – Christian Morrison – Royce Morton – Ashley M Mouzin – Teddy Muir – Hayden Jade Mullaney – Ty Mullins – Dillyn Mumme – Derrick Mundweiler – Francisco Antonio Munez – Kaitlynn Munhollon – Jaden A Munoz – Alana Murphy – Malcolm E Murray – Tripp Murray – Connor Muston – Erica Myers – Audry N – Kaden Nabors – Ashley Nagel – Amelia Nankivell – Madeleine Nava – Stephanie Navarro – Alexa Nawrocki – Cameron Neely – Bradley Nees – Evan Nelms – Arnold Nevarez – Anthony Nevasini – Delaney Newton – Taylor Grace Nguyen – Tomas Nichols – Jordan Nickerson – Daniel Nicoll – Air Noelle – Jordan Nohre – Meghan Norris – Eliana Nunley – Savannah Oates – Susana L Obregon – Ladavian Obriant – Evan O'Brien – Cadlett Kennedy O'Day – Tony Off – Nathan Olavarria – Michael Olejarczyk – Bailey Rae Olive – Chase Olsen – Chase Ryan Olsen – Alexander Olson – Jade Olson – Madison Olson – Michael Orbany – Leeah Oregon – Jesse Sean O'Reilly – Andrew Ortega – Taylor Grace Orwick – Simone Otterman – Cole Owens – Josh Owens – Alejandro Perez Oxman – Olivia P – Cathan P – Laila Pabon – Luca Paciente – Ryan Paduveris – Gia Page – Jacob Paige – Wes Pak – Gabrielle Palacio – Eric Joshua Pamintuan – Rees Douglas Parham – Carolina Parson – RaeAnna Parsons –
Michael Patterson – Peyton Patterson – Ellis Paulson – Andrew Pawlak – Kayla Payne – Lindsay Payne – Molly C Paysinger – Jordan Paz – Pablo Dominick Paz – Chrissy Pecor – Nicholas Pedone – Delaney Peffer – Juliana Pena – Aiden Perez – Emilio Perez – Jason Jesus Perez – Ramon Perez – Caleb Thomas Perin – Mason Perrier – Benjamin Perry – Jillian Peters – Lexi Peterson – Shane Pettine – Landon Pettrey – Connor Phelps – Connor A Phelps – Annabelle Phillips – Tillery Phillips – Emily Pickman – Jana Piccola – Lily Pilons – Nick Pinkham – Peter Pirie – Jaxon Piro – Cameron Pitman – Logan Pledger – Lilly Plocharz – Jack Podkaminer – Maxwell Reid Pogers – Amanda Pohawpatchoko – Izzy Polin – Justin Pollard Rice – Alicia Ponce Myers – Robin Pope Burdick – Sahra Porras – Anna Port – Darian Prescott – Joey Price – Charlie Primakow – Joey Procopio – Tessa Prothero – Faith Gabriela Pruden – Olivia Marie Puga – Ethan R – Shawn R – Brysen Ragain – Tyson Raines – Mazzi Alexis Ramella – Daniella Noemi Ramirez – Tiffany N Ramirez – Christian Rasmussen – DJ Ratliff – James Reagan Raulerson – Kennedy Raye – Ted Raz – Brandi Redcloud Owen – Kyler Reddick – Bailie Reed – Jaxxon Salmon Reed – Micah Reed – Caleb Register – Hannah Rehkop – Allysh Reihner – Candice Jade Reilly – Sabrina Remy – Adrian Renteria – Olivia Reuter – Anthony Brandon Reyes – Francisco Reyes – Jacob Reyes – Miguel Reyes – Eliana Rhesa – Connor Rhodes – Kristen Rice – Ava Rich – Asher Rickett – Landon Riddle – Ashley Riemer – Sean Ries – Memphis Riker – Sebastian Riker – Noah Rinehart – Shannon Riney – Jathan Rivas – Valentina Rivas – Destiny Rivera – Kennedy Roach – Jamie Roberts II – Eileen Robinson – Patrick Robinson – Gilbert Robles Jr – Avien Rocks – Wesley Rodman – Alex Rodriguez – Luis A Rodriguez – CJ Rogers – Hunter Rogers – Austin Thomas Rohrer – Merisa Rojas – Jac Rollins – Riley Roman – Henley Romine – Miles Quinn Root – Julian Roque – Elijah Rosario – Benny Jesus Rosas – Michaela Rose – Samirah Rose – Victoria Rose – Austin Ross – Michael Rostker – Sam Roszman – Aidan Roth – Cooper Rothman – Hines Rotriga – Connor Rowan – Michael Ruddis – Nikki Ruddis – Doug Ruley – Landen Rush – Robby Rushing – Marcus Russell – Brycen Rustemeyer – Shannin Chamberlain Ryan – Jay Ryon Jr – Mackenzie S – Raylan S – Desiree Nicole S – Sophie May S – Anthony Sabatino – Jade Sabean – Tiffany Salazar – Tucker Salyer – Jisele Samulonis – Larissa Sanchez – Jacob Ray Benavidez – Noah Robert Sanchez – Julie Sandera – Alan Sanders – Anne Raegen Sanders – Dale Kenneth Sanders – Brittany Santana – Antonio Santos – Isabella Sasu – Grayson Savery – Arysta Sayakhammy – Christine Schaad – Andrew Schafer – Maddy Schepp – Lauren Schille – Isabella Schlatter – Aden Schmidt – Amelia Schmidt – Caden Schmitt – Dylan Schmitz – Lillian Schmitz – Hannah Grace Schmohl – Mark Schock – Elody Grace Schrader – Nathan Schraven – Rebecca Schuck – Audrey Schueler – Henry Schueler – Aaliyah Schulze – Trenton Schumacher – Austin Schwaderer – Morgan Schwehm – Kelsie Scoggins – Aaron Scott – Gina Elizabeth Scott – Ryan Seaworth – Prestun Seibel – Dylan Seiss – Karis Selk – Jaimie Senger – Ava Sentell – Anthony Serda – Paige Ann Setzer – Alex Shabman – Alyssa E Shangold – Sara Shankle – Tyler Shannon – Nick Sharp – Kadin Shattles – Zachary Shaw – Damon Shea Caissie – Jacob Shear – Drew Shelar – Alex Shepherd – Judson Shepherd – Landon Sheppard – Jack Sheridan – Emersyn Shirley – Katie Lynn Shockley – Dylan Shumaker – Karley Sichmeller – Avery Sickels – Scot Sieczko – Mason Nicholas Silva – Lindsay Simmons – Kylie Simonds – Carter Simonson – Justin K Sinico – Vito Skaro – Kamryn Slater – Tavia Slaton – Tucker Small – Leah Bee Smallwood – Ellie Smiley – Alec Smith – Aubra Smith – Braiden Smith – Christian Smith – Gianna Smith – Jackson Smith – Khane Smith – Lucas Smith – Mason Smith – Ray Smith – Rockne David Smith – Sarina Smith – Malakye Smith Townsend – Antuan Snead II – Aleisa Snow – Emmett Paul Snyders – Alexis Sonricker – Lindsay Sorge – Kevin L Soriano – Matthew Joseph Soth – Rolando Soto – Lillian Spainhour – Jacob Sparlin – Sophia Spencer – Taylor St Pierre – Timothy Stabelli – Cheyann Stags – Haniah Stallins – Zachary Stanczyk – Daniel K Stanley – Jamie Madison Stansel – Camryn Stansell – Emily Stansell – Alexis Lynn Stanton – Tina Stapleton – Christopher Steele – Connor Steele – Hannah Steenhagen – Cindy Steggall – Hunter Sterling – Caitlin Stewart – Jacob Stickle – Leah Still – Jax Stone – Camryn Storbeck – Aryn E Strigle – Gavin Strong – Joey Sudo – Thomas J Sullivan – Jamey Sultan – Chance Summers – Joshua Summers – Rasheta Surles – Kallie Swan – Madison Swift – Beydn Swink – Anica T – Oliver T – Wesley T – Aubrey Tart – Emily Tate – Chelsey Taylor – Jordan Taylor – Grant Terrell – Lizzy Terrill – Jacob Bryan Thacker – Bryce Thalmann – Breanna Thayer – Jaylen Thayer – Camryn Thibodeau – Samantha Thiel – Jayden Thomas – April Thompson – Christopher Thompson – Elijah Thompson – Tyler Thompson – Lance T Thornbrugh – Connor Tilney – Karen Timperley – Scarlette Rose Tipton – Jordan Tironie – Kadyn Todd – Dylan Tomaska – Connor Torrens – Alexya Torres – Cordero Torres – Jayden Torres – Yesenia Torres – Katrina Toth Penner – Aubrey Townsend – Emily Grace Townsend – Carter Lee Trent – Logan Trizna – Ricardo Adan Trujillo – Daniel Turner – Destinee Turner – Diony Turner – Quinten Turner – Ryan Patrick Turner – Noah Urba – Trinity Urbina – Santana Ursua – Holden Urton – Alyson Nicole Usher – Zack V – Ava Valdez – Elijah Valenzuela – Izabella Valenzuela – Ryan Valley – Lowri van der Werff – Liam Vanderveer – Isaiah Vanzant – Dominic Vargas – Damon Jay Vasquez – Maxwell Alexander Vaughn – Dante Vega – Dionisio Vega -Sergio Enzo Vega – Christian Velez Guzman – Christos Vernezos – Anthony Sebastian Villa – Christabel I Villasenor – Stephania Villegas Carsyn Volpe – Greyson W – Hannah W – Cameron W – Chloe Wachendorf – Serena Wade – Ryan Wagner – Grant Wahle – Charilee Kay Wahnee – Victoria Walhovd – Nick Walker – Will Walker – Chase Walla – Jaxon Wallace – Nicole Walsh – Jeremiah Walters – Ryan Walther – Ace Walton – Marcus Walz – Logan Wamego – Greyson Wang – Morgan Ward – Tracy Ward – Sophia Waring – Nichole Waters – Brittany Watson – Payton Watson – Willow Watson – Aaron Wayne – Jackson Weaver – Samuel Weaver – James Edward Webb – Ava Wegrzyn – Ella Weigel – Kayden Weinman – Rebecca Welch – Jessen Welchel – Aiden Welling – Emily Wells – Kaylee June Westfall – Ava Jean Wheatly – Mason Whitaker – Brittany White – James B White – Jonah White – Joy White – Rebecca White – Trevor White – Lucas Whitehead -Michael J Wielgus II – Nick Wihlborg – Olivia Wilcox – Caitlyn B Will – Arleigh Williams – Benjamin Williams – Ethan Williams – Kevin Tyler Williams – Nathan Williams – Sean Williams – George Williamson – Luke Willis – Noah Willis – Benjamin Wilson – Brian Wilson – Katie Wilson – Kennedy Wilson – Lexis Wilson – Alan Winegarden – Hannah Wireman – Matthew Wiseman – Cohen Witten – Andrea Wojciechowski – Cameron J Wolf – Miracle Womack – Carrick Wood – Eddie Wood – Megan Wood – Aly May Woodley – Lucas Woods – Amelia Woody – Kaiden Andrew Wooten – Evan Wooten – Amelia Word – Delainee Worley – Paisley Wright – Bella Yakos – Halle Yarbrough – Russell Yates Jr – Garrett Yawn – Kaliann Yoder – Jackson York – William Joesph Young Dickes – Lottie Mae Youngblood – Angelo Nicholas Yu – Masha Z – Alek Zacharko – Brisa Zambrano – William Zamulinsky – Genesis Zavala – Beckett Zehnder – Jayden Zentner – Nolan Zikas – Preston Zink – Easton Zombar – Justin Zoss – Reid Zupanc