Help us honor the hundreds of thousands of children affected by childhood cancer around the world.
Wear your ICCD Awareness T-Shirt today!
Share photos of yourself and your family wearing your t-shirts with us!
Every year, approximately 300,000 children and teens will be diagnosed with childhood cancer around the world. Approximately 300,000 children every year—in every community, in every country, around the world—will have their lives changed forever by this devastating disease. And we believe this grim statistic is only the tip of the iceberg. Many more cases of childhood cancer in low- and middle-income countries go undiagnosed due to lack of access to adequate diagnostic tools and even basic health care. Moreover, because of the drastic inequity in basic health care, as well as specialized cancer treatment options, children in low- and middle-income countries are significantly more likely to die from childhood cancer than children in high-income countries.
We can change these grim facts, but we need your help! Today, on International Childhood Cancer Day—Wednesday, February 15, 2017—we honor all the children whose lives have been turned upside by this devastating disease by celebrating the courage, bravery and strength of childhood cancer warriors the world over. The goal of this international advocacy day is come together and raise a unified voice about the increasing toll that this disease is taking on communities around the world, to work together to ensure that children in every country have equal access to safe and effective cancer treatment, and to show global, united support for children and families fighting this disease.
Show Your Support By Wearing Your ICCD Awareness T-Shirt Today!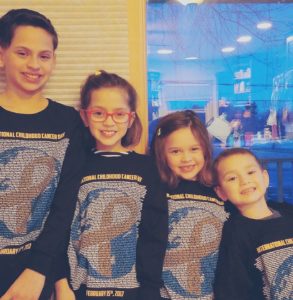 We hope you will join us in honoring childhood cancer warriors today, International Childhood Cancer Day, by proudly wearing your ICCD Awareness t-shirt. The 2017 t-shirt bears the names of 4,720 children who have fought or who are fighting childhood cancer. And please, share your support with us, so we can share it with the world! We encourage you to send us photos and video of yourself, your family, and your friends wearing your t-shirts. If you would like to share your photos and videos with us, please do so by emailing them to ACCO at: media@acco.org. Or by posting them on our Facebook Page feed, or through a private message.
Demand for this year's t-shirt was overwhelming: this year alone, we processed orders for approximately 2,800 shirts, and nearly 34,000 Awareness Shirts have been ordered over the past three years! We are so excited about the success of this awareness campaign, and eagerly await your pictures and photos. If you ordered a shirt this year, or have one from a previous year's campaign, please, we urge you to wear your shirt today, International Childhood Cancer Day, in solidarity to support these brave children and families. We thank you, in advance, for your help and support in this critical fight against childhood cancer.
Missed Submitting a Name and/or Ordering a Shirt?
Name submissions are already open for the next shirt campaign. Click Here or the button below to add the name to our next t-shirt campaign: 2017 September Childhood Cancer Awareness Month Shirt!
SUBMIT A NAME
About American Childhood Cancer Organization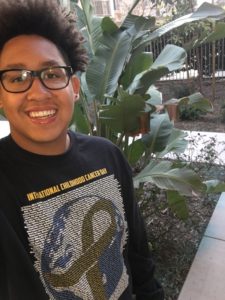 American Childhood Cancer Organization (ACCO) is a non-profit charity dedicated to helping kids with cancer and their families navigate the difficult journey from cancer diagnosis through survivorship. Internationally, ACCO is the sole U.S. member of Childhood Cancer International (CCI), the largest patient-support organization for childhood cancer in the world. Here in the United States, ACCO promotes the critical importance of ensuring continued funding into new and better treatment protocols for childhood cancer. And most importantly, ACCO is focused on the children: developing and providing educational tools for children fighting cancer and their families, empowering them in their understanding of childhood cancer and the medical decisions they must make during this difficult journey. All of ACCO's resources are available free of charge for families coping with childhood cancer.
For additional information about childhood cancer or on the ACCO, or to order resources for you or your child, please visit our website at www.acco.org , call 855.858.2226 or visit: