Meet Elin, a 6 year old glioblastoma warrior.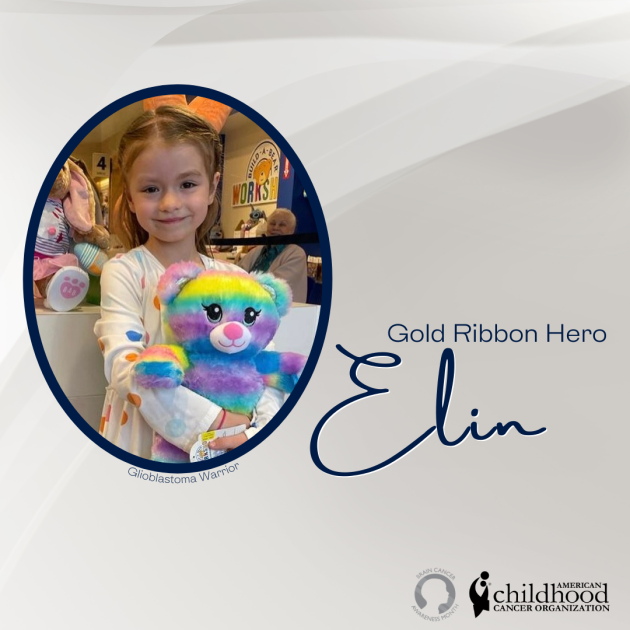 In December of 2021, Elin started developing evening headaches and intermittent nausea and vomiting not associated with diarrhea. On the day of her school Christmas party, Elin told her mom she didn't want to go and that raised a red flag to her mother. Elin's mother, Elizabeth took her to the emergency room where they ran tests. "They asked me to talk privately in a consultation room and told me the news that no one ever wants to hear." 
Elin was diagnosed with glioblastoma just eight days before Christmas. "On one hand we felt relieved for a reason for her headaches, but disbelief/shock and overwhelming sadness for the tumor diagnosis and fear for the future." Her diagnosis showed a devastating pathological tumor which required traveling to different cities for treatment. She's endured two craniotomies, a port placement, many MRI's, radiation and chemotherapy. 
Through her treatments, "Elin has not really complained. She was having headaches more consistently prior to her diagnosis but we didn't fathom the severity. She recovered so well from surgery given how ill she was. She has never questioned why we have done all of the radiation treatments and oral medications. She just knows that we love her and want her to get poked and prodded. She trusts us in this. She has needle and band aid phobia but endures the discomfort and manages to be happy every day." 
Elin enjoys running and singing. According to her mom, she secretly loves rap music. She is happy to eat a hamburger every day and loves to travel. Currently she is receiving oral chemotherapy agents in a clinical trial for the next 18-24 months. 
Donate to help kids like Elin, because kids can't fight cancer alone!®
Brain cancers account for about 15% of pediatric cancers and are the second most common type of cancer in children. May is Brain Tumor Awareness Month. Learn more by clicking here.