Layla's Story
Today, we would like to introduce you to Layla. Layla is a strong, courageous four-year-old who has been battling a rare, inoperable brain tumor for the past 15 months. Diagnosed at the age of two, Layla's tumor has not responded to "traditional" chemotherapy-based treatments, and her family now faces the daunting prospect of attempting less well-known options, some well-researched and some still experimental, in the on-going search for an effective weapon against this devastating disease. In the meantime, they take every day as it comes, finding tools and resources to help Layla cope with the difficult days and sharing her smiles and giggles on the good ones. We hope you will join us in offering Layla and her family our support as they embark on this next stage of their cancer journey.
Juvenile Pilocytic Astrocytoma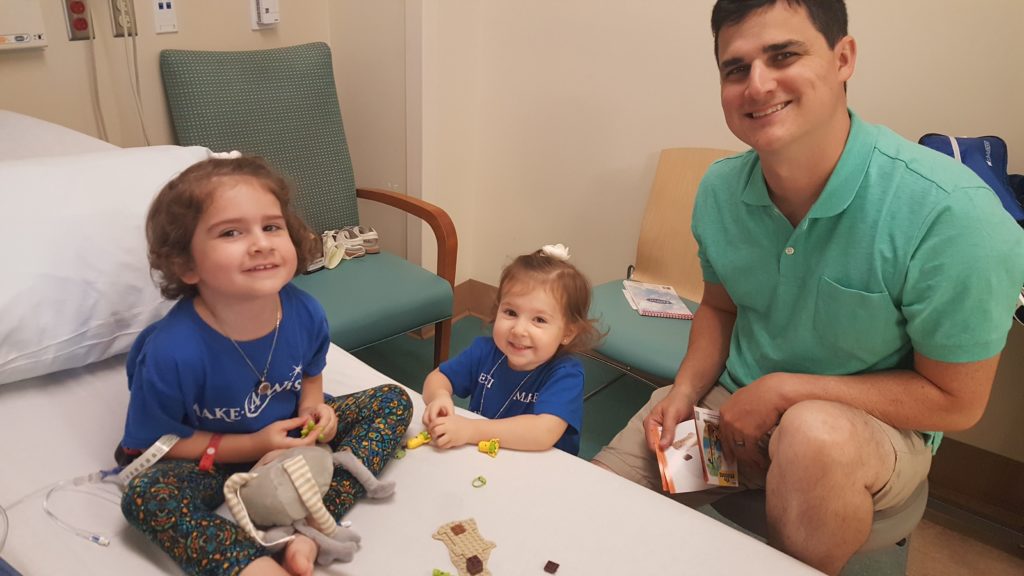 Layla has Juvenile Pilocytic Astrocytoma, a rare brain tumor that grows in the supportive tissues of the brain known as astrocytes. In Layla's case, the tumor is located on her brainstem, blocking the natural flow of cerebral spinal fluid. At the time of her initial MRI, the spinal fluid had begun to fill her brain causing headaches and mobility issues, and eventually leading to "life-threatening" pressure that required emergency surgery to drain the fluid and relieve the pressure.
Because of its location on the brain stem, oncologists could not surgically remove the tumor without risking Layla's life. Another traditional tool in the fight against brain tumors—radiation—is not appropriate for children Layla's age due to the extreme risk of severe brain damage. Still, the prognosis was hopeful: JPA is usually a benign, "low grade" tumor that Layla's team felt would probably not grow. They placed a permanent shunt to enable the normal drainage of spinal fluid around the tumor, with the expectation that it would last for 10-15 years. Layla would receive an MRI every three months for the first year to monitor the tumor, with the frequency of MRIs decreasing over the years.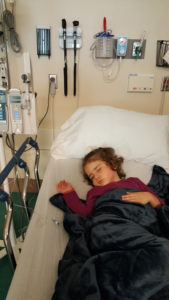 Unfortunately, the complications began almost immediately. First, Layla's shunt over drained, causing massive bleeding. Two months later, the shunt failed to drain again, leading to more hydrocephalus. Another couple of months, another malfunction: Layla was back in the ICU for a failed shunt, hydrocephalus, and now bleeding as well. Each of these complications required emergency surgery to relieve the hydrocephalus, then additional surgeries to repair damaged tissue and replace the shunt.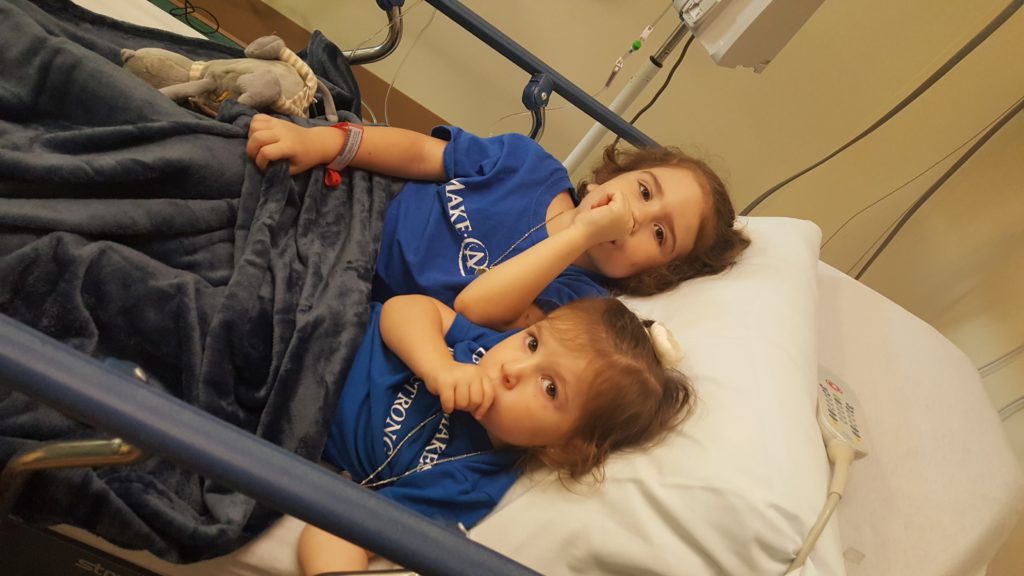 Throughout this difficult period, routine scans of the tumor showed good news: as expected, the tumor was not growing. Yet once again, Layla's family learned just how quickly bad news can follow good: just two weeks after a positive scan, another follow-up scan showed 25% growth in the size of the tumor. Layla immediately began chemotherapy through a clinical trial. Unfortunately, after three months of chemotherapy, it has now become clear that Layla's tumor is not responding and she has been taken off the chemotherapy in order to avoid the potential for negative side effects.
Hero Beads and Port-a-Cat: "Life Changing" Resources for Layla and Her Family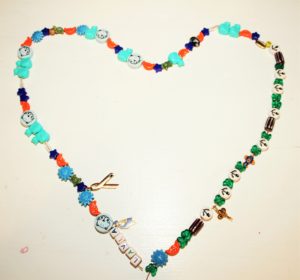 As difficult and as devastating as this journey has been for Layla and her family, they have found much-needed help and support from friends and family, as well as tools and resources to help them cope. ACCO's informational booklets have helped Layla's parents navigate the incredibly difficult world of childhood cancer, while Layla loves Marvelous Marleigh, the only age-appropriate book Layla's mother could find to help Layla understand what was happening to her. And perhaps most importantly, as her mother notes, "Cozy the Port-a-Cat was a life-changing therapy tool for her and her ACCO blanket is her most coveted comfort item." Each time Layla visits the hospital, Cozy is treated like a patient, too, with his own regimen board just like Layla's!
And Layla and her family have been able to document Layla's journey with ACCO Hero Beads. Choosing a Hero Bead for every procedure gives Layla a sense of accomplishment and a feeling of ownership over her individual story; her Hero Beads provide a meaningful way to visually represent what she has gone through over the past 15 months. ACCO Hero Beads can be purchased individually or in bulk from our store; 100% of the proceeds continue to fund ACCO's programs to help and support kids with cancer and their families! For more information about ACCO's Hero Bead powerful program, we encourage you to visit our website at:  https://www.acco.org/hero-beads/.
About American Childhood Cancer Organization
American Childhood Cancer Organization (ACCO) is a non-profit charity dedicated to helping kids with cancer and their families navigate the difficult journey from cancer diagnosis through survivorship. Internationally, ACCO is the sole U.S. member of Childhood Cancer International (CCI), the largest patient-support organization for childhood cancer in the world. Here in the United States, ACCO promotes the critical importance of ensuring continued funding into new and better treatment protocols for childhood cancer.  And most importantly, ACCO is focused on the children: developing and providing educational tools for children fighting cancer and their families, empowering them in their understanding of childhood cancer and the medical decisions they must make during this difficult journey. All of ACCO's resources are available free of charge for families coping with childhood cancer.
For additional information about childhood cancer or on ACCO, or to order resources for you or your child, please visit our website at www.acco.org.
To submit a Gold Ribbon Hero's story, please Click Here. 
For additional information about childhood cancer or on the ACCO, or to order resources for you or your child, please visit our website at www.acco.org , call 855.858.2226 or visit:
Want To Read American Childhood Cancer Organization On Your Phone? Click the NoteStream logo: