How will you #StepUp for Action Days in 2015?
A coordinated community effort is underway to storm Congress on foot and online. Childhood cancer organizations throughout the country are joining together to send Congress the message of #StepUp: Make Childhood Cancer a National Child Health Priority.
We have created #StepUp Selfie Signs for you to print and hold in your Selfie, or you can just write #StepUp: Make Childhood Cancer a National Child Health Priority on a piece of paper and hold it up.  To use a sign, click on a link below and print.  Please be sure to send in your selfie on our Facebook Page or by email to cperry@acco.org.  Thank you and we can't wait to see how you will #StepUp!
History will be made next week when approximately 300 advocates come to Washington, D.C. for this year's annual Childhood Cancer Action Days on June 15-16, hosted by the Alliance for Childhood Cancer. In the days leading up to-and continuing through-next week's big event we need your help to make sure our voices are heard loud and clear by members of Congress.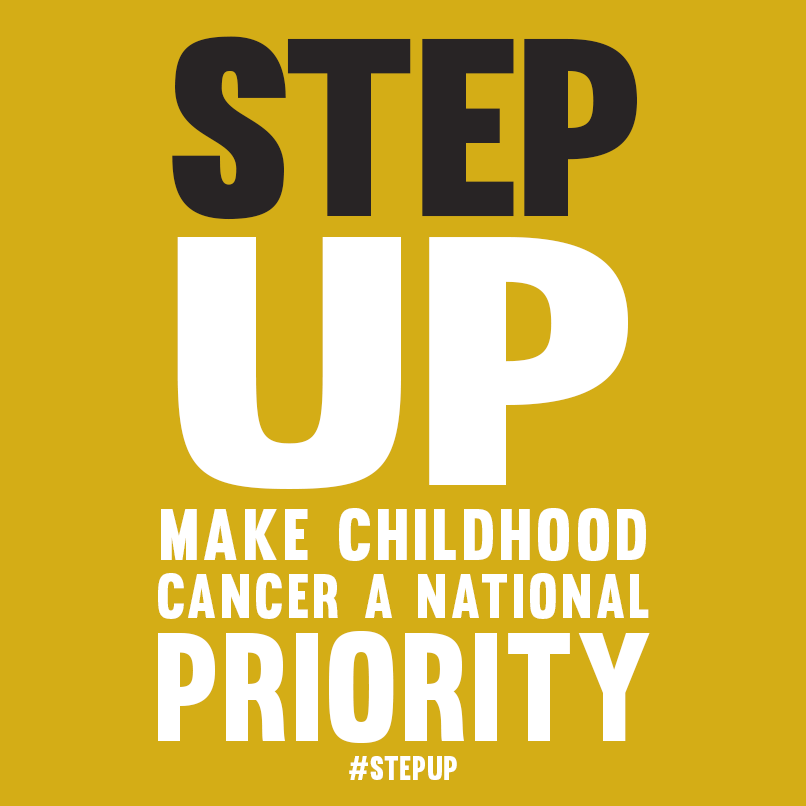 There are many ways for you to help over the next 7 days of this community campaign:
Send in your #StepUp Selfies for us to share and gain national attention. You can share them on Facebook or email them to cperry@acco.org.
Take action online! Add the #StepUp hashtag to any of your posts so we can follow along.
Visit the #StepUp image bank to find images and messages to share.
Change your Facebook and Twitter profile photos to the #StepUplogo found in the image bank or below.
Help us go viral! Share #StepUp posts with your friends and ask them to share with their friends!
Please participate in the Faces of Childhood Cancer project. For details please Click Here.
Starting Monday morning when advocates are in town, tweet your members of Congress using the Twitter-based action platform SoundOff.
Please follow our Facebook and Twitter pages for new posts to share with your friends and family about why we #StepUp for children with cancer.
ACCO is proud to be a leader in this joint effort of the Alliance for Childhood Cancer. In the coming week, we'll take one step in a long journey toward making childhood cancer a National Child Health Priority.
Please join us as we #StepUp to make our united voices heard on behalf of children with cancer!
For more information about the American Childhood Cancer Organization call 855.858.2226 or visit: