90% – The Number of Kids with Cancer Treated at COG (Children's Oncology Group) Hospitals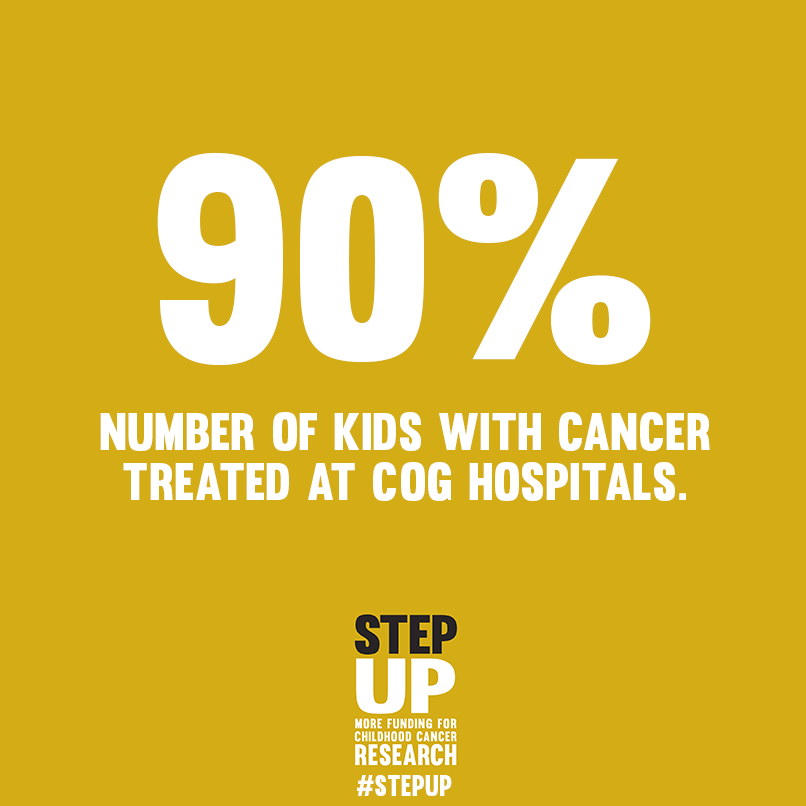 Day 5: 90% – number of kids with cancer treated at Children's Oncology Group (COG) hospitals
Children and adolescents with cancer are in a constant battle for their lives—and the front lines of this war are fought within the hospital walls where their treatments take place. The Children's Oncology Group (COG) is the largest organization in the world devoted exclusively to childhood and adolescent cancer research, and includes a network of more than 200 children's hospitals, universities, and cancer centers across North America, New Zealand, Australia, and Europe.
This group of hospital institutions collaboratively conducts much needed research and large-scale clinical trials with the goal of improving current treatment protocols and implementing innovative therapies for children with cancer.This year alone, more than 90% of the 15,760 children and adolescents diagnosed with cancer in the United States are cared for at Children's Oncology Group member institutions, with estimates as to the number of children currently receiving cancer treatment at COG hospitals ranging from 30,000-40,000.
John Oliver ("Ollie") Tetloff is one of the many children currently undergoing cancer treatment at a COG hospital, and the story of this courageous little boy's battle with cancer is vividly depicted in a blog written by his mother, who often composes her blog posts during the many hours spent sitting by her son's hospital bedside…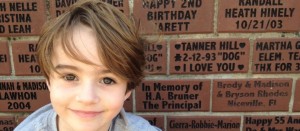 "Most kids in Alabama spend 180 days in school each year. Due to John Oliver's cancer diagnosis, the accompanying intensive treatment plan, and his weakened immune system, he has missed his entire first-grade school year. Instead, my sweet boy has spent 180 nights in the hospital, and countless days visiting the outpatient oncology clinic for complete blood counts (CBCs), doctor exams, blood and platelet transfusions…and then there were the frantic trips to the Emergency Room to manage the frighteningly sudden onsets of fevers, pain, and nausea. That adds up to more than an entire school year of my son's life spent within the confines of hospital walls. Rather than reading, playing at recess, and socializing with other children his age, Ollie's daily schedule involved needle pokes, vomiting, more medicines than I ever thought possible, and a constant barrage of painful scans and tests.
Ollie was diagnosed with Stage-Four neuroblastoma (NB) at age six. He is seven years old now, and, as this particular type of cancer has an extremely high fatality rate, he is unlikely to celebrate his eighth birthday three months from now. Throughout this entire nightmarish experience, my greatest fear was to watch him suffer from the aggressive treatment plan all Stage-Four NB kids are subjected to, only to lose him. Heart-achingly, this seems to be our fate. To date, my brave little boy has withstood nine rounds of intensive chemotherapy, surgery, a bone marrow transplant, four weeks of daily radiation, immunotherapy, and MIBG therapy, which is a specialized molecular form of radiation that requires a weeklong stay in a lead-lined room (isolated from others due to radiation contamination). Yet despite all of these invasive treatments that have literally eaten away at his frail body, his cancer continues to grow. The cancer has now spread throughout his body—assaulting his spine and pelvis, taking away his ability to walk; infesting his lungs, causing respiratory distress; and invading his skull, threatening his eyes and brain. Over just the past three days, he has completely lost vision in his right eye. Despite our best tools and treatments, the cancer is winning.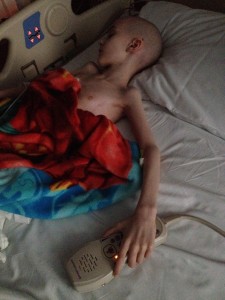 Obviously, these are difficult days, even when things go "well"—as parents of a child living with cancer, there is no reprieve from the fear and pain of watching your child suffer. But at this phase, we are too immersed in the daily task of living with cancer to dwell too much on the potential dangers lurking in the future. And not every day is terrible. Life goes on despite my fears. We get up each day, and do what we need to do in order to balance fighting the cancer and providing Ollie with the highest quality life possible. He is so much more than a cancer patient—he is a seven-year-old boy, and his childhood still needs nurturing and room to thrive. The only way for a child to spend an entire school-year in a hospital and not lose that precious sense of "being a kid," is with the help of a compassionate medical team, dedicated to caring for Ollie in a manner that respects and preserves the integrity of his childhood.
You may not think it at first, but the most insidiously spirit-dampening parts about the cancer treatment experience are the daily minutiae of everyday hospital life. One of Ollie's most dreaded tasks is changing the dressing that covers his central line. An infection of the line or his blood is life-threatening for a child with a compromised immune system, so it must be done with the care and expertise of a nurse. And it hurts each and every week. The large bandage must be pulled off of Ollie's sensitive, fragile skin, often covered with sores from the bandages, and then the entire area must be swabbed three times with alcohol, which is great to kill germs, but painful on raw skin and sores.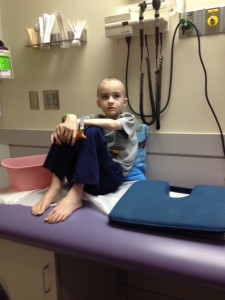 Ollie worries about it all week, and dissolves into tears when the time finally comes. Even after fifty-two dressing changes, the look of pure fear in his eyes is always the same. Ollie's only comfort in this experience is when he is allowed to remove the bandage himself. Doing so allows him to feel more in control of the process, and he can pull it off in a manner that minimizes the pain. This can be a rather painstaking endeavor, and to accomplish it we need a nurse who is willing to sit patiently by Ollie's side, encouraging him to remove the bandage at his own pace, ensuring that the quality of care is not compromised. It is this consistently high level of patient care (even when it comes to the smallest of details) that helps us get through our days, and without which, our already fragile sense of hopeful persistence could easily disintegrate. When John Oliver is in pain, and we push the call button to request medicine, every second we spend waiting feels like an eternity. We need medical professionals who understand this, and who share our sense of urgency to help Ollie feel better. We have found this type of responsive, compassionate care from the doctor and nurses at our hospitals.
When we were told of Ollie's diagnosis, I had to google "neuroblastoma" just to learn about his specific cancer, so I obviously had no idea where he would receive the best treatment. But as I learned about the Children's Oncology Group (COG) network structure, and that the COG protocols were based on decades of research, collaboration, and information-sharing across hospitals, my decision was made. Ollie has been treated at two COG hospitals, and each one has attended to the details of daily life with thought and care, making our time there as comfortable as possible. Sleep deprivation is a common problem when caring for a sick child, and yet I have had some of my best nights in the hospital, thanks to thoughtful and experienced nurses who have made the extra effort to attend to nighttime needs with minimal light and noise, anticipating the IV machine beeps and timing of medicines to keep nausea and pain at bay.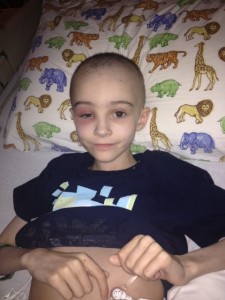 Unfortunately, in the war against childhood cancer, cancer wins most of the battles; however, one of my favorite hospital memories occurred shortly after Ollie's bone marrow transplant. He was isolated to a hall with eight hospital rooms, restrained by many rules to restrict contact with germs and other hazards while his immune system was wiped out and rebuilt. He was sad, bored, and suffering from mouth sores, seeming to lack interest in anything. The physical therapist came by, noticed his dejected temperament, and arranged a sticker scavenger hunt in the hallway. Ollie had to wear a mask and gloves to leave his room, and the stickers had to be wrapped in plastic to avoid any potential contamination, but it got him out of his room, walking through the little hallway, laughing and playing, even with an IV pole in tow. The sparkle renewed in his eyes was clear evidence that childhood took the victory on this one!
When we learned that Ollie's cancer was not responding to the frontline protocol, our world was once again thrown into chaos, but due to the collaborate nature of the COG, our oncologist was able to consult with colleagues around the country in a timely manner, and we were able to find an alternative treatment  only a few hours away. Since that time, the two institutions have remained in close contact, allowing us to receive treatments at home when it is available, and quickly transitioning back into our secondary hospital when it was necessary.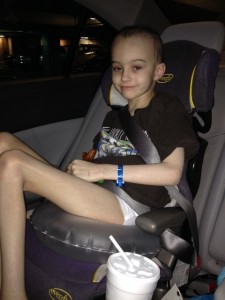 My son's failing health is not due to incompetent care or denied access—it is directly linked to insufficient funding for childhood cancer research. It is almost impossible for me to fathom that these already inadequate funds are at risk of further cuts. The horrendous suffering of my sweet seven-year-old boy is due to harsh and ineffective treatments; any chance he has of survival is because of the high quality of care we have received at Children's of Alabama and Children's Healthcare of Atlanta. I'd invite any congressperson to spend the night on either of these oncology floors and witness firsthand the diligent and committed work of the medical teams, and the profound and heartbreaking suffering of their tiny patients. It is very clear that no funding can be spared, and that to save our children from pain and death, we must prioritize funding for children's hospitals and cancer research centers. No one should have to watch their child die a slow and painful death when there is the possibility of a cure."
Clinical research has demonstrated that children and adolescents treated at specialized children's cancer centers (as opposed to local hospitals), have better treatment outcomes. A children's cancer center is staffed with oncology healthcare teams that specialize in the diagnosis and treatment of childhood and adolescent cancers, which is highly important because children are not just "little adults" who can successfully be treated with lowered doses of adult cancer treatments.
The COG's unparalleled collaborative research efforts and nearly 100 active clinical trials provide the information and support needed to answer crucially important, life-saving clinical questions in the fight against childhood cancer. These trials are specifically designed to reflect the unique treatment needs and responses of a child's body, and include investigations into the underlying biology of different types of childhood cancers and the discovery of new and emerging treatments.
The COG is funded by the National Cancer Institute (NCI), and upholds the rigorous quality assurance standards the NCI has set forth. Federal funding for COG hospitals has been cut by 30% over the past decade, which has decreased the number of potentially lifesaving clinical trials for children like John Oliver. We are asking you to become allies of the children bravely fighting against a cunning and merciless enemy that is wreaking havoc on their innocent little bodies, causing unspeakable pain and suffering. Please join us as we lobby congress to secure increased funding for childhood cancer research through the National Cancer Institute (NCI).
You can support the #StepUp campaign by:
Sharing a post on Facebook or Twitter, and asking friends to do the same

Sending a letter to your Congressional Representative or Senator

Tweeting directly at your Senator/Congressional Reps at the #SoundOff campaign website (#StepUp).
The war against childhood cancer will be lost without adequate funding for clinical research, but together we can tilt the scales toward victory, ensuring that no child's life is cut short because of childhood cancer.
There are many ways for you to help:
A little bird will shout from the rooftops that kids deserve to be a higher priority.  Tweet your members of Congress using SoundOff with a new message each day. Here is an example tweet:  
Posting to Twitter on your own? That's great! Please use the #StepUp hashtag so we can track our success.  Here are some example posts:
Step Up: More Funding for #ChildhoodCancer Research #StepUp 

Children with cancer deserve more federal research funding. Tell Congress to #StepUp:

Increase appropriations for NCI #StepUp – More Funding for Childhood Cancer Research 

Help us virtually storm Congress: Ask your Reps to  #StepUp & support more funding for childhood cancer research. Please share!
Email your Representatives (by clicking either of these links: House and Congress) and ask them to increase appropriations for NCI and reauthorize the Carolyn Pryce Walker Act.
Directly ask three friends to share the message with their representatives