Global Challenge—To Light Up the Entire World Gold
Together with its international partners, this year the American Childhood Cancer Organization issued a global challenge—to light up the entire world gold to raise awareness about this deadly disease—and the response was simply incredible!  In support of September as International Childhood Cancer Awareness Month, more than 100 prominent buildings, national landmarks, and iconic monuments across four continents helped spotlight the dire challenges posed by this disease by lighting up gold or prominently and proudly displaying the yellow ribbon, the international symbol of the fight against childhood cancer.  The ACCO would like to thank the thousands of people around the world who came together in support of this important cause and helped us "Light It Up Gold"!
Month of September
Throughout the entire month of September, the world shone with gold: the now internationally-recognized color of childhood cancer symbolizing the brave young warriors and their families who have fought childhood cancer and won, those precious children who have left us far too soon, and the survivors who struggle daily with the long-term effects of childhood cancer and today's outdated treatment protocols.  From the most well-known national monuments to the parks of the smallest towns, from the tip of South America to the top of Canada and across the entire globe, the world came together to show these children and their families that they are not alone.  We cannot hope to list here in this limited space all of the places that proudly displayed their support, but here are just a few highlights:
Bridges: Mont Blanc Bridge in Geneva, Switzerland; Trafalgar Bridge in Perth, Australia; the Zakim Bunker Hill Memorial Bridge in Boston, United States
National landmarks: Casa Histórica de Tucumán in San Miguel de Tucuman, Argentina; Blarney Castle in Blarney, Ireland; Spinnaker Tower in Portsmouth, United Kingdom; Seattle Great Wheel in Seattle, United States; Bridal Falls, part of Niagara Falls in Ontario, Canada
Fountains: Harmony Square in Brantford, Canada; Anzac Park Fountain in Queensland, Australia
Stadiums: Fenway Park in Boston, United States; Turner Field in Atlanta, United States; Suncor Stadium in Milton, Australia
Buildings: One World Trade Center in New York City, Calgary Tower in Calgary, Canada, Houston City Hall in Houston, United States, British Columbia Parliament Building, Victoria Canada, Parliament House in Brisbane, Australia, Maerua Mall Office Tower in Windhoek, Namibia, and of course, the headquarters of the ACCO outside Washington, DC
For a complete listing of all the buildings and landmarks that participated in this year's amazing Light It Up Gold campaign, we encourage you to visit the ACCO's interactive map which you can find at https://www.acco.org/light-up-the-world-gold/.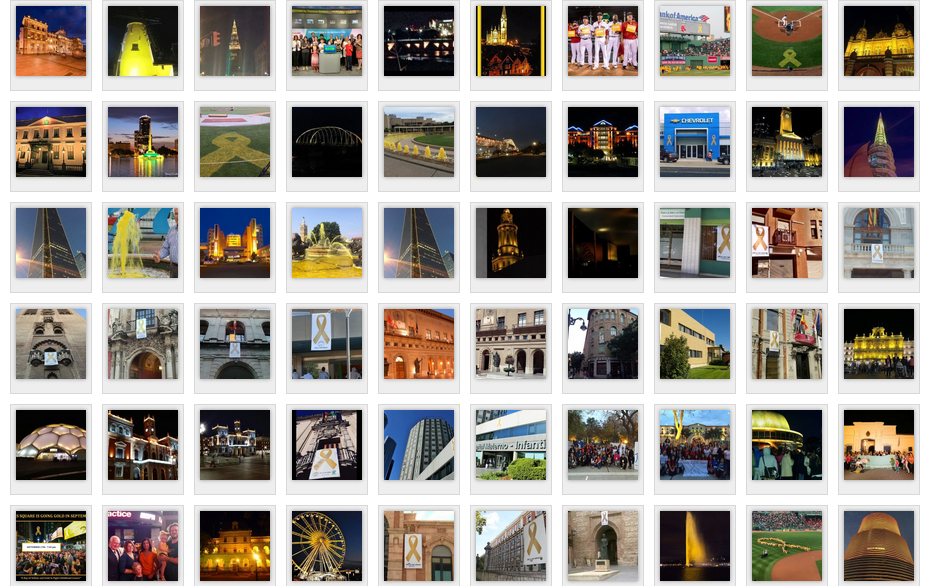 For more information about the American Childhood Cancer Organization and how we can help, call 855.858.2226 or visit: