Press Release: Kids With Cancer Love Fla-Vor-Ice's Support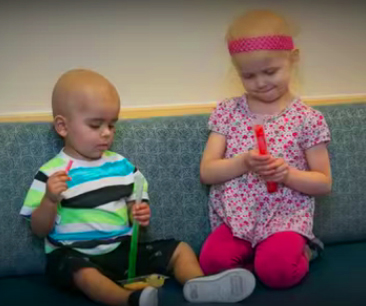 When a child goes through grueling cancer treatment, a lot of bad things happen to their bodies. When they get mouth sores and they don't want to eat anything, they turn to the popular frozen treat Fla-Vor-Ice. When they are running a fever, this frozen pop can provide a cooling comfort and can help replenish fluids. Since 2008, Fla-Vor-Ice's parent company Jel Sert has partnered with the American Childhood Cancer Organization to promote awareness and advocacy programs on a national scale.
The "Take a Pop, Share a Smile" program helps children across the U.S. cope with cancer and all that it brings to their lives. The program involves the donation of freezers and a continuous supply of Jel Sert's well-known freezer pops to cancer treatment centers throughout the U.S. The Jel Sert company has donated over 1,000,000 pops to 115 hospitals to date!
To nominate a Hospital or Care Center near you, Click Here.
Watch the Video:
"We appreciate the partnership with Jel Sert, knowing the relief and joy an icy treat can bring, especially for children in treatment. Families are so appreciative of this program because it makes a sick child feel a little better," says ACCO Executive Director Ruth Hoffman.
Every package of Fla-Vor-Ice freezer pops has a Gold Ribbon in support of Childhood Cancer Awareness. This campaign now extends across millions of packages of Fla-Vor-Ice, Otter Pops and Pop-Ice, inspiring childhood cancer advocacy and honoring those affected by the disease.
Approximately 2,000 children will die of cancer this year in the United States; making cancer the number one cause of death by disease of America's Children. September is International Childhood Cancer Awareness month. The international awareness symbol for Childhood Cancer is the gold ribbon. Unlike other cancer awareness ribbons, which focus on a singular type of cancer, the gold ribbon is a symbol for all forms of cancer affecting children and adolescents.
About American Childhood Cancer Organization
The American Childhood Cancer Organization (ACCO) is the nation's largest grassroots organization at the forefront of the crucial battle against childhood cancer. The ACCO is dedicated to improving the lives of children living with childhood cancer and its long-term impacts, and to offering critical advice, support, and assistance to families engaged in this life-altering struggle.
About Jel Sert
The Jel Sert Company based in West Chicago, Ill., is a manufacturer, marketer and distributor of a variety of well-known food and beverage products. The company's proprietary brands include Wyler's, Wyler's Light, Pop-Ice, Flavor-Aid, Fla-Vor-Ice, Royal, My*T*Fine, Otter Pops and Mondo, among others.
FOR MORE INFORMATION OR TO SET UP AN INTERVIEW:
Ruth Hoffman, CEO
rhoffman@acco.org
For more information about American Childhood Cancer Organization (ACCO) Click Here