Press Release: iRacing Goes Gold ® to Raise Childhood Cancer Awareness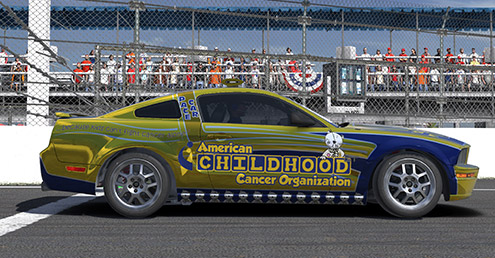 Bedford, MA (September 8) – iRacing.com is GOING GOLD! To raise awareness and funds in support of families affected by childhood cancer, the iRacing Ford Mustang that paces every virtual race on the popular online motorsports simulation service will feature the gold livery of the American Childhood Cancer Organization (ACCO) during its fall racing season.  In addition, links on iRacing.com will enable the more than 60,000 iRacers to make online donations to the ACCO.
"We're proud to partner with the American Childhood Cancer Organization in such an important cause," says Tony Gardner, President of iRacing.  "The ACCO is on the front lines of the fight against childhood cancer and iRacing is proud to join them in their efforts to make a difference in the lives of childhood cancer patients, survivors and their families."
"We're excited to have iRacing.com join us in the fight against childhood cancer," says Ruth Hoffman, Executive Director of the ACCO. "Each year in the United States approximately 15,780 children are diagnosed with cancer before the age of 19. In the past year ACCO provided 42,250 of the highest quality free resources designed to educate children and their families in the battle against cancer, coordinated local assistance to thousands of families in need through our 40 regional affiliates and led national and international advocacy campaigns for greater awareness and research. Since 1970, the ACCO remains dedicated to giving every child facing childhood cancer a fighting chance at a healthy, happy future."
The American Childhood Cancer Organization is the nation's largest grassroots organization at the forefront of the crucial battle against childhood cancer. The ACCO is dedicated to improving the lives of children living with childhood cancer and its long-term impacts, and to offering critical advice, support, and assistance to families engaged in this life-altering struggle.
About iRacing.com
The company was founded in 2004 by Dave Kaemmer and John Henry and subsequently released iRacing.com in August 2008. Kaemmer was co-founder of Papyrus Design Group, developers of award-winning racing simulations including "Grand Prix Legends" and NASCAR 2003." Henry is principal owner of the Boston Red Sox and Liverpool Football Club, as well as co-owner of NASCAR's Roush Fenway Racing. iRacing.com has developed dozens of formal partnerships in the motorsport industry to help create the most authentic racing simulation in the world including with NASCAR, IndyCar, International Speedway Corporation, Speedway Motorsports, the SRO Motorsports Group, Mazda Motorsports, McLaren Electronics, Williams F1, Volkswagen, Ford, the Skip Barber Racing School and General Motors.
CONTACT:
Kevin Bobbitt
iRacing.com
781.271.1919 (office)
603.930.8384 (mobile)