Advancing Cures, Transforming Care, Instilling Hope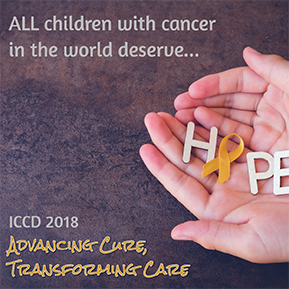 FOR IMMEDIATE RELEASE – February 15, 2018 – Beltsville, MD – (ICCD) is celebrated around the world each year on February 15th. Originally commemorated in 2002, ICCD is day founded by Childhood Cancer International (CCI), a global network of 188-member organizations in 96 countries. Childhood Cancer International, along with the American Childhood Cancer Organization (ACCO), is committed to working collaboratively towards advancing cures, transforming care, and instilling hope for all children and adolescents diagnosed with cancer in the world, wherever they may live.
Sadly, childhood cancer continues to be the leading cause of non-communicable related death in children throughout the world. Globally, more than 300,000 children are diagnosed with cancer each year, including nearly 16,000 in the United States. Approximately 80 percent of our world's children with cancer live in low-middle-income countries (LMICs) where more than 80 percent of these children die of their disease. In developed countries like the United States, Canada, the United Kingdom, Japan and others, more than 80 percent of children survive cancer with hope to live productive and meaningful lives.
The global coalition believes all children deserve hope for a cure – no matter where they live – not more excuses. We can no longer sweep this issue "under the rug." Children are the future of our country and our world. Their vitality is the heartbeat of the world, a shared passion that can unite us because our future as a global community depends on it. Ruth Hoffman, CEO of ACCO as well as President of CCI says, "ACCO is so proud to provide the U.S. based voice in advocating for all children, no matter where they live."
In the United States events will be taking place across the country commemorating the day, including an event in Kentucky in which Governor Matt Bevin will be speaking at a rally celebrating first time state level funding for childhood cancer research. Specially designed t-shirts including over 7,000 names of children diagnosed with cancer have also been sold across the country in their honor and memory.
The American Childhood Cancer Organization was founded in Washington, D.C. in 1970 by parents of children and adolescents diagnosed with cancer and is dedicated to shaping policy, supporting research, raising awareness, and providing educational resources and innovative programs to children with cancer, survivors, and their families. For more information please visit acco.org.
# # #