Meet Declan, a T-Cell Lymphoblastic Lymphoma warrior.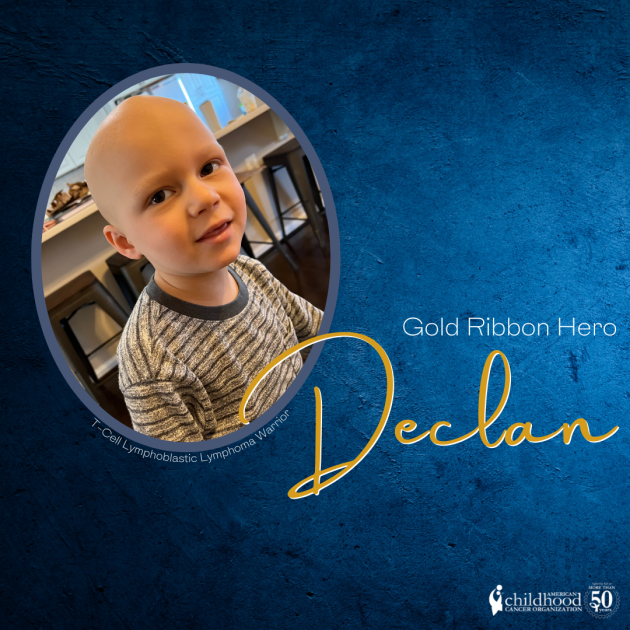 In May 2021, Declan's parents noticed large nodes on his neck. At the time, he was two and a half years old. Since Declan's mom is a nurse, she was concerned because he showed no signs of infection. After weeks with doctors, Declan had scans that showed masses in his chest and abdomen. The doctors ordered a biopsy of his node and was diagnosed with T-Cell Lymphoblastic Lymphoma. At that time, he was  hospitalized and started treatment. "As you can imagine, our world felt heavy. We had a few days off and got readmitted Monday for treatment after a confirmation had come back." 
Declan has a little over two years to continue his chemotherapy plan. He currently receives IV and oral chemotherapy as well as chemotherapy injected in his spine. Some weeks he gets chemo every day, multiple times a day. 
"Declan has not been able to live a normal life or be a normal kid. He hasn't been able to go to school or play groups. He is isolated when counts are low. It's hard for him to express how he's feeling but he's strong through it all. Even on days where he spends all day receiving treatment, he still wants to run, jump, play and be kind to others. He is an amazing example of how we have a choice each day to bring happiness to others despite the circumstances. " 
Declan is an ambassador for ACCO's GO GOLD® the RUN. Learn more by clicking here.
DONATE ONLINE»