Meet Violet, an 11 year old T-Cell ALL warrior!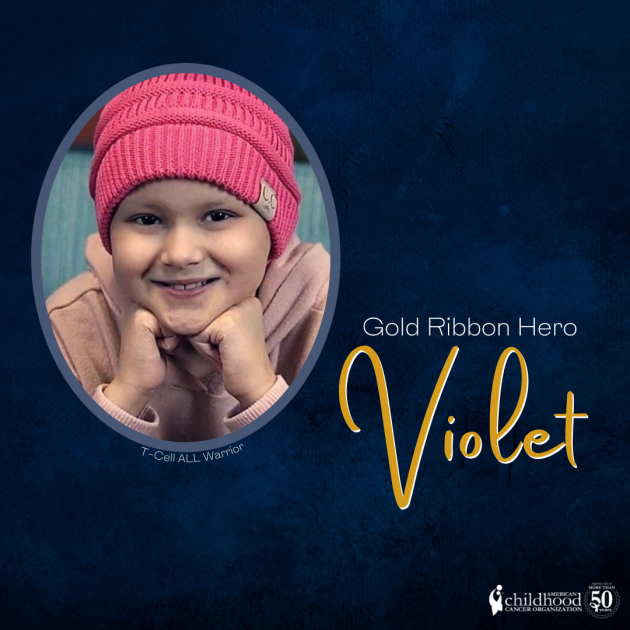 "On April 15, 2019, I took Violet to the pediatrician who said it was just a virus. I insisted on bloodwork and another scan. After an ultrasound and bloodwork was done, I barely made it to the parking lot when the pediatrician called to tell me something was wrong with the bloodwork. As soon as we got to the hospital, they hooked her up immediately," remembers Violet's mother, Audra. Violet was diagnosed with T-Cell ALL and started her two and a half year treatment of chemotherapy immediately.
On her 9th birthday, her parents noticed something was "off." Doctors performed scans which revealed fluid and a spot on her brain and Violet went into a comatose state. She was admitted to the PICU and had brain surgery to remove the fluid from her brain. For 24 hours, the family didn't know if it was an infection or cancer on her brain – it turned out to be an infection. Violet endured two more brain surgeries. She struggled with walking while continuing treatment. She had pancreatitis twice, c diff and an NG tube as well as normal chemotherapy side effects. 
Violet missed her third grade year and spent most of it in the hospital. She was chosen as the True Hero for the Peyton Manning Children's Hospital Gala and was released from the hospital just one day before! As a result of COVID, Violet attended online school for her fourth grade year. In October 2021, Violet completed her treatments and rang the bell. 
During her journey, Violet endured so much and never complained. She stayed positive and has truly become an inspiration to everyone around her. In December 2021, Violet and her family will attend the Indy Fuel Hockey PJammin® game in their pajamas to help raise awareness for childhood cancer. 
Violet had three birthday's throughout her cancer treatment and a huge chunk of her childhood was robbed. Help give the gift of time to kids like Violet by donating today. 
Learn more about ALL here.
Together, we can make a difference.
Donate today… because kids can't fight cancer alone
®
.