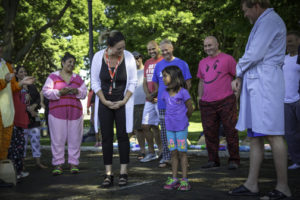 We would like to extend our thanks to Sophia and her family for helping represent the face of childhood cancer at Jel Sert's PJammin'® event on June 15. Led by Jel Sert President Ken Wegner, this first-ever corporate PJammin'® event involved the participation of more than 200 Jel Sert employees, as well as Sophia and other children whose lives have been impacted by childhood cancer. Sophia's participation in this event highlighted the real difference that that these events can have for children battling this devastating disease.
Sophia's Story: Acute Lymphoblastic Leukemia
Today, Sophia looks like a healthy, active, happy 8-year-old girl. Always "spunky", as her mother Blanca describes her, in late 2013 Sophia's parents could tell something wasn't right. She seemed to have lost that natural spunkiness. Often sick with strep throat, ear infections, colds, and fevers, she simply wasn't her normal, active self. When her parents noticed a lump under her chin, they took her to the pediatrician, who prescribed antibiotics for a potentially swollen lymph node. When the fevers and lump had not resolved by the scheduled follow-up visit on January 3, the pediatrician scheduled blood work. The results were devastating: Sophia had Acute Lymphoblastic Leukemia, or ALL. The pediatrician told Blanca to arrange care for her other children, pack a bag for Sophia, and bring her to the hospital immediately where an oncology team was waiting to start treatment.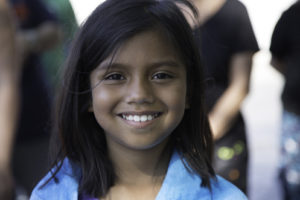 "Everything happened so fast but at the same time so slow. All these procedures and medical terms were new to us. We had to make decisions no parents should have to make. We had to hide our worries and sorrow from Sophia and her siblings. The first couple of weeks were very hard." Blanca describes so well the turmoil of emotions felt by parents suddenly thrust into a whole new world by their child's cancer diagnosis. Navigating through this new world—coping with informational overload and making critical decisions affecting the health of your child, while at the same time calming your scared, sick child and caring for other siblings—may be a parent's worst nightmare.
Sophia's chemotherapy began immediately with surgery to place a port-a-cath, or "port" for short, a surgically-implanted catheter that enables chemotherapy to be administered directly into the bloodstream while reducing the need for needles and IVs. Unfortunately, the treatment didn't progress as smoothly as Sophia's oncology team and family hoped. First, her platelet counts were too low, so she required several blood transfusions. She was finally able to go home, only to return because the site of her port became infected. The port was surgically removed, but Sophia was left with an open wound that required her to remain in the hospital for several more weeks. Another surgery to place a second port was more successful, this time healing properly so it could function throughout the remainder of her treatment. As Blanca so eloquently states: "Her little body took a lot, with the surgeries, open wound care, and all the hard blood draws due to her small veins. It was torturous for her and us."
When Sophia was not in the hospital, she endured months of isolation at home to avoid the risk of infection due to a compromised immune system. She missed preschool and many months of kindergarten. Still, her family attempted to maintain as "normal" as life as possible, and even welcomed the birth of a new little brother, Lucas (as if coping with childhood cancer were not difficult enough, Blanca was five months pregnant at the time of Sophia's diagnosis). Helping Blanca care for Lucas made the time at home pass more easily for Sophia!
An Ongoing Journey
Sophia's treatment for ALL ended in April 2015 and despite frequent testing—a common part of every childhood cancer survivor's life after treatment—she has finally recovered her normal "spunky" nature! Her mother credits her for being so brave, cooperative, and helpful through every stage of this difficult journey. Sophia and her family understand that childhood cancer is an ongoing journey, but are thankful that they can fight it together as a family; as Blanca notes, "We are all in this together!"
About the American Childhood Cancer Organization
The American Childhood Cancer Organization (ACCO) is a non-profit charity dedicated to helping kids with cancer and their families navigate the difficult journey from cancer diagnosis through survivorship. Internationally, the ACCO is the sole US member of Childhood Cancer International (CCI), the largest patient-support organization for childhood cancer in the world. Here in the United States, the ACCO promotes the critical importance of ensuring continued funding into new and better treatment protocols for childhood cancer.  And most importantly, the ACCO is focused on the children: developing and providing educational tools for children fighting cancer and their families, empowering them in their understanding of childhood cancer and the medical decisions they must make during this difficult journey. All of ACCO's resources are available free of charge for families coping with childhood cancer.
For additional information about childhood cancer or on the ACCO, or to order resources for you or your child, please visit our website at www.acco.org.
For more information about the American Childhood Cancer Organization and how we can help, call 855.858.2226 or visit:
Want To Read American Childhood Cancer Organization On Your Phone? Click the NoteStream logo: