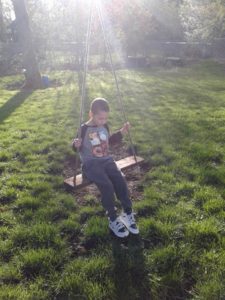 Rainin's Battle Against Alveolar Rhabdomyosarcoma
Rainin was diagnosed with Stage 4 Alveolar Rhabdomyosarcoma on January 13, 2016 at the age of 6. Rhabdomyosarcoma, or RMS for short, is a type of cancer that develops from skeletal muscles, or the muscles that we voluntarily control during movement (unlike the smooth and cardiac muscles of our internal organs that move involuntarily). ARMS, or Alveolar Rhabdomyosarcoma, is a sub-type of RMS that tends to develop in the larger muscles of the trunk, arms, or legs. The name "Alveolar" comes from the growth of smaller, rounder, and denser tumors that appear to resemble the small air sacs found in the lungs.
RMS is extremely rare, making up only about 3% of all childhood cancers. Approximately 350 children are diagnosed with RMS each year. ARMS is even rarer, occurring in only 20-25% of all RMS diagnoses. Unfortunately, ARMS is also the most aggressive form of RMS. Because it grows more quickly than other forms of RMS, it is generally considered a "high risk" form of childhood cancer. At the time of diagnosis, Rainin's aRMS was "Stage 4", requiring an aggressive treatment approach combining surgery, radiation therapy, and chemotherapy. Rainin underwent six weeks of radiation and nine months of chemotherapy. He completed treatment in October 2016.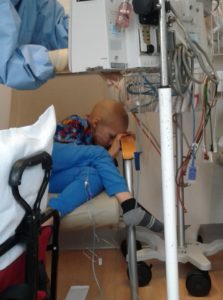 No Time for Vacation: Immediate Relapse
Rainin and his family had only a short time to celebrate after his initial remission. Within a month of completing treatment, Rainin's family was told that the tumors had metastasized (spread) to his abdomen and spine. In January, he began yet another round of intensive chemotherapy and radiation. This new round of treatment was expected to last for another nine months. By mid-February, the quickly growing tumors had begun to damage his bladder and kidneys. While initial scans showed that the chemotherapy was having some impact, it now appears that the tumors are simply growing too quickly for even intensive traditional therapy to keep up. Rainin's family has sought alternative treatments and are still hopeful that these will lead to recovery.
Sadly, Rainin's story is all-too-common for children diagnosed with this aggressive form of cancer. For children like Rainin with "High Risk" tumors, there is overwhelming concern about metastasis even when, as in Rainin's case, the original tumors are controlled with traditional treatment. Oncologists and researchers continue to search for novel treatment approaches that will more successfully reduce the occurrence of relapse and more effectively target the new tumors once they do appear.
Raining's family was told that their only option currently is palliative care undergoing radiation therapy, which at the very least has improved his kidney function, but his family has sought alternatives and is hopeful that Rainin will recover and one day be cancer free! We ask you to join with us in sending Rainin and his family courage, strength, and prayers in this most difficult time. Rainin is truly a childhood cancer warrior and a Gold Ribbon Hero.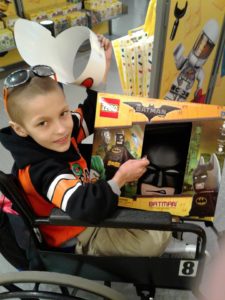 Help Rainin Take a Vacation!
We would like to take a few minutes today to ask you to help send Gold Ribbon Hero Rainin on a "virtual vacation"! Rainin, a seven-year-old boy from Washington State, has been bravely battling Stage 4 Alveolar Rhabdomyosarcoma (aRMS) since January 2016. Rainin's aRMS relapsed in November and he began a second round of radiation and chemotherapy in January 2017. Although Rainin's oncology team now believes that the tumors growing in his back and spine are not responding to treatment and palliative radiation has helped restore his kidney function, Rainin's treatment options are very limited at this time, but his family has started alternative treatments hopeful for Rainin's recovery!
Raining would love nothing more than to travel the world and currently, with your help he can still use his imagination to visit special places around the world. Can you help? Help Rainin enjoy a "virtual vacation" by sending him pictures and postcards of special places you have visited! Choose your favorite place or send Rainin to several places around the world: the choice is yours!
To email your pictures, please send them to cperry@americanchildhoodcancer.org or post them to our Facebook page using the hashtag #Rainin'sVacation.
To mail Rainin a postcard, please address it to:
Rainin Day
2908 E 27th Street
Vancouver Washington 98661
About American Childhood Cancer Organization
American Childhood Cancer Organization (ACCO) is a non-profit charity dedicated to helping kids with cancer and their families navigate the difficult journey from cancer diagnosis through survivorship. Internationally, ACCO is the sole U.S. member of Childhood Cancer International (CCI), the largest patient-support organization for childhood cancer in the world. Here in the United States, ACCO promotes the critical importance of ensuring continued funding into new and better treatment protocols for childhood cancer.  And most importantly, ACCO is focused on the children: developing and providing educational tools for children fighting cancer and their families, empowering them in their understanding of childhood cancer and the medical decisions they must make during this difficult journey. All of ACCO's resources are available free of charge for families coping with childhood cancer.
For additional information about childhood cancer or on ACCO, or to order resources for you or your child, please visit our website at www.acco.org.