Meet Oakley, a 3 year old B-Cell ALL warrior.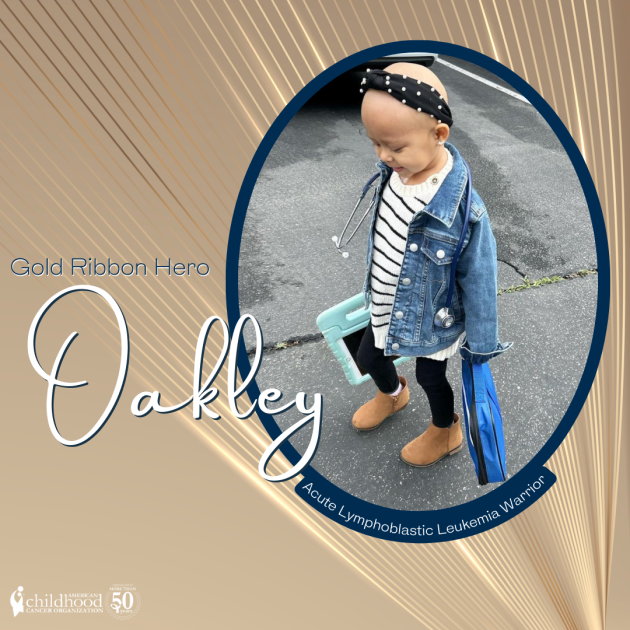 Just after turning three years old, Oakley's eyes started swelling and after three days, she started to develop a fever. Her mother took her to urgent care and the emergency room several times and was sent home with a stye in her eye and tonsillitis. Another doctor said it was allergies. After not getting a straight answer, Oakley's mom pushed for more testing. When her doctor called in additional blood testing, her mom knew they had found something. "The next morning, I was called to rush her into the ER for what most likely is cancer – leukemia. Looking back, she started to get very lethargic, didn't want to play outside, when normally I had to beg her to come inside. She also had a lot of bruising on her legs and a change in her skin tone." 
After being rushed to the hospital, Oakley started receiving chemotherapy almost instantly. She is currently on the blintumomab clinical trial and has undergone two surgeries. 
"A big obstacle being faced is her age. Oakley was a very shy and timid girl who didn't speak to anyone. She was terrified to go to the clinic and didn't understand what was going on. Thankfully, she has come out of her shell thanks to the amazing nurses and staff that all adore her." 
"Oakley is very headstrong, has always had a very good memory and has an amazing imagination. She can sit and play for hours making up her own games and stories with all her little figurines. Oakley's also a very big outdoors enthusiast, she's been hiking with us since she was 6 weeks old. Along with hiking she tags along off-roading on difficult trails, camping, and sometimes hunting since she was one years old."
In 2023, Oakley was selected to represent ACCO as an ambassador and is found on ACCO's GO GOLD® the RUN website. 
Learn more about ALL here.