Nico's Story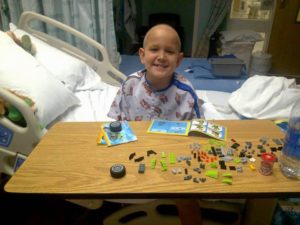 We have been asked to share the story of a very special childhood cancer warrior, Nico. Diagnosed with Stage 4 Osteosarcoma at the age of 6, Nico is in the final months of chemotherapy and is anticipating the results of several very important scans and tests that will confirm—hopefully—that he has finally beaten this disease. Throughout his treatment, Nico has shown strength and resilience beyond what we might expect from a young child, facing every new turn of events with a smile for his doctors and his family and giving inspiration to an entire community, both local and nationwide. This community now offers their hopes and prayers to Nico and his family for a successful end to this brave childhood cancer warrior's long cancer journey!
Nico's Cancer Journey
On April 28, 2016, Nico turned eight years old. Of course all boys love to celebrate birthdays, preferably with as much birthday cake as Mom will allow! For Nico and his family, however, this birthday is particularly special because it brings them within sight of the potential end of scheduled chemotherapy in July. And it is particularly special because, as with all childhood cancer warriors and their families, every birthday is one more victory in the fight against this terrible disease.
Nico began his cancer journey in October 2015 with the devastating diagnosis of osteosarcoma, a form of cancer in which one or more cancerous tumors begin to grow on a bone. In Nico's case, the tumor was located on a rib bone, close to his lungs. In many cases, osteosarcoma, the most common form of bone cancer, is diagnosed early in its development, greatly increasing the chances that treatment will be successful. In Nico's case, however, the news was not good: Nico's cancer was diagnosed as stage 4 osteosarcoma, meaning that the tumors had metastasized (or spread) from the original tumor location into other areas of the body. His team of oncologists located nine rapidly-growing nodules, or tumors, in his lungs. Devastated by this news, Nico's family agreed to begin chemotherapy immediately.
After his initial round of chemotherapy, the next major milestone occurred in January, just three months after the initial diagnosis: Nico's oncology team surgically removed the original tumor, along with four ribs, and performed thoracic surgery in the left lung to remove nodules. Chemo was on-going before and after the surgery, but in April, Nico began having seizures and doctors diagnosed a large mass in his brain. He underwent a second surgery in May to remove the mass, but unfortunately, this complication affected his mobility on his right side, and now in addition to chemo, Nico has regular therapy to overcome these mobility problems. Then, in August, a scan showed the formation of more nodules in the left lung, which were again surgically removed.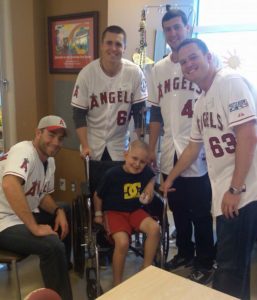 Throughout this long journey, Nico has continued to undergo both in-patient and out-patient chemotherapy to target any remaining cancerous cells and prevent the growth of more. Now, as his family begins to anticipate the end of his scheduled chemotherapy, his tests are showing positive signs: no additional nodules have formed and some remaining lesions in the lung have shrunk. In fact, Nico's doctors believe that the suspicious lesions may be residual scar tissue from the two prior surgeries.
The Waiting Game
The final months and weeks of cancer treatment can be a challenging time for families. Parents, siblings, and the patients themselves are excited at the prospect of a "normal" life, yet it's also a time of high anxiety, especially for parents, as they anticipate what the next bump in the road might look like. As Nico's Mom states, "I am now grilling the doctors with endless questions about [the] post-treatment process, prognosis, side effects…a good place to be but I may be driving them nuts!"
Mostly, this phase of treatment is about waiting, hoping, and praying. Waiting for the final tests to show that the last of the cancer cells have finally disappeared from Nico's young body. Waiting for that one last test to make sure, really sure, that those shadows really are just scar tissue and not more cancer nodules. Waiting for the next follow-up visit to make sure, really really sure, that the cancer has not returned.
Yet throughout his journey, and in this final stage of waiting, Nico's amazing and positive attitude has never wavered. He has shown his family and his community just how strong, just how brave, one small boy can be. Nico and his family hope that you will wait with them, offering them your ongoing prayers, best wishes, and support, as they face this phase of the cancer journey with the same strength and determination that has seen them through their journey thus far.
If you would like to follow Nico's journey and show his family your support, we encourage you to visit the Team Nico Facebook page at:
https://www.facebook.com/Team-NICO-987643321251952/timeline
About the American Childhood Cancer Organization
The American Childhood Cancer Organization (ACCO) is a non-profit charity dedicated to helping kids with cancer and their families navigate the difficult journey from cancer diagnosis through survivorship.  Internationally, the ACCO is the sole US member of Childhood Cancer International (CCI), the largest patient-support organization for childhood cancer in the world.  At the national level, the ACCO promotes the critical importance of ensuring continued funding into new and better treatment protocols for childhood cancer.  At the grassroots level, the ACCO is focused on the children: developing and providing educational tools for families and learning resources for children in order to make the lives of children and their families easier and brighter during this difficult time.  Many of our resources are available free of charge for families coping with childhood cancer.
For additional information about other childhood cancer warriors, to learn more about childhood cancer and the ACCO, or to order free resources for you or your child, please visit our website at www.acco.org.