Lauren Hill's Story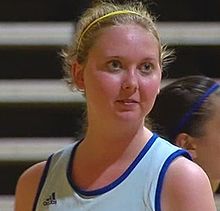 May is National Brain Tumor Awareness Month. As this month of important awareness and advocacy activities draws to a close, we would like to take this opportunity to shine a spotlight on one of the most devastating forms of childhood cancer—Diffuse Intrinsic Pontine Glioma (DIPG)—by sharing the well-known story of Lauren Hill, a high school basketball player who was diagnosed with this deadly form of brain cancer at 18, during her senior year of high school.
Diffuse Intrinsic Pontine Glioma, or DIPG, is a highly aggressive brain tumor that develops within the brain's glial tissues, which support and protect the brain's neurons. The cancerous cells become interwoven with healthy cells in the area of the brainstem known as the pons, which is responsible for our body's most basic functions like breathing, heart rate, and blood pressure. DIPG does not respond to chemotherapy and radiation, today's standard tools in the battle against most forms of cancer. Because of its diffuse nature and location within the brainstem, it is inoperable. And its long-term survival rate is effectively zero; about half of all children diagnosed with DIPG will die within nine months of diagnosis.
A DIPG Ambassador
Lauren Hill was one of approximately 300 children diagnosed with DIPG in 2014. During the short time she battled with this deadly form of brain cancer, she gave this rare disease a public voice and a national face. Unfortunately, DIPG only develops in children, usually between the ages of five and nine, children who are too young to bring attention to their fight. Despite knowing that she probably had only months to live after her diagnosis, Lauren used that time to raise public awareness about this rare cancer and to highlight the critical need for more research into new and different treatment mechanisms.
Lauren Hill: One More Game

Lauren was diagnosed with DIPG after her high school basketball coach noticed that despite being one of the hardest working and most skilled players on the team, Lauren was having trouble keeping up with the game. She began falling and couldn't catch passes with the same accuracy. Then Lauren began noticing other troubling symptoms as well, such as a tingling sensation on her right side and a numbness in her tongue. Yet despite the grim diagnosis, Lauren was committed to continuing to live her life to the fullest: she continued to play basketball on her high school team while undergoing chemotherapy. And she was determined to look forward, anticipating life as a college student at Mount St. Joseph University, where she had been recruited to play on the school's Division III basketball team.
Unfortunately, as usual with DIPG, Lauren's tumor did not respond to either chemotherapy or radiation, and by the beginning of her freshman year, MRIs showed that she probably did not many more months to live. Still, she continued to participate in her freshman classes, often turning in handwritten homework as use of a computer screen triggered agonizing headaches and vertigo. She continued to work towards her dream of playing in a college basketball game, even practicing left-handed lay-ups to compensate for the growing weakness in her right side. When it became clear that the team's season opener on November 15 may come too late for Lauren, her coach obtained permission to move the game up to November 2, just so Lauren could play. Lauren played the game of her life, and at the same time used the game to bring national awareness to this devastating disease.
Lauren's Legacy
In the six short months between her diagnosis in October 2014 and her death on April 10, 2015 at the age of 19, Lauren became a hero. Even knowing the odds against her, she never gave up her fighting spirit. She actively decided to use the time given to her to become a public voice in the fight against DIPG, knowing that most DIPG warriors are simply too young to make their voices heard. And her legacy lives on. The foundation she started continues to raise money for research towards DIPG and other forms of brain cancer and childhood cancer. But more importantly, the story of her fight and her determination serve to inspire the many other childhood cancer warriors whose battle with DIPG may not be as public, but are just as courageous and inspiring.
ACCO's DIPG Book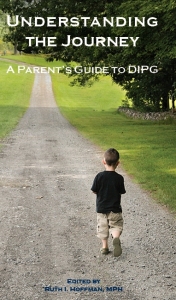 ACCO offers the only book in the world that is devoted to DIPG as one of our educational resources that we provide free to families currently in treatment.
Edited by Ruth I. Hoffman, MPH, ACCO Executive Director
About the American Childhood Cancer Organization
The American Childhood Cancer Organization (ACCO) is a non-profit charity dedicated to helping kids with cancer and their families navigate the difficult journey from cancer diagnosis through survivorship.  Internationally, the ACCO is the sole US member of Childhood Cancer International (CCI), the largest patient-support organization for childhood cancer in the world.  At the national level, the ACCO promotes the critical importance of ensuring continued funding into new and better treatment protocols for childhood cancer.  At the grassroots level, the ACCO is focused on the children: developing and providing educational tools for families and learning resources for children in order to make the lives of children and their families easier and brighter during this difficult time.  Many of our resources are available free of charge for families coping with childhood cancer.
For additional information about other childhood cancer warriors, to learn more about childhood cancer and the ACCO, or to order free resources for you or your child, please visit our website at www.acco.org.