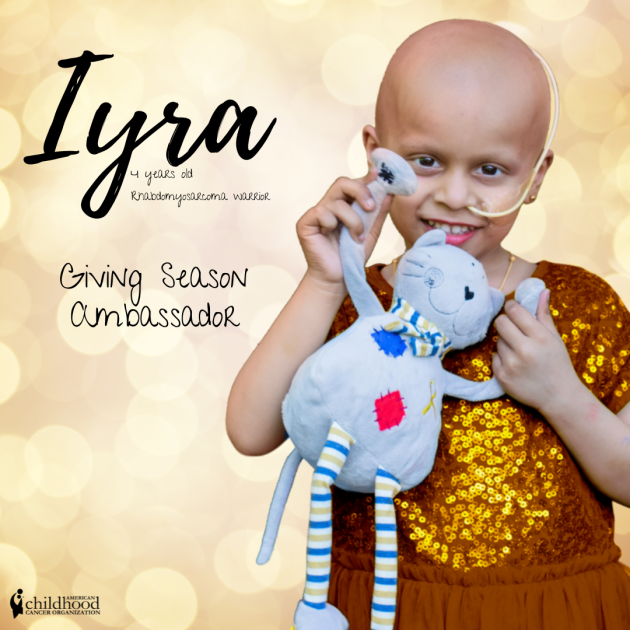 Have you been curious about the little warrior shown in our giving season images? Meet Iyra, a brave 4-year-old rhabdomyosarcoma warrior. 
In August, Iyra was featured in our GO GOLD® the Run campaign and her story ran on our blog and social media and we wanted to share some updates on Iyra's journey. 
In September 2022, Iyra completed her frontline treatment and is "thriving like a little girl must," according to her mother, Divya. Since treatment ended, she has had one scan which has come back clean. Her family looks forward to getting her port removed next year. 
This giving season, donate to ACCO, because kids like Iyra can't fight cancer alone! 
---
Meet Iyra, a 4 year old rhabdomyosarcoma warrior.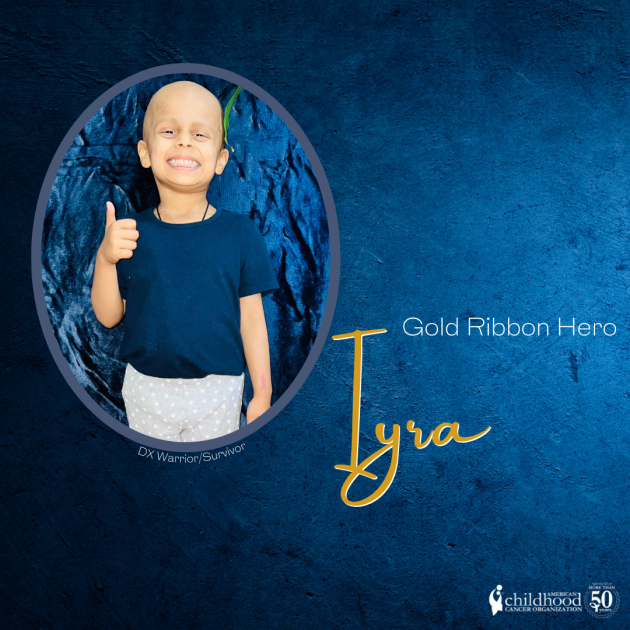 In November 2021, Iyra's mother noticed blood in her urine. Iyra was taken to the pediatrician who suspected a urinary tract infection. They asked to keep an eye on it and if they didn't subside to bring her back in. Just before Thanksgiving, Iyra was taken to the emergency room where she had an ultrasound and CT scan performed. Iyra's parents, Divya and Rupesh were told that a cyst formation was found on her left kidney which could be cancerous. "After hearing 'cancerous' we were completely shocked." Iyra was transferred to another facility for further testing.
Initially, doctors thought Iyra had a Wilms tumor and recommended a kidney removal. After further testing on the tumor, doctors discovered that Iyra had stage 3 rhabdomyosarcoma.
Currently, Iyra is undergoing chemotherapy at Johns Hopkins. She will undergo 14 21-day cycles of chemotherapy along with six weeks of radiation therapy. "She has a long road ahead of her and our lives have changed radically since her diagnosis. My husband and I feel completely devastated. Regardless of all this, Iyra is a fun child who loves to play with her sister. She is a very caring and strong girl. She reminds us that no matter how hard things get, we must learn to smile and keep a positive attitude."
Iyra is an ambassador for ACCO's GO GOLD® the RUN. Learn more by clicking here.
Learn more about rhabdomyosarcoma here.
DONATE ONLINE»