A Few Minutes Out of Your Day Will Mean the World to Gold Ribbon Hero Eli!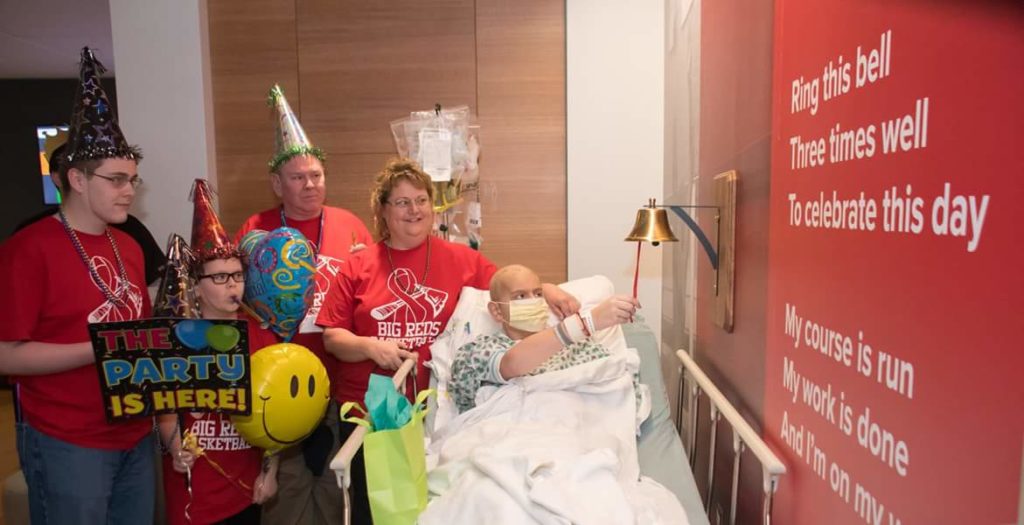 One of our Gold Ribbon Heroes, a brave childhood cancer warrior from West Virginia, is in desperate need of a show of support.
**UPDATE** – We are asking you to take a few minutes out of your day to send a card, letter, or fan mail to our Gold Ribbon Hero Eli! Thirteen-year-old Eli is currently in and out of the hospital while fighting a brain tumor. Eli's treatment has been as aggressive as the tumor, and has recently led to a number of traumatic set-backs. Receiving cards and fan mail is just one small, but important step we can take to show this brave young man that he has our support during this very difficult time.
Please, show your support for Eli and his family by sending Eli fan mail at:
Eli Clark c/o Room 12A018
Nationwide Children's Hospital 
700 Children's Drive 
Columbus, Ohio 43205
It takes just a few minutes to select a card, write a few kind words, and pop it in the mail, but it will mean so much to this special childhood cancer warrior!
Eli's Story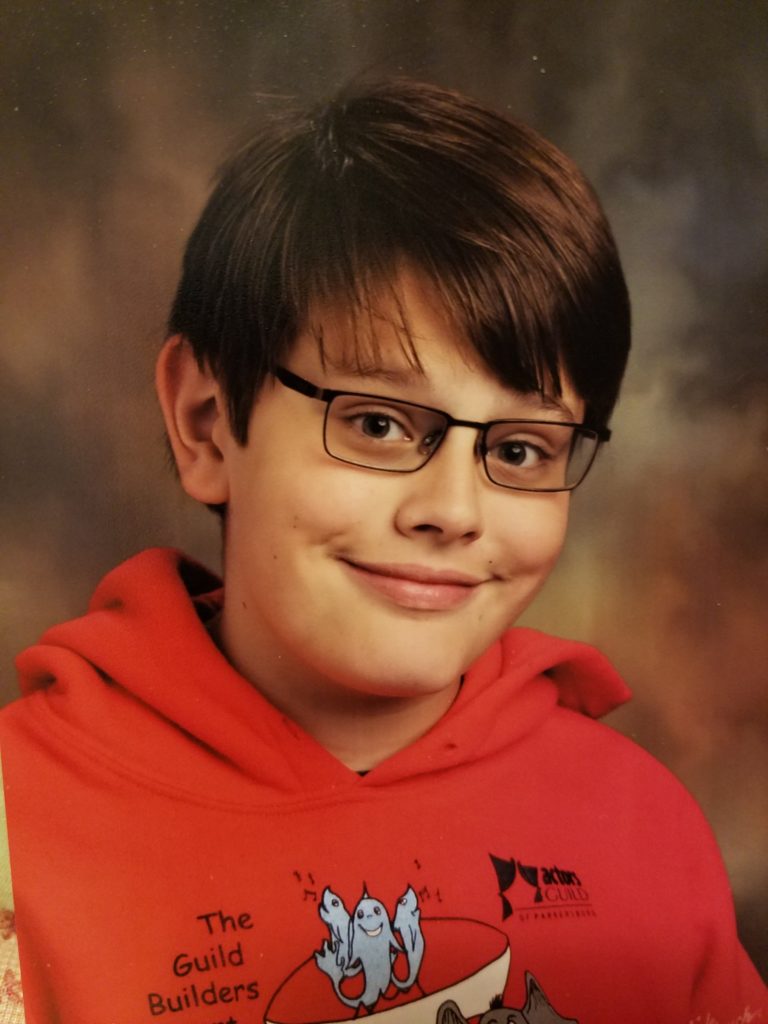 Eli's cancer journey began just before Christmas 2016. While playing Peter Cratchet in a local production of Scrooge the Musical (Eli wants to be an actor someday!), Eli suddenly began to vomit. The unexplained vomiting continued through the holiday season, and despite "a mother's instinct" telling her it was something more serious, Eli's family first accepted the pediatrician's explanation that it was likely related to diet or a stomach bug.
By January, however, when the sickness didn't go away, Eli's family felt they needed a second opinion and made an appointment with a gastrointestinal specialist in Ohio. A preliminary MRI revealed the worst possible news: a golf-ball sized tumor was growing in Eli's brain and smaller tumors were spreading down Eli's spine. Surgery was scheduled immediately. During a 13-hour surgery on January 20, Eli's surgical team removed 80% of the tumor in his brain. Unfortunately, while in the recovery room after surgery, Eli suffered serious complications requiring another 5+ hours in the operating room to repair damage to Eli's brain and resulting paralysis on Eli's left side.
Eli began his initial round of post-surgery treatment on February 20, just before his 13th birthday. Due to the aggressive nature of Eli's tumor, his treatment protocol is equally aggressive. The first round, lasting six weeks, involved radiation treatments Monday through Friday, with both chemotherapy and radiation every Friday. Although the radiation treatment is designed to target the tumors as precisely as possible, it has taken a toll on Eli's young and growing body and has created its own complications, such as temporarily impeding his ability to swallow food. Still, Eli persevered through the difficult treatments and rang the bell celebrating the end of this first round of treatment on March 31!
Eli's Treatment Continues Despite Serious Setbacks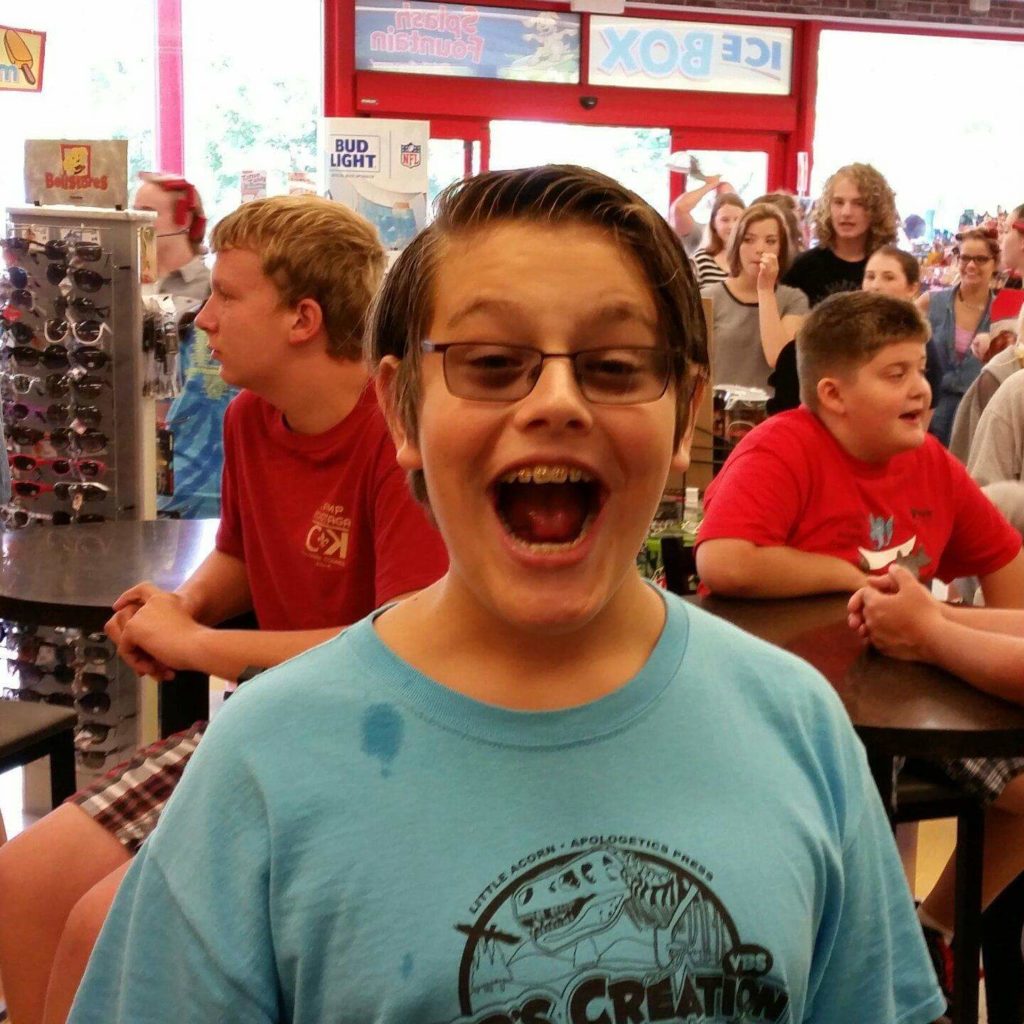 Unfortunately, Eli's tumor has not responded to the aggressive treatment as well as his oncology team hoped. Scans in mid-May showed the growth of additional tumors, including one the size of a golf ball. His second round of chemotherapy, which began immediately after the last scan, has led to more serious complications, including a seizure and a stay in the PICU. His oncology team believes that this next round of chemotherapy will last at least another six months.
From the very beginning, Eli has faced his diagnosis and difficult treatment with that very special kind of bravery found in childhood cancer warriors. Throughout his treatment, Eli's goal has been to make people laugh and instead of complaining, Eli tells jokes to his doctors and nurses! Thanks to a strong network of support from his family and community, along with a strong faith in God, Eli continues to maintain the most positive of attitudes every day of his cancer journey!
Eli has a long, potentially difficult fight ahead of him and encouragement from you will help him get through it with courage and humor! Thanks in advance to those of you who take a few minutes to send a card to Eli to  let him know you are supporting him!
About American Childhood Cancer Organization
American Childhood Cancer Organization (ACCO) is a non-profit charity dedicated to helping kids with cancer and their families navigate the difficult journey from cancer diagnosis through survivorship. Internationally, ACCO is the sole U.S. member of Childhood Cancer International (CCI), the largest patient-support organization for childhood cancer in the world. Here in the United States, ACCO promotes the critical importance of ensuring continued funding into new and better treatment protocols for childhood cancer.  And most importantly, ACCO is focused on the children: developing and providing educational tools for children fighting cancer and their families, empowering them in their understanding of childhood cancer and the medical decisions they must make during this difficult journey. All of ACCO's resources are available free of charge for families coping with childhood cancer.
For additional information about childhood cancer or on ACCO, or to order resources for you or your child, please visit our website at www.acco.org.