Addison's Story
Addison's cancer journey began in 2014, at two-and-a-half years of age, when her family received the terrible diagnosis that Addison had a rare disease called Langerhans Cell Histiosytosis, LCH or "Histio" for short. Today, at age five, Addison's scans continue to show "No Evidence of Disease" and she prepares for the next stage of life: kindergarten! In the words of her mother, Addison is "a true warrior… She handles her disease with grace and the strength of ten warriors!"
What is Langerhans Cell Histiosytosis?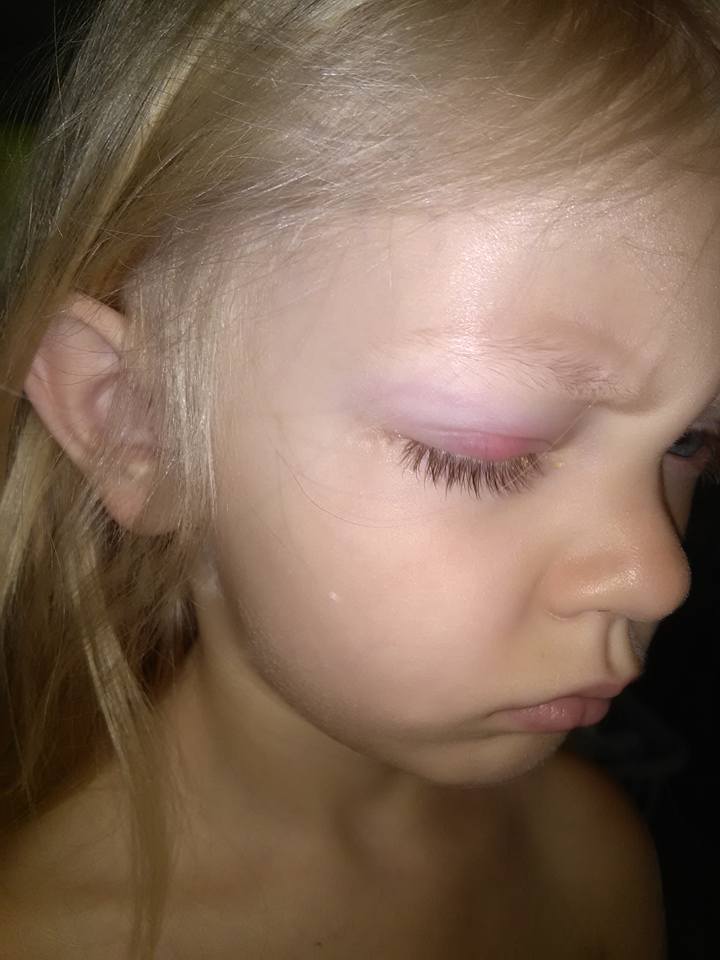 Langerhans Cell Histiostosis is a rare disease occurring in less than 1 out of every 200,000 children. It is caused by the excess growth of immature Langerhan cells, a type of white blood cell used by the body to fight infection. When these cells accumulate in certain areas of the body, they can form tumors or lead to organ damage. In Addison's case, the build-up occurred near her eye, resulting in extreme swelling. She immediately underwent eye surgery to remove as much of the tumor as possible. A pathology of the excised tissue after the surgery revealed LCH as the cause of the tumor.
Despite the fact that LCH begins with abnormal cell growth, a traditional marker of cancer, medical experts disagree as to whether LCH is truly a form of "cancer". Yet in Addison's case, the debate was academic. Her LCH was diagnosed as "high-risk" because it developed in her skeletal structure (the bone around her eye). The treatment recommended by her medical team mirrored treatment for childhood cancer: surgery to remove the tumor, followed by chemotherapy to target any remaining abnormal cells and to prevent the growth of new tumors. Addison's treatment also involved regular injections of steroids in addition to the chemotherapy.
Addison required a year of intensive chemotherapy to destroy the remaining abnormal cells, and two years later, regular scans continue to show No Evidence of Disease. Unfortunately, however, LCH can result in chronic and long-term medical conditions, including Diabetes Insipidus (a rare disease that impacts the ability of the kidneys to properly regulate urine output), hearing loss, vision problems, and neurological problems such as poor coordination, unusual eye movements, and memory loss. Addison and her family continue to work with her medical team to diagnose and understand the long-term consequences of this disease, coping with each as they arise with determination and a fighting spirit.
The Journey Through School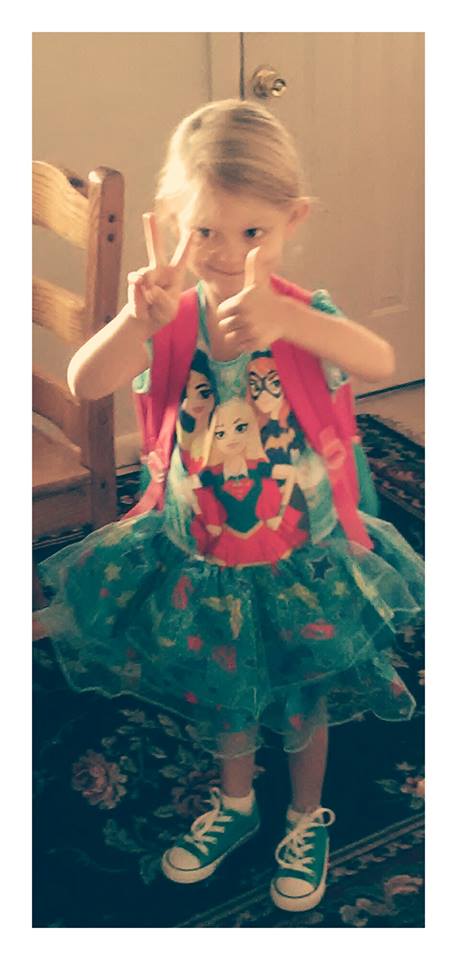 It's an exciting landmark in the life of every five-year-old: the first day of kindergarten! Whether it is the first day of school, or the first day back after a long hospital stay (all too common for many childhood cancer warriors), starting or return to school presents both an exhilarating and terrifying benchmark. Children who have been isolated from friends and school are eager to reestablish friendships and meet new friends and once again participate in the "normal" social activities school presents. Yet the strain of returning to a regular routine and learning to integrate into a group setting can also be unsettling and cause emotional and behavioral issues, at least in the short term.
For parents, starting or returning to school presents another series of unknown, and often unanticipated, challenges. An increased level of anxiety is perhaps first on the list. Addison's mother notes:
Addison is getting ready to start school. She is super excited, but me…not so much. I am very nervous about her being away from me and [being] around other kids and germs. Her disease makes me overprotective. I am trying to let her be a normal kid though. I know these are my own issues, not hers. She knows she is capable of great things and being healthy and strong. I pray for my own issues today because Mommy just isn't ready to let my princess grow up yet."
Ensuring that the school system and individual teachers are educated about Addison's cancer, the special requirements she may need to help ensure school is a success, and the short- and long-term health ramifications can be equally difficult. Addison's mother was quickly reassured by Addison's new teacher's warm and caring demeanor: "he seems like he is going to be very protective of her, too." Addison's mother has taken care to work closely with the school so they are aware of Addison's illness, and has even taken the additional step of asking the American Cancer Society to send information into the classroom to help educate her classmates. It will be critically important for Addison and her family to continue this close, cooperative relationship with both the school system and the teachers to ensure that Addison's educational, as well as her health-related, needs are met today and into the future.
About the American Childhood Cancer Organization
The American Childhood Cancer Organization (ACCO) is a non-profit charity dedicated to helping kids with cancer and their families navigate the difficult journey from cancer diagnosis through survivorship. Internationally, the ACCO is the sole US member of Childhood Cancer International (CCI), the largest patient-support organization for childhood cancer in the world. Here in the United States, the ACCO promotes the critical importance of ensuring continued funding into new and better treatment protocols for childhood cancer.  And most importantly, the ACCO is focused on the children: developing and providing educational tools for children fighting cancer and their families, empowering them in their understanding of childhood cancer and the medical decisions they must make during this difficult journey. All of ACCO's resources are available free of charge for families coping with childhood cancer.
To submit a Gold Ribbon Hero's story, please Click Here. 
For additional information about childhood cancer or on the ACCO, or to order resources for you or your child, please visit our website at www.acco.org , call 855.858.2226 or visit:
Want To Read American Childhood Cancer Organization On Your Phone? Click the NoteStream logo: