Creative Fundraising Ideas for Kids With Cancer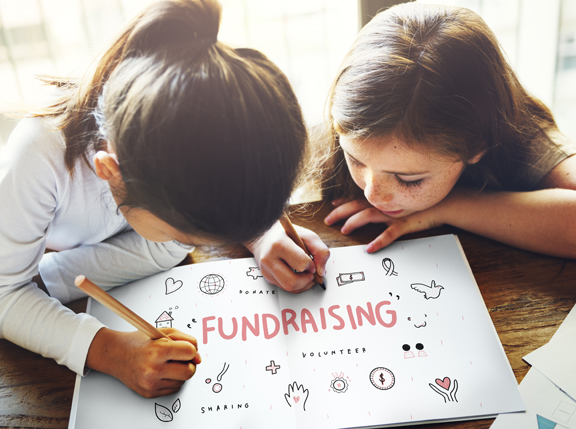 Are you motivated to make a difference on behalf of kids with cancer but aren't quite sure how to go about it? At ACCO, our goal is to make fundraising both easy and fun! With a little imagination, a little creativity, and a few of our complimentary awareness items, you'll be amazed at how much fun–and rewarding–fundraising can be for you, your family, and even your community. 
So, without further ado, here are eight creative ways you can raise money to help kids with cancer! 
Set up a "Gold Ribbon Sticker Stand":

Try a new take on an old favorite: instead of a lemonade stand, set up a "Gold Ribbon Sticker Stand" to sell gold ribbon stickers, gold silicone bracelets, and gold ribbon car magnets – all provided by ACCO! Help your community

Go Gold for Kids with Cancer

®

by making gold ribbons available (for a small donation!) to everyone in town!

Host a Gold Ribbon bake sale:

Everyone loves a bake sale, so why not make your bake sale extra-special with a Go Gold

®

theme? Feature goodies like cookies and cupcakes decorated with gold and wrap brownies and rice crispy treats in special gold wrap; you could even sell bottled water with gold ribbon stickers. Be sure to let everyone know that all the proceeds will be donated to kids with cancer!

Organize a gold-themed dance party:

Throw a dance party and dance the night away on behalf of kids with cancer. Dance to the "Golden Oldies" (see what we did there!) or choose your favorite musical decade. Ask guests to arrive in their very best gold-themed costumes and give out prizes for the best ones. Sell tickets and even hold a raffle or two, with all sales proceeds going to ACCO.

Turn fashionista for kids with cancer:

What highlights gold better than high fashion? There are so many ways you can use the fun of fashion to raise money for kids with cancer: organize a costume parade for kids in your neighborhood or host a sophisticated parents' night out fashion show where guests show off their very best gold-themed jewelry and outfits. Whether you ask for donations or sell tickets, the gold theme will help remind guests that all proceeds benefit kits with cancer!

Go Gold® Sports Night:

Host a Go Gold

®

night at a local school sporting event! Soccer players, baseball players, and basketball players alike can all get excited about supporting kids with cancer. Ask players to sport gold laces on their sneakers (Bonus: ACCO will provide the laces!) while you sell beverages and treats decorated with gold ribbons and pass around a donation bucket. You'll be amazed at how quickly the bucket fills up when the goal is raising money for kids with cancer!

Go Gold® on your Fingers and Toes:

Do you own or manage a salon or spa? Childhood Cancer Awareness Month is a great time to run a promotion highlighting gold manicures and pedicures! Donate a percentage of the proceeds of each gold manicure and pedicure to kids with cancer, and people will be lining up to paint their nails gold to support this important cause.

Get fit for kids with cancer:

Local road races are a great way to raise money and awareness at the same time! Organize a 5k or 10k race/walk, relay race, or even a bike ride in your town and ask everyone to wear gold as they race. Not only will participants have fun, but seeing crowds of people dressed in gold running, walking, or riding through the streets is a great way to generate enthusiasm in the community as well.

Host a PJammin'

®

Fundraiser at school or work:

September is the perfect month to host a

PJammin'

®

Party

at your school or place of work. It's easy too! Ask for a donation in exchange for a pajama day at school or work. The more people who participate, the more fun it is for everyone. As a bonus, ACCO will support your event by providing fun items to spark even more excitement and jazz up your event.  
Whatever your fundraising idea, ACCO is here to help you make it a huge success! Register your fundraiser today to take advantage of our complimentary awareness items, fundraising ideas, and program support.
Together, we can make a difference…because kids can't fight cancer alone
®
.

About American Childhood Cancer Organization
The American Childhood Cancer Organization was founded in 1970 by parents of children and adolescents diagnosed with cancer. As the nation's oldest and largest grassroots organization dedicated to childhood cancer, ACCO is committed to shaping policy, supporting research, raising awareness, and providing free educational resources to kids with cancer, survivors, and their families. Additionally, ACCO is the sole U.S. member of Childhood Cancer International (CCI) and has helped support more than half a million families over the past 50 years. Help make childhood cancer a national health priority because kids can't fight cancer alone®. 
For more information about how ACCO can help your family, call 855.858.2226 or visit: