FOR IMMEDIATE RELEASE 
Beltsville, Maryland – For the THIRD year in a row, the American Childhood Cancer Organization has been selected as a beneficiary of the Giant Food Community Bag Program for the month of August.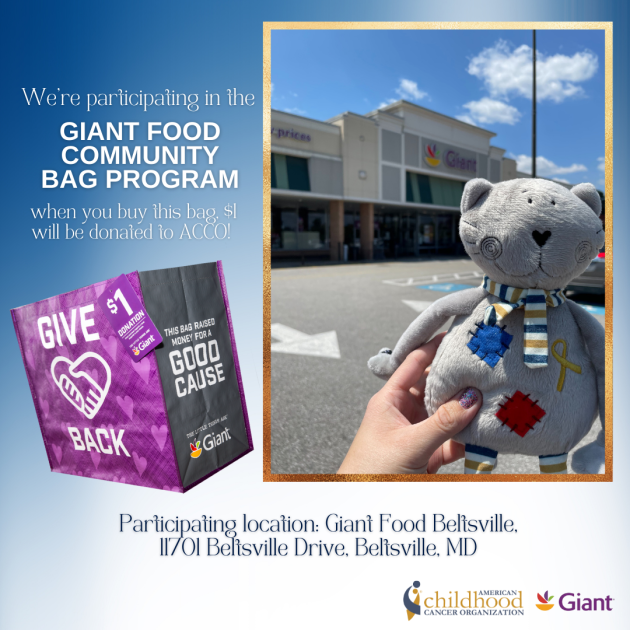 The Giant Food Community Bag Program, which launched in May 2019, is a reusable bag program that facilitates community support with the goal to make a difference in the communities where shoppers live and work.
ACCO was selected as the November beneficiary of the program by store leadership at the Giant Food located at the Beltsville location. ACCO will receive a $1 donation every time the $2.50 reusable Community Bag is purchased at this location during August, unless otherwise directed by the customer through the Giving Tag attached to the bag.
"This is great news, we are honored to be selected as the beneficiary of the Giant Food Community Bag Program. This will directly impact the lives of childhood cancer patients by helping provide crucial resources and advocacy programs to help ACCO further our mission." said Ruth Hoffman, CEO of ACCO.
Visit the Giant Supermarket locations here:
Burtonsville Location: 11701 Beltsville Drive, Beltsville, MD.
The American Childhood Cancer Organization was founded in 1970 by parents of children and adolescents diagnosed with cancer. We're dedicated to making childhood cancer a national health priority through shaping policy, supporting research, raising awareness and providing educational resources and innovative programs for children with cancer, survivors and their families. For more information, please visit www.acco.org/donate
For more information on the Giant Food Community Bag Program, visit giantfood.bags4mycause.com