ACCO Joins International Advocacy Partners at the 68th WHA Side Event on Childhood Cancer
The American Childhood Cancer Organization (ACCO) is proud of its role as a leader in national, grassroots advocacy for children facing cancer and their families, giving cancer's youngest fighters a national, as well as a local, voice. The fight against childhood cancer does not stop at our borders, however. The ACCO is equally proud of our active role in the international fight against childhood cancer and our leadership in the international effort to give all children across the globe the chance to live in a childhood cancer-free world. As part of this growing international movement to bring greater visibility to and awareness of childhood cancer as a major health threat facing children around the world today, the ACCO is pleased to be the U.S. Advocacy Voice at the 68th World Health Assembly (WHA) Side Event on Childhood Cancer, and is especially honored to act as this year's host of the Geneva Reception and Dinner for critical international childhood cancer leaders and representatives from the WHO.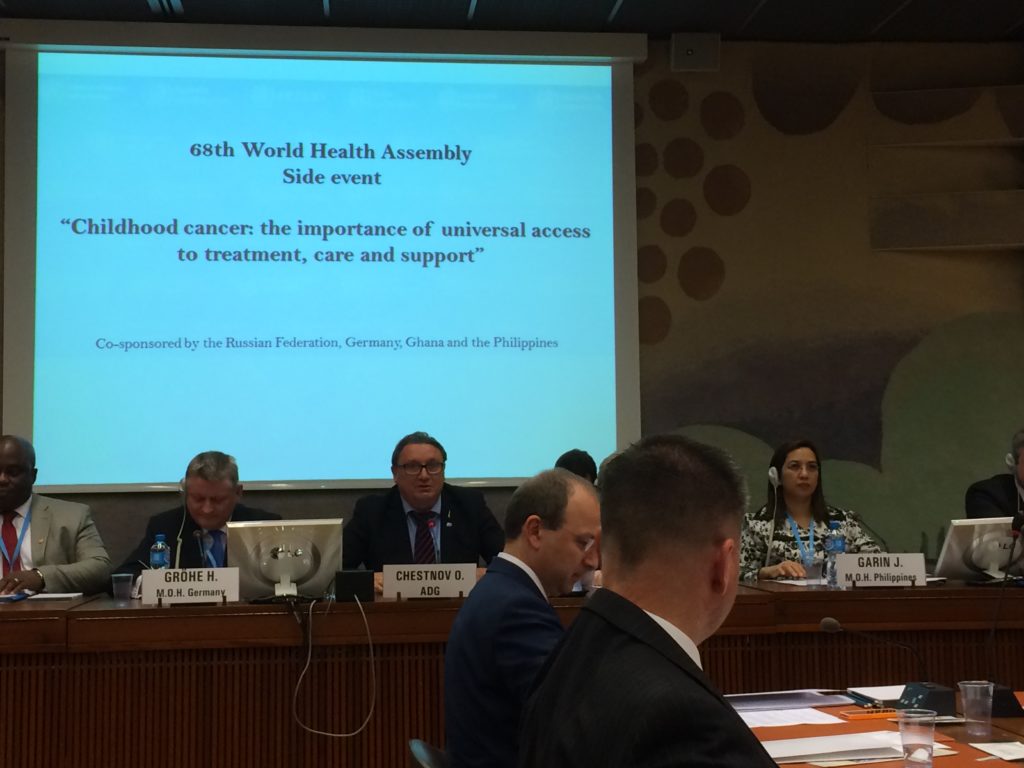 Together with international advocacy partners such as The International Society of Pediatric Oncology (SIOP), Childhood Cancer International (CCI), and Her Royal Highness Princess Dina Mired of Jordan (herself the parent of a childhood cancer survivor), the ACCO joins in the world-wide effort to use the platform offered by the World Health Assembly to bring ever-greater awareness of the global prevalence of this disease and the disturbing inequality of survival rates; the continued reliance on toxic drug protocols developed decades ago and the significant health problems they cause for survivors; and the discrepancy in the availability of affordable, effective treatment options for children in middle- and low-income countries. Our goal is to highlight this rising health crisis facing children today, to bring childhood cancer out of the shadows, out of the "Side Event" and into the Main Event.
Every three minutes, a child around the world is diagnosed with some form of childhood cancer, making childhood cancer the most prevalent non-communicable disease in the world! While alarming on its own, this simple truth hides several—even more alarming—facts about global childhood cancer:
The incidences of childhood cancer are increasing across the globe. While scientists and health officials are uncertain as to why, it is clear that children will continue to be devastated by this disease in ever greater numbers unless action is taken to stop this disease today.
Poor access to health care makes childhood cancer a death sentence in many low- and middle-income countries. While five-year survival rates can be close to 80%, even 90%, in high income countries, depending on the cancer type, survival rates for those same types of childhood cancers are often as low as 10% in low- and middle-income countries, due to the lack of affordable and accessible health care.
Development of effective, targeted therapies specific to childhood cancer lags far behind treatments for adult cancers and other health problems. In the United States, for instance, the FDA has approved only two new childhood cancer-specific drugs since 1990 (compared to 109 new drugs to fight adult cancers). Children facing cancer continue to be treated with outdated, toxic drug protocols developed in the 1950s, 1960s and 1970s for adult cancers, despite the recognition that childhood cancers are biologically distinct from adult cancers.
Two-thirds of childhood cancer survivors suffer long-term late effects from their cancer treatments. These late effects can range from cognitive deficits, endocrine dysfunction, heart and lung disease, loss of hearing and vision, infertility, and secondary cancers. Even when not coupled with poor access to effective health care, these long-term health effects are severe and life-threatening for one-third of survivors, and undermine quality of life for all
Working closely with its international partners, the ACCO will play a vital role in bringing this critical health problem to the forefront of the international dialogue on health problems facing the world's children today. By bringing together policy and opinion leaders from various countries, key stakeholders, and representatives of developmental and civil society organizations, this Side Event will seek to
Create a collaborative, multi-stakeholder Global Platform and Program for coordinated action in the fight against childhood cancer;
Call on the 68th World Health Assembly to address the rights and needs of children with cancer and childhood cancer survivors, as required by the UN Convention on the Rights of the Child; and
Share progress on the implementation of best practices contributing to the improvement of access to critical care and treatments and recommend realistic solutions to overcoming current barriers to affordable treatment in low- and middle-income countries.
Most importantly, however, this event will encourage the WHA, WHO, and other international development organizations to take the lead in the fight against childhood cancer by pursuing coordinated global action focused on creating a world in which no child has to face childhood cancer or its long-term effects.
For more information on the international fight against childhood cancer, and the critical role of this event in raising global awareness about childhood cancer and the threat it presents to our children, we encourage you to visit the additional links below:
Video prepared by Mojo Lab for the ACCO to present at the event – Click Here
Concept paper prepared by Ruth Hoffman, Director of ACCO and Vice Chair of Childhood Cancer International – Click Here
Speaker Briefing Note and Agenda – Click here
Video Presentation by Her Royal Highness Princess Dina Mired of Jordan – Click Here
Dr. Greg Aune's Talk – Click Here