Jel Sert's Take a Pop, Share a Smile Program
Thanks to growing awareness about childhood cancer, we are all familiar with hair loss as the most visible and easy-to-recognize side effect of cancer treatment. Yet the most difficult and painful side effects of chemotherapy and radiation—the most common forms of treatment today for childhood cancer—are much more painful, more difficult to cope with, and yet often remain hidden from public view. Painful mouth sores, poor appetite, changes in taste, difficulty eating, nausea, and vomiting (to name just a few) can make treatment for childhood cancer a necessary evil, and at times almost unbearable for child and parent alike.
Jel Sert's amazing Take a Pop, Share a Smile program tackles these side effects head on! Freezer pops and frozen treats play a critical role in alleviating the discomfort of some of these side effects, easing the pain of mouth sores and helping maintain hydration, while providing a tasty and fun distraction at the same time. For the more than 115 childhood cancer treatment centers in the United States currently participating in the Take a Pop, Share a Smile program, Jel Sert donates a freezer stocked with 2,000 ice pops, then keeps the freezer continually stocked (reordering supplies for the freezer is both simple and free)!
Through this incredible program, Jel Sert has generously donated more than ONE MILLION freezer pops to hospitals and treatment centers across the United States!
Thanks to the generosity of Jel Sert, the Take a Pop, Share a Smile program continues to grow and expand. If you would like your child's treatment center to become one of the many centers participating in this important program, we encourage you to nominate it using the appropriate form on the ACCO website: http://www.acco.org/jelsert/.
Jel Sert's Ongoing Partnership with ACCO
Jel Sert's Take a Pop, Share a Smile program is just one of the many ways that Jel Sert has supported ACCO and its ongoing mission to raise awareness about childhood cancer, as well as support and empower children and their families as they fight this terrible disease. Since 2008, many of Jel Sert's popular frozen treats such as Fla-Vor-Ice, Otter Pops, and Pop-Ice have displayed the gold ribbon on its packaging, along with information about ACCO. In 2017, Jel Sert will launch a redesign of the packaging for its popular Otter Pops Beach Breakers sorbet pops; the bright new box will feature the gold ribbon and ACCO logo right on the front, as well as a prominent message about the ACCO and its mission.
In June 2016, Jel Sert organized and hosted the first-ever Corporate PJammin' event to raise awareness about childhood cancer and to raise money to support ACCO's mission to develop and distribute—free of charge to families coping with childhood cancer—resources and educational tools that empower children and families currently fighting childhood cancer. More than 200 Jel Sert employees participated in this amazing event by wearing their favorite t-shirt and pajama bottoms to work. For added excitement, top fundraisers in each department got to dunk their supervisor into a dunk tank, while the overall fundraiser dunked Jel Sert President Ken Wegner!
About Jel Sert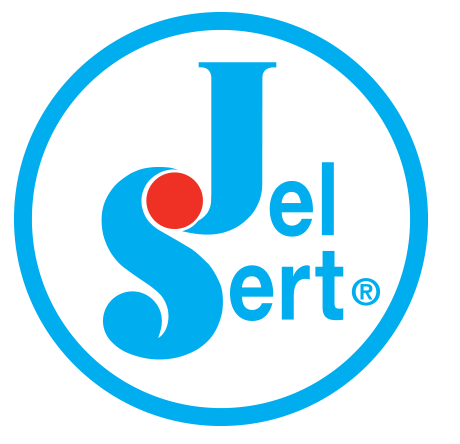 Jel Sert is a family-owned and –operated company dedicated to offering innovative, high quality, and great tasting food products. Since its founding in 1926, Jel Sert has been committed to the guiding principles of quality, flavor, fun, and value; its US-based manufacturing plants maintain the highest possible quality standards equal to those in the pharmaceutical industry. In addition to its nationally-recognized freezer bars, dessert mixes, powdered drink mixes, and ready-to-drink beverages, Jel Sert produces pharmaceutical-grade products such as Pedia Care Pops for Pfizer and Pedialyte for Abbott Labs. Jel Sert President Ken Wegner initiated the ongoing partnership with the ACCO in 2008, but ACCO's mission became a personal one for Mr. Wegner in 2011 when his teenaged son was diagnosed with cancer.
About American Childhood Cancer Organization
American Childhood Cancer Organization (ACCO) is a non-profit charity dedicated to helping kids with cancer and their families navigate the difficult journey from cancer diagnosis through survivorship. Internationally, ACCO is the sole U.S. member of Childhood Cancer International (CCI), the largest patient-support organization for childhood cancer in the world. Here in the United States, ACCO promotes the critical importance of ensuring continued funding into new and better treatment protocols for childhood cancer.  And most importantly, ACCO is focused on the children: developing and providing educational tools for children fighting cancer and their families, empowering them in their understanding of childhood cancer and the medical decisions they must make during this difficult journey. All of ACCO's resources are available free of charge for families coping with childhood cancer.
For additional information about childhood cancer or on the ACCO, or to order resources for you or your child, please visit our website at www.acco.org , call 855.858.2226 or visit:
Want To Read American Childhood Cancer Organization On Your Phone? Click the NoteStream logo: